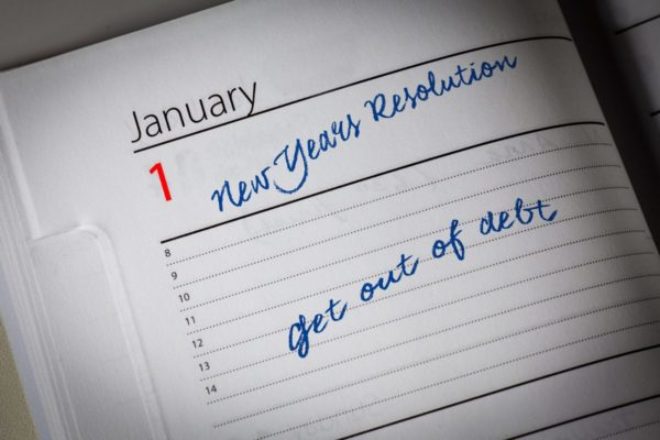 6 second take:
A new survey about New Year's resolutions provides insights into Americans' priorities when it comes to saving, spending, and lifestyle.
Americans have health and personal finance on the mind, as we head into 2021, a new survey from YouGov shows. About 46 percent of those that intend to make New Year's resolutions plan to focus on personal fitness, while 41 percent are interested in personal finance goals.
Meanwhile, younger generations are interested in pursuing career goals, according to a survey of more than 1,000 U.S. adults polled in November 2020 for Evernote (an online productivity app designed to help people who need just a little extra help to keep themselves productive, organized, and available). About 46 percent of Millennials and members of Gen Z are focused on their careers, while only 21 percent of Boomers and members of Gen X share the same concerns.
Holiday Spending
YouGov's survey yielded plenty of juicy observations about how people are prioritizing issues as we head into 2021. For instance, 66 percent of Americans are interested in using productivity apps to help them stay on track with their resolutions, and nearly half are already using them.
Given that many of these resolutions are focused on personal finance, these apps can be a great way to help Americans recover from the financial uncertainty of the pandemic.
They will also help consumers repair budgets after their holiday spending. Since Americans planned to spend an average of nearly $1,000 each over the course of the winter holidays, according to the National Retail Federation, those budgets will need some help to recover.
New Year's Resolutions: Financial Fitness vs. Physical Fitness
Looking into the new year, there may be good news ahead for personal trainers: For most Americans, getting in shape is now a bigger priority than saving money — a sharp change since a similar survey was conducted in 2018.
It is understandable that priorities may have shifted in the wake of the COVID-19 pandemic, since health issues will have been on the minds of the public since early March. While New Year's resolutions relating to personal finance may have been on the rise since 2018, it isn't entirely surprising that the trends would be shaken by an event as impactful as the pandemic.
But exercise isn't the only thing on the mind of Americans when it comes to health.
With 31 percent of adults reporting that their mental state suffered due to the pandemic, many are interested in improving their mental health as we head into the New Year. This can be difficult to achieve during the pandemic, but it's not impossible. Seeking help and working on fixing day-to-day lifestyle issues can lead to improvements.
Making the Necessary Improvements
Because so many Americans have made the change to focus on their mental and physical health, rather than prioritizing their finances, it is important to know exactly how to make those changes.
The first step is a simple one, even if it's not the easiest. "Stop watching the news," says licensed clinical mental health counselor and the managing editor of Blunt Therapy, Randy Withers. "Those 24-hour news networks are terrible for your mental health. All they do is repeat the same stories about COVID-19 over and over and over again."
"While information is important, exposure to the same negative stories can lead to obsessive thoughts, ruminations, increased anxiety, and a depressed mood," Withers adds. "Limit your news consumption to 30 minutes a day."
Additionally, be aware that physical activity and mental health are not completely independent.
While working on your financial situation can help reduce stress, regular exercise can be even more beneficial, which could be why so many people are gravitating to physical health over improving their financial security.
"A brisk 20-minute walk every day has been shown to reduce symptoms associated with depression," says Withers. "While the winter months make it more difficult to go outside, it's still important to engage in mild to moderate cardio activity as often as you can."
Whether this means taking a walk around the neighborhood or getting in a quick run on a treadmill, make sure you're receiving the exercise you need to help you remain in shape, when we're all trapped indoors in the coming year.
Finally, Withers stresses the need to seek others to help you through these difficult times. "Don't allow the pandemic to disconnect you from other people. Humans are social creatures. We are not meant to live in isolation. Connection to others is one of the best defenses against depression and anxiety."
"If you are uncomfortable being in close physical proximity to family and friends, consider the benefits of hosting a Zoom meeting at least two times a month," Withers adds. "Play online bingo, host a trivia night, or just chat with people you care about. Your mental health will thank you."
Once these steps are accomplished, remember that just because you're focusing on your health doesn't mean you can't also take care of your finances. Remember to continue keeping an eye on your budget and your emergency fund, so that you can be sure that you can remain financially secure in the new year.
Willingness to See Resolutions Succeed
The good news is that more Americans than ever are making an effort to make their lives better in the new year. Nearly one-third of Americans intend to make resolutions, and three-quarters of them plan to take their resolutions more seriously than ever before.
Whether you're hoping to improve your finances, productivity, health, or relationships, New Year's resolutions can be a great way to improve your life as we are all finally allowed to leave 2020 behind us. By staying committed to your goals and making active efforts to achieve them, you can end 2021 in a better state than the year before it.
Additional reporting by Lauren Shayo.