Best Personal Loans
Last updated: December 14, 2018
Why Consider a Personal Loan?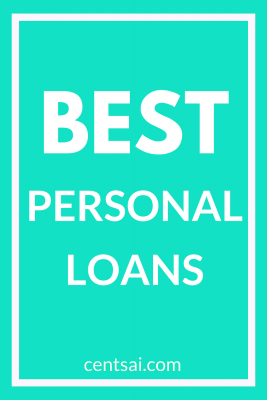 Personal loans are a form of unsecured debt. This means that the debt doesn't have an asset that can be repossessed or foreclosed in the event that you default. From a consumer perspective, personal loans are safer than auto loans or mortgages which require you to forfeit your car or home if you default. Of course, a personal loan isn't free money. And many consumers will take on personal debt to inflate their lifestyle.
At CentSai, we recommend that you apply smart financial behavior when you consider a personal loan. In many cases, saving in advance can eliminate your need for one. Likewise, you may be just as happy choosing a less expensive option that doesn't require debt. Thinking outside the box may allow you to achieve your goals without taking on debt. But if a personal loan fits into your financial plan, you can compare personal loans online using our list of best personal loans companies.
Fixed rates from 6.990% APR to 14.865% APR (with AutoPay). Variable rates from 6.255% APR to 12.555% APR (with AutoPay). SoFi rate ranges are current as of September 1, 2018 and are subject to change without notice. Not all rates and amounts available in all states. See Personal Loan eligibility details. Not all applicants qualify for the lowest rate. If approved for a loan, to qualify for the lowest rate, you must have a responsible financial history and meet other conditions. Your actual rate will be within the range of rates listed above and will depend on a variety of factors, including evaluation of your credit worthiness, years of professional experience, income and other factors. See APR examples and terms. Interest rates on variable rate loans are capped at 14.95%. Lowest variable rate of 6.255% APR assumes current index rate derived from the 1-month LIBOR of 2.08% plus 4.425% margin minus 0.25% AutoPay discount. For the SoFi variable rate loan, the 1-month LIBOR index will adjust monthly and the loan payment will be re-amortized and may change monthly. APRs for variable rate loans may increase after origination if the LIBOR index increases. The SoFi 0.25% AutoPay interest rate reduction requires you to agree to make monthly principal and interest payments by an automatic monthly deduction from a savings or checking account. The benefit will discontinue and be lost for periods in which you do not pay by automatic deduction from a savings or checking account.

To check the rates and terms you qualify for, SoFi conducts a soft credit pull that will not affect your credit score. However, if you choose a product and continue your application, we will request your full credit report from one or more consumer reporting agencies, which is considered a hard credit pull.