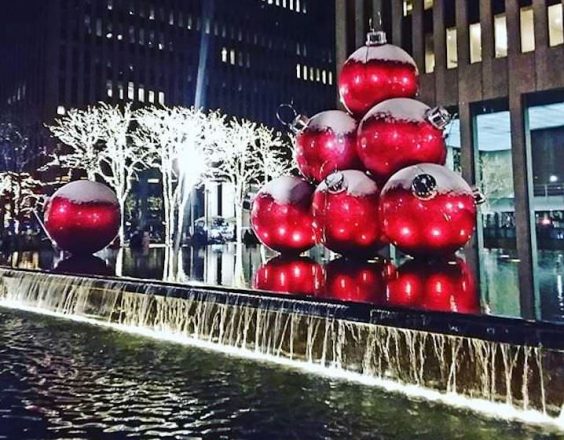 6 second take:
The time of giving is also the time for extreme budgeting to meet everyone's expectations.
If I told you that Chrismukkah is at the door, would you freak out? Don't pull out your credit card yet. There's still plenty of time to plan a debt-free holiday season. Here's how to save money during the holidays so you don't end up with a giant credit card bill.
Start Managing Your Finances — Download This Personal Finance App >>
1. Set Expectations
I'm in the process of paying off debt, but I absolutely love giving gifts. The reality is that I'm on a budget and have decided that I can give only so much. Because of this, I've spent some time setting clear expectations with my family and friends about what to expect from me this year.
The conversation doesn't have to be too heavy. Use some humor and just be honest about what you can and can't do. Let your family and friends off the gift-giving hook, too. Maybe even share ideas that will make (almost) everyone happy.
Sometimes people are made to feel uncomfortable with their generosity.
You can let people be generous, but lift the pressure off of them by giving fun, but frugal suggestions.
Some ideas include homemade gifts, white elephant party (a party game that sees impractical, silly gifts exchanged between players — it's more for entertainment value than the actual value of the gift), or even a holiday season without gifts.
Instead of spending money, spend more time with your friends — throw a potluck, a game night, or run in a Turkey Trot event.
2. Set a Budget
If you're unable to change other people's minds about gift giving this holiday season, then be clear with yourself about what you can and cannot do financially. Take a close look at your finances and set a holiday budget and stick to your plan.
If you have 12 people who you normally purchase gifts for, maybe this is the year that you make the gifts for the older recipients and friends and continue to purchase items for the younger relatives and family friends.
This App Makes Managing Your Finances Easy — Start Budgeting Today >>
3. Check Your Inbox
This one may seem a little random on the surface, but have you received any rebates, refund codes, or gift certificates that were emailed to you and that you haven't had a chance to use yet?
An airline emailed me a voucher, and I almost forgot about it because it was buried in my inbox. I might put that voucher toward a plane ticket purchase for my mom's holiday gift. That voucher is for a low-cost carrier, so it will drastically cut down the price.
4. Get Social
It's amazing how many deals you can find from your favorite retailers this time of year, especially if you use social media. I've already noticed that the bike I would like to purchase is on sale.
Look on Facebook, Twitter, Pinterest, or your favorite retailer's website for coupon codes or upcoming sales. Don't pay full price for your items.
5. Trim the Fat
How long has it been since you took a good look at your monthly expenses? Look for monthly subscriptions that you aren't using, monthly services that you don't like, or automatic debits for forgotten bills or purchases.
Did you discover that your grocery, electric, and fun budget line items have increased significantly since the last time you took a hard look at your expenses?
Have you been meaning to download that great grocery app that everyone has been talking about, but keep forgetting? Now's the time!
Sock away as much of your freed-up cash as possible so that you can use cash for your future purchases. The holiday season is fast approaching, but there's no reason to go into debt.
Save on Your Bills and Manage Unwanted Subscriptions — Sign Up Here >>
6. Savings Apps
If you've already decided there's no getting around buying holiday gifts, then make sure you're using savings apps and sites like the ones below to their full advantage.
Ebates
I love this website because you get cash back when you go shopping. If you're planning to purchase items on Amazon — or even from Target — then your first step should be to sign up for Ebates. Simply create your profile, and then each time you plan to make an online purchase from one of your favorite stores, just log into Ebates and type in your favorite retailer's name. Simple!
Honey
This Google Chrome extension will save you a ton. Honey automatically scans the site you're on and finds any offers, deals, or discounts being offered. You can then apply them to your order with the click of a button.
RetailMeNot
RetailMeNot finds promo codes for all sites and gather them in one place, so you don't have to. It also has coupons available for some of the biggest stores out there, so keep your eyes peeled.
Goldstar
If it's more of a thing-to-do gift than a thing, Goldstar's got you covered with a collection of cheap and discounted events in your area. Sometimes it even has stuff for free!
BeFrugal
With BeFrugal, you can get up to 40 percent cash back on purchases from over 5,000 stores. It deals with the big brands and companies so that you don't have to, but you reap the rewards.
7. Sell Stuff
Go through your home and look for items that you're no longer using. If they are in good condition, sell them online! Use eBay or Craigslist, or throw a garage sale if you're in a warm-weather state.
Caution: If you sell on Craigslist, meet at a police station safe zone to exchange the items. Google "Craigslist Safe Zone" and add the name of your town to find the best station to meet at.
Instantly Get a Valuation on Your Items and Sell Them for Free >>
The Bottom Line on How to Save Money During the Holidays
The holiday season is fast approaching, but there is no reason to go into debt. Spend some time creating a plan, looking for opportunities to save, and setting clear expectations with family and friends about what they can reasonably expect from you this year.