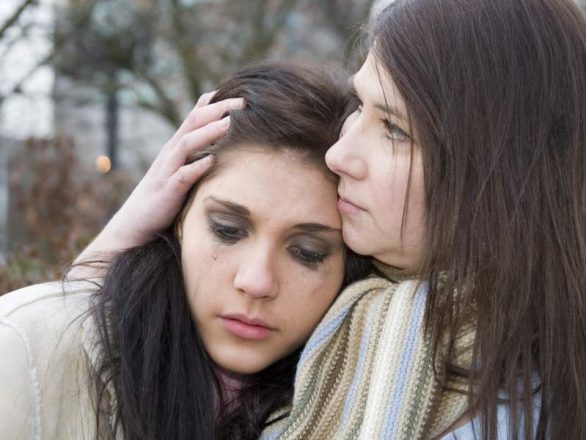 Life insurance should change as your life changes. Learn when, how, and why to adjust your coverage.
This post is sponsored by Ladder. Ladder, an insurtech (insurance technology) company focused on term life insurance, makes it easy to get life insurance online and increase or decrease your term life insurance coverage as your life changes. With Ladder, applying for insurance can take as little as five minutes, and you will receive an instant decision on coverage. All opinions expressed belong to CentSai.
In the spring of 2000, Mark Anderle, a husband, father of five, and entrepreneur, began to suffer from headaches. He was sleepy and short-tempered, and both he and his wife, Karen Anderle, thought these new symptoms were a result of the new stress of self-employment.
A sinus infection prompted Mark to visit a doctor. When the infection didn't clear up after a few weeks, the doctor recommended a CT scan. The scan showed a large brain tumor, and doctors operated on it the next day.
"These were days we could barely breathe," Karen says. "I could only cling to God and trust that he was in control."
But Mark's operation didn't lead to recovery. The malignant tumor wasn't expected to heal. Doctors estimated that he had a few weeks to live.
With an experimental chemotherapy regimen, Mark held onto life by a thread. His body deteriorated under the stress of the aggressive chemo.
How Much Life Insurance Do You Need? A Cautionary Tale
The Anderles started to prepare for Mark's death. Karen learned to run the family's finances. She also returned to full-time work. When Mark had energy, the couple reviewed end-of-life documents such as Mark's life insurance policy and will.
Mark's policy was about half the value that he and Karen would have preferred. He had purchased a term life insurance policy 15 years earlier.
At the time, he'd also had a large insurance policy provided by his employer. But when he transitioned to entrepreneurship, he didn't add an extra life insurance policy to replace the one that his former employer had previously provided.
After a yearlong fight with cancer, Mark died in May of 2001. Family and friends surrounded Karen, and they showed her love and support in her time of need.
In the months following Mark's death, Karen had to take ownership of her family's finances in a way that she had never done before.
She consulted with a financial planner to help her decide whether to use the insurance money to help her kids through college, pay off her mortgage, or invest for retirement. The insurance money wasn't enough to cover all three financial goals, but it gave her room to grieve without having to upheave her life.
What Makes Ladder Life Insurance Different?
Life can change in an instant. That's why life insurance matters. Unfortunately, buying life insurance at a single point in time isn't enough for most people. Your life insurance needs change as your life changes. You know you ought to increase your life insurance coverage when you buy a house, get married, or have a child.
However, most life insurance companies make buying a new policy or modifying an existing one a huge hassle. You have to meet with a life insurance agent who tries to upsell you into a whole life policy, often despite the fact that it doesn't fit your needs.
Then you have to fill out tons of paperwork, which takes weeks of processing. Finally, after a medical exam (which might take another few weeks to schedule), you have a coverage decision.
That's where Ladder is different. Ladder is a digital life insurtech company that offers only term life insurance policies. It works for its customers, so it doesn't pay commissioned salespeople.
Ladder's online application is easy, and decisions are instantaneous. Many customers don't even need a lab or medical exam to get covered.
Plus, if you get a policy through the company, you can go online and apply for more coverage or decrease your policy as needed. With Ladder, it's easy to ladder up or ladder down your life insurance as it fits your needs. That way, you always have the right amount of coverage.
When to "Ladder Up" Your Life Insurance
As you go through early adulthood, your financial obligations may pile up faster than your investment balances. Thankfully, life insurance through Ladder tends to be inexpensive. For example, a healthy 30-year-old woman can take out a $1 million, 20-year term policy for just $30.05 per month.
We've made a list of a few times when you'll want to ladder up your life insurance to accommodate increasing responsibilities and needs.
1. Someone Cosigns a Debt With You
If you ask someone to cosign a debt with you, that person will be on the hook to repay the debt if you die. To protect your loved one from being straddled with that debt, it's important to take out an insurance policy that designates your cosigner as a beneficiary. If you die during the term, your cosigner can use the funds to pay off the debt.
2. Changing Jobs or Getting a Raise
New jobs often bring shiny new incomes. Hopefully you'll save a big portion of your raise, but in many cases, the extra money means extra spending. For your family to maintain your new lifestyle, you may need to increase the size of your life insurance policy.
Changing jobs might also mean that you lose life insurance from your previous employer.
A stand-alone policy like the one from Ladder, which is connected to you and not your job, can keep your loved ones protected, even if you lose or change your job.
See How Much You Qualify for With Ladder
3. Buying a House
When you buy a house with a partner, you'll want your significant other to be able to pay off the house's mortgage if you die. An insurance policy that covers the full value of the mortgage will give your partner the ability to stay in your house even if you aren't around to contribute to the mortgage payment.
4. Having a Child
Raising a child takes money. A life insurance policy will cover the costs of raising your children, even if you're no longer living to provide for them. Even stay-at-home parents need an insurance policy. After all, your work provides tremendous value for your children.
5. Adopting a Pet
Adopting a pet may seem like a silly reason to take out a life insurance policy, but it's important.
What will happen to your fur baby if you pass unexpectedly?
Your sister might love your puppy, but she might not be in a financial place to cover your dog's costs. Taking in your dog could mean moving to a pet-friendly apartment and paying for food and vet costs. A modest insurance policy will help your pet's new caretaker cover those expenses if you pass.
When to "Ladder Down" Your Life Insurance
Having insufficient life insurance coverage can leave your loved ones burdened if you die unexpectedly. However, there's no reason for you to pay for excess coverage.
Ladder gives policyholders the freedom to ratchet down their life insurance policy based on their needs. Here are a few times that you may want to decrease your coverage in order to save money.
1. Pay Off a Debt
When you pay off a debt, your cosigner no longer has a financial obligation. You can reevaluate your needs and likely decrease the life insurance coverage that you took out to protect him or her.
2. Pay Off Your House
Congratulations on paying off your house! Not only have you dropped your mortgage payment, but it also likely makes sense to decrease your life insurance policy now.
3. Kids Start School
Once your kids are school aged (especially by middle school), you probably won't need to pay for daycare or related expenses if you or your partner passes. With this massive expense out of the way, you may want to decrease your insurance coverage.
4. Kids Move Out
When your kids move out, your financial obligation is sure to shrink. Hopefully, by the time your kids reach adulthood, they can provide for all their financial needs on their own. You may want to keep some insurance in place to help your spouse, but it may also make sense to adjust your coverage amount when your kids move out.
5. Reaching Financial Independence
Financial independence means that your income from investments, pensions, and Social Security can support your lifestyle. For people who have saved aggressively and invested wisely, this could happen in their 40s or 50s.
Once you've reached financial independence, it's possible that you no longer need life insurance. Your assets may be able to support your dependents.
Take Action: Buy Your Life Insurance Today
The best time to buy life insurance is right now. By spending just five minutes on Ladder, you can complete an application and have a policy decision. Don't wait to get the peace of mind that comes with having a life insurance policy in place.