5 Real Money Lessons from 'The Real Housewives of Atlanta'
6 second take:
Inspiration isn't what you expect from an episode of The Real Housewives of Atlanta, but there are some excellent money lessons coming through the mayhem.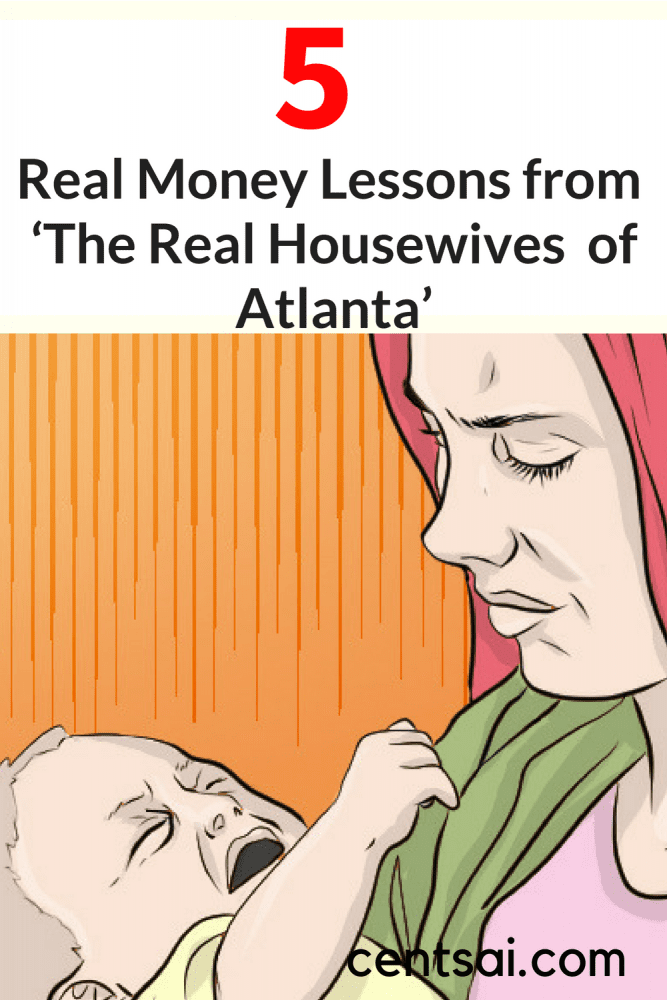 Most of us tune into The Real Housewives of Atlanta (RHoA) primarily to witness drama, foolishness, and a lot  bad behavior. I know I do.
But now that I've been watching RHoA for five years, I've found myself taking notes on how these women operate when it comes to money.
Here are five of the smartest money lessons that I've learned from The Real Housewives of Atlanta:
1. Protect Your Personal Wealth With a Prenuptial Agreement
Before joining the Real Housewives of Atlanta cast, Kandi Buruss had already made her millions as a songwriter, a member of the singing group Xscape, and a serial business owner.
She met her husband-to-be, Todd Tucker, on the sets of RHoA. Todd was a member of the production team and had considerably less wealth. When their talk of marriage became serious, Kandi insisted that Todd sign a prenuptial agreement. He avoided doing this until the day of the wedding. In fact, he threatened to call off the wedding if she insisted that he sign. But Kandi persisted. Although she loved Todd, she also needed to protect her life's work and wealth in the event that their marriage failed.
Even though they appear silly in their personal lives, these "real housewives" are quite savvy with their finances.
2. Communicate With Your Spouse Before Opening a Business
We watched Cynthia Bailey and her husband, Peter Thomas, get a divorce in the latest season of RHoA. Cynthia wanted out of the marriage because of rumors of Peter's infidelity, and because he opened a sports bar and lounge, Sports One, in Charlotte, North Carolina, despite her misgivings. The couple had already had a bad experience with their restaurant in Atlanta, which lost money and had to be closed. Besides, their marriage struggled because they hardly saw each other. Peter stayed in Charlotte for weeks on end to manage Sports One, leaving Cynthia by herself in Atlanta, feeling lonely and neglected.
3. Build Generational Wealth by Including Your Children and Family in Business Operations
Cynthia Bailey is a former supermodel and the creator of several accessory lines, one of which is Cargo, a line of luxury leather goods. To groom her daughter, Noelle, for the family business, Cynthia decided to make her the face of the brand. Similarly, Kandi Buruss recently opened a soul-food restaurant called OLG — short for Old Lady Gang — that showcased some classic recipes from her mother and aunts. Both these family members and her husband played a large part in developing the restaurant's design and menu.
4. Pick the Best Person for the Job — Not Your Best Friend
Kenya Moore, known on the show as being a bit of an entitled drama queen, was very close to Cynthia Bailey. At one time, Cynthia wanted to hire someone to produce and shoot a commercial for her line of sunglasses, Cynthia Bailey Eyewear. In the spirit of sisterhood, Cynthia gave Kenya a chance to showcase her ideas.
Instead of showing up prepared with her concepts and deliverables, Kenya didn't make the meeting at all.
She never even bothered calling to let Cynthia know that she wouldn't be there. Cynthia naturally gave her business to Kim Fields, a fellow cast member who arrived at the meeting on time and prepared.
5. Become a Serial Entrepreneur
In addition to receiving payment for being members of RHoA brands, the veteran housewives have leveraged their reality TV stardom to create additional streams of income. Here are a few that each housewife has created:
Kandi Buruss is the owner of OLG restaurant; Bedroom Kandi, a brand that promotes healthy sexuality and fun for singles and couples; Raising Ace, a unisex baby products brand; and TAGS Boutique, a franchised women's clothing store.
Cynthia Bailey is part-owner of Bar One and full-owner of Cargo (the leather goods company) and Cynthia Bailey Eyewear.
Porsha Williams keeps herself busy running her hair extension company, Naked, and as a radio host on Dish Nation.
Phaedra Parks, in addition to working as an attorney in her own firm, runs the Phaedra Foundation. She also is a licensed mortician.
Sheri Whitfield is the author of Wives, Fiancées, and Sidechicks of Hotlanta.
Kenya Moore owns Kenya Moore Haircare, a line of beauty products.
The Next Time You Watch The Real Housewives of Atlanta…
The Real Housewives of Atlanta no longer has to be a guilty pleasure. While you watch to satisfy your love of conflict and outrageous behavior, you'll also pick up a number of solid money lessons. In some cases, you may even find yourself — gasp! — inspired by these women.