6 second take:
Tax credits can save you a bundle of money if you qualify, but you need to know about them to optimize your tax situation.
Taxes are complicated. One common confusion is the difference between a tax credit and a tax deduction. Essentially, you'll save one dollar in taxes paid for each dollar of a tax credit you have. For tax deductions, you'll only reduce your taxable income by one dollar for each dollar of deductions. If you're in the 12 percent tax bracket, that means a $1 tax deduction would save you 12 cents in taxes while a $1 tax credit would save you a full $1 in taxes.
Now that you understand how awesome tax credits are, you need to know what types of tax credits are out there. This is important because they usually have strict rules on who qualifies and who doesn't. If you go over the income limit, for example, you might not qualify for an otherwise lucrative credit.
Sometimes a little bit of tax planning before the year ends will help you qualify for some of these credits. So what are the different types of tax credits you need to know about, and where can you find more information about them? Here's what you need to know.
Get the Most out of Your Refund — File a Free Federal Tax Return >>
Tax Credits Have Limitations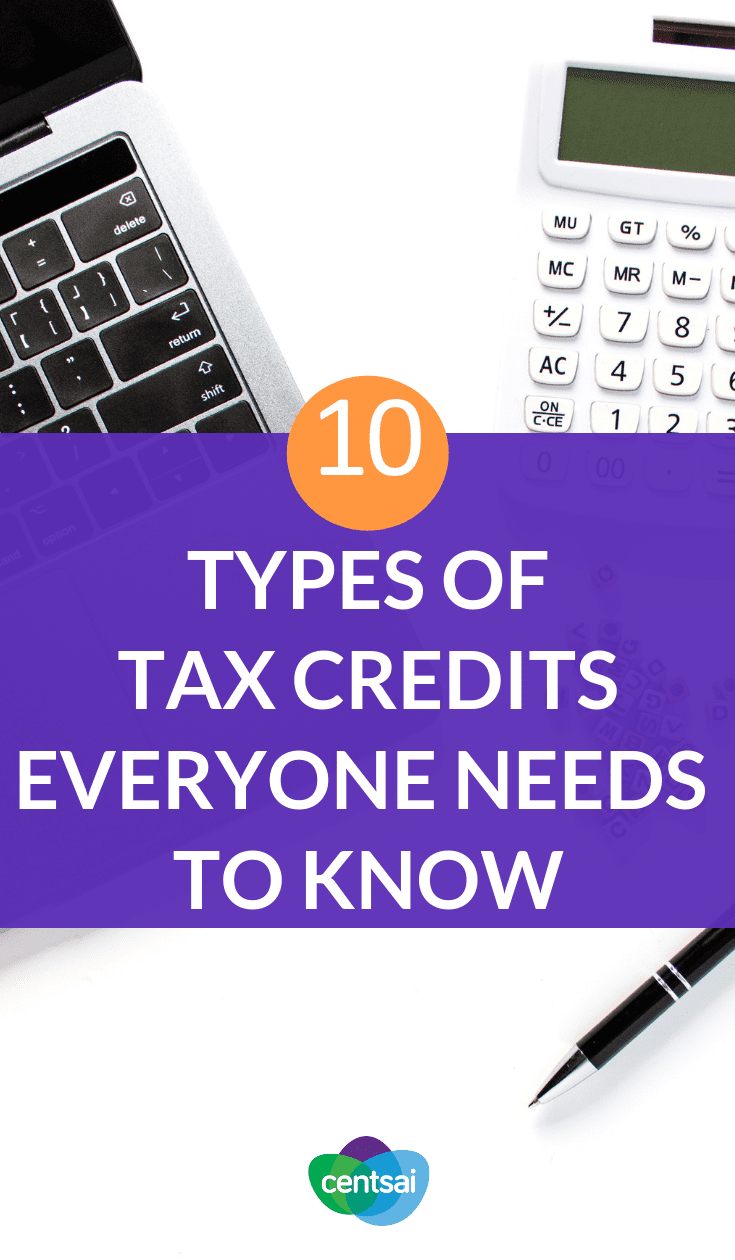 Tax credits typically have limitations that allow lawmakers to target who does and doesn't qualify for a credit.
In some cases, there are very specific definitions to qualify or disqualify a person.
For instance, there are specific rules for who qualifies as a child or other dependent for their respective tax credits.
In other cases, you have to have income below a particular limit to qualify for the full credit. If you exceed an income limit, you may still be able to claim part of a tax credit. However, at some point, the credit may totally disappear.
While we won't dig into the complete details of each credit, you'll find a link to the IRS's website in each section that explains each credit in much more detail.
Types of Tax Credits
Child Tax Credit
The child tax credit allows you to claim a credit of $2,000 per qualifying child. The tax credit can be refundable for up to $1,400 per child. To qualify, a child must have a Social Security number and be under the age of 17.
The IRS's interactive tax tool lets you know if a child qualifies. See Publication 972, Child Tax Credit, for more details.
This App Makes Managing Your Finances Easy — Start Budgeting Today >>
Credit for Other Dependents
Children aren't the only dependents that could qualify you for a tax credit. This credit is up to $500 per qualifying person, but it is not refundable. Children ages 17 and 18 may qualify as well as other dependents that you provide over 50 percent of support for.
The rules can get complex, so as mentioned earlier, make sure you use the IRS's tool or read Publication 972.
Earned Income Tax Credit
The earned income tax credit is complicated but could allow you to save a significant amount on your taxes. You must have earned income from working for someone or from running or owning a business to qualify. Credits range from up to $519 with no qualifying children to $6,431 with three or more qualifying children.
Essentially, you have to have an adjusted gross income below the limits for your tax filing status (single, married filing jointly, etc.) and the number of qualifying children claimed. You must also have investment income of less than $3,500 for the year.
You can learn more about the earned income tax credit on the IRS website.
Child and Dependent Care Credit
The Child and Dependent Care credit gives you a credit if you paid someone to take care of your child, dependent, or spouse so you could work or look for work.
The total expenses allowed are up to $3,000 for one qualifying person or $6,000 for two or more qualifying people. The credit is a percentage of your expenses, up to 35 percent, based on your adjusted gross income.
As with any credit, there are plenty of exceptions and qualifications you must meet. You can learn more about the credit here.
Adoption Credit
If you're adopting a child, you should definitely look into the adoption tax credit. The credit is for qualified adoption expenses paid to adopt an eligible child, but it's nonrefundable.
Even though it's nonrefundable, you can carry forward any amount you don't use for up to five years in the future.
The maximum dollar limit for this credit is $13,840 in 2018, and the IRS provides more details about the credit on its website. 
Get a Free Tax Relief Consultation — Visit Site >>
Saver's Credit
The saver's credit, technically called the Retirement Savings Contributions Credit, allows you to get a tax credit for saving for retirement if you meet the guidelines. You must be 18 or older, not a full-time student, and not be claimed as a dependent on someone else's tax return.
You can get a credit worth 50 percent, 20 percent, or 10 percent of your contributions to certain accounts up to a maximum credit amount of $2,000 for single filers. Your adjusted gross income must be below a certain amount based on your filing status to qualify for the credit and the particular percentage of your contribution.
You can learn more about this credit here.
Premium Tax Credit (Affordable Care Act)
If you get your health insurance through the health insurance marketplace, you may qualify for a premium tax credit. This tax credit is refundable and helps those eligible pay for health insurance purchased through the marketplace. Your income must fall within a certain range and you must meet other requirements to qualify.
The IRS has tools that you can use to see if you qualify. You can also visit the IRS's Premium Tax Credit page to learn more.
Education Credits (Lifetime Learning and American Opportunity)
The Lifetime Learning Credit (up to $2,000) and American Opportunity Tax Credit (up to $2,500) are two credits you may qualify for depending on many factors including your filing status, a student's enrollment status, adjusted gross income, the particular expenses paid, and details surrounding them, as well as other factors.
You can use this IRS tool to help you determine if you're eligible for these credits.
Foreign Tax Credit
The foreign tax credit or itemized deduction helps those that pay foreign taxes avoid having to pay both foreign and U.S. taxes on their income. If you work and live in the U.S. and never pay taxes to foreign countries or U.S. territories, this won't impact you.
But if you do live and pay taxes outside the U.S. as a U.S.citizen, you should definitely read IRS Publication 514 to learn more.
Get the Most out of Your Refund — File a Free Federal Tax Return >>
Final Thoughts
Tax credits and tax planning can be complicated. For most people, it makes sense to consult with a tax professional to help guide you through the weeds. That said, tax software and IRS publications can provide you with the necessary information if you're willing to do the footwork yourself.