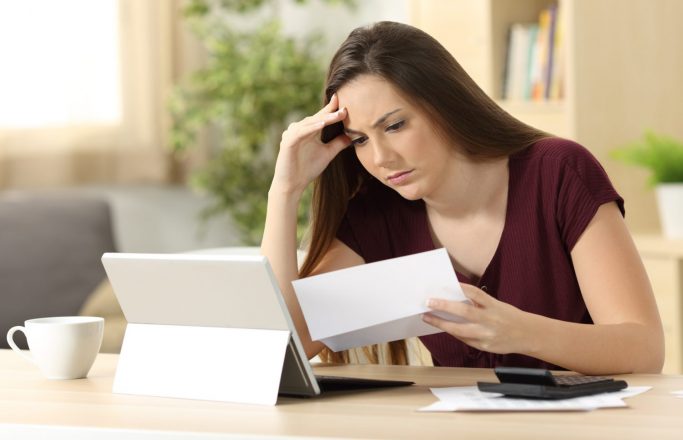 6 second take:
Most people hope for a refund when they fill out their yearly tax return. Others strive to break even — to not get a refund or owe any money. But if you do owe taxes and are unable to pay, there are some options.
No one actually likes owing money to the government. But it may be unavoidable come tax time. Not everyone can afford just to write a check for the amount owed, so what if you owe taxes and can't afford to pay them? Here's what to do when you owe taxes and can't pay:
Avoid Penalties: Make Sure You File Your Return
Most people don't realize that there are multiple penalties if you owe taxes and don't file your tax return on time. You can be charged a late-filing penalty that is typically five percent of your unpaid taxes each month and can accrue up to a maximum of 25 percent. The minimum penalty for the 2016 filing year was $205, which was 100 percent of your unpaid taxes if you owed less than that amount. So even if you owe taxes that you can't pay, file your return on time so that you're not hit with a failure-to-file penalty.
Get the Most out of Your Refund — File a Free Federal Tax Return >>
You can also be penalized for paying late, even if you file your return on time.
Generally, the penalty is 0.5 percent of the taxpayer's unpaid taxes each month, but it can grow to as much as 25 percent of those taxes.
You might be able to avoid both of these penalties if you can show reasonable cause for not filing or paying on time. However, this won't work if you say something lame like, "My son had a field trip that I had to pay for." If you owe taxes and can't pay, you have to have a good reason for it.
Filing an Extension May Help Reduce Penalties
If you paid 90 percent of the taxes you owed by the tax due date and you filed an extension for your tax return, you may not be charged a failure-to-pay penalty as long as you pay the balance due by the extended due date. You will, however, have to pay interest on the taxes due after the tax due date. However, this doesn't apply in all situations.
What to Do If You Still Owe Taxes and Can't Pay
If you owe taxes and can't pay your bill in full, you may yet have a couple of options — namely a payment plan or an offer in compromise.
Short- and Long-Term Payment Plans
You may be able to set up a payment plan with the IRS, as long as you meet the requirements. If you've filed all the necessary tax returns, you may qualify for a short-term payment plan (120 days or less) if you owe less than $100,000 in tax, penalties, and interest, or a long-term payment plan (more than 120 days) if you owe $50,000 or less in tax, penalties, and interest.
Save on Your Bills and Manage Unwanted Subscriptions — Sign Up Here >>
Short-term payment plans have no setup fee, but you will owe accrued penalties and interest until the balance is paid in full. Long-term payment plans have setup fees ranging from $31 to $149, and you'll have to pay accrued penalties and interest until you pay the balance in full. You can learn all about these payment programs on the Internal Revenue Service (IRS) website.
The Offer-in-Compromise Program
Another option for those who owe taxes but can't pay is the offer-in-compromise program through the IRS. It allows you to settle the tax debt you owe for less than the full amount due, but only if you can't pay your taxes due to financial hardship.
The IRS considers your ability to pay, income, expenses, and asset equity when making the determination. The IRS generally approves these offers when the proposed amount is the most it can expect to collect within a reasonable period of time.
You must be eligible in order to submit an offer in compromise. To be eligible, you can't be in an open bankruptcy proceeding and you must be current with all filing and payment requirements.
Settle Your Debt – Get Your Free Consultation Here >>
When you submit your offer, you'll have to pay a nonrefundable $186 application fee and an initial payment toward your offer. The offer-in-compromise program can be complicated, so head over to the IRS website to get all the details and see if it will work for you.
Do Tax Relief Companies Work?
I'm sure you've seen or heard advertisements claiming that your tax debt can be wiped out. Those advertisers don't have a magic bullet — they simply take advantage of the programs the IRS offers. Unfortunately, many of these companies are scams. "The truth is that most taxpayers don't qualify for the programs these fraudsters hawk, their companies don't settle the tax debt, and in many cases don't even send the necessary paperwork to the IRS requesting participation in the programs that were mentioned," according to the Federal Trade Commission.
Get a Free Tax Relief Consultation — Visit Site >>
If you can't figure out how to do it yourself, make sure you hire a legitimate company that can help. Check the Better Business Bureau to find a one, and don't pay in full up front. If you do have to make any sort of up-front payment, don't do so without fully understanding what the company will do for you.
The above should not be relied on as tax advice for your specific situation. And as always, you should consult a tax professional.