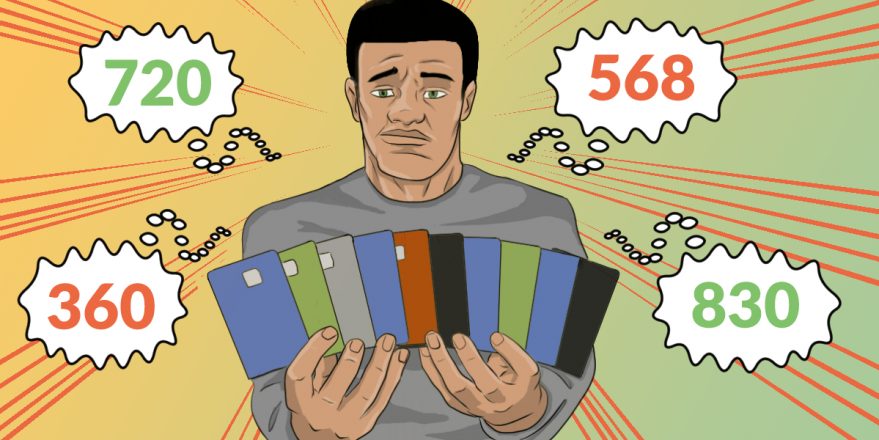 6 second take:
The law says that you have every right to access your credit report from the three major rating agencies for free. You will only need to pay if you sign up for additional services like identity protection.
Have you checked your credit score recently? TransUnion, one of the three major credit bureaus, encourages everyone to check their credit report at least once a year. Despite the common misconception that you have to pay big bucks to see your full report, you can access it for free.
Some websites charge you a fee to view your full credit information. They may even offer a free trial or advertise a "free credit score" viewing, only to collect your credit card data and eventually charge you anyway.
While you want to avoid those companies, you still need to keep an eye on your credit. This helps you ensure that all of your information and accounts are listed correctly and that no one is using your identity and racking up debt in your name. Here's how to get a free credit report and see your credit score.
Check Your Credit Score for Free — Visit Site >>
First, Understand Why You Have Different Credit Scores
If you've checked your credit online before, you may wonder why the score you see is different from what lenders see. Because of the different algorithms that credit bureaus and lenders use, you can have hundreds of different credit scores.
So don't get hung up on trying to pinpoint your "real" credit score — it's constantly changing.
Two of the most common scoring models are VantageScore and FICO. Your FICO score, which ranges from 300 to 850, is widely used among lenders. This scoring model is constantly being updated and has slightly stricter standards than the VantageScore model.
VantageScore was created in 2006 as a competitor to the FICO score. It's a model that compiles all three credit files from the major credit bureaus to come up with a single score. An older VantageScore model ranges from 501 to 990, while the newer 3.0 model will calculate your credit score to be somewhere between 300 and 850.
Keep in mind that while there are several different scoring models, they are all ranked from low to high. You want your credit score to be as high as possible so that you can receive a "good" or even "excellent" rating. This will lead to lower interest rate offers from lenders.
Get a Free Credit Report and Score — Visit Site >>
How to Get a Free Credit Report: Who to Talk To

Now that you know about the different scoring models and why your score may vary, you can access your score or report for free with any of the following services:
AnnualCreditReport.com
Credit Sesame
Credit Karma
Discover Credit ScoreCard
Your Credit Card Company
1. AnnualCreditReport.com
Under the Fair Credit Reporting Act (FCRA), you are legally entitled to at least one report every 12 months from each of the three major credit bureaus: Equifax, Experian, and TransUnion. The best way to view your complete credit report each year for free is to go to AnnualCreditReport.com and print it out.
2. Credit Sesame
Credit Sesame provides you with a free VantageScore credit score and credit report card, which can serve as your credit report. The company also offers paid identity theft protection services. The one downside? You do have to pay to receive a copy of your official credit report. However, you can view and monitor your score at any time for free.
Get a Free Credit Report and Score — Visit Site >>
3. Credit Karma
Credit Karma is a free credit-monitoring service similar to Credit Sesame. When you sign up, you'll get access to your VantageScore credit score based on your TransUnion and Equifax credit reports. In addition, Credit Karma offers free credit-monitoring email alerts for your TransUnion data.
4. Discover Credit Scorecard
The Discover Credit Scorecard is Discover Bank's online tool that allows you to check your FICO score for free. Once you sign up, the scorecard will display your credit score and important information about your payment history, revolving credit, number of inquiries, and more. You don't have to be a Discover customer to use this tool.
5. Your Credit Card Company
Finally, your credit card company may provide you with your credit score for free. If you own an American Express, Barclaycard, Capital One, or Discover credit card, you should be able to check your VantageScore or FICO score for free either monthly or quarterly.
Check to see if your credit card company offers this added service so you can regularly monitor your score and watch for sudden changes due to fraudulent activity.
Check Your Credit Score for Free — Visit Site >>
How to Get a Free Credit Report: The Bottom Line

Don't underestimate the importance of checking your credit report. You need to make sure that you're financially healthy. But before you consider a paid option, try using one of these five legitimate, free solutions to learn where your credit stands.