Money & Suicide: 4 Things to Remember When Overwhelmed by Debt
6 second take:
If you or someone you know is considering suicide because of debt, get active, get involved, and most importantly, get help.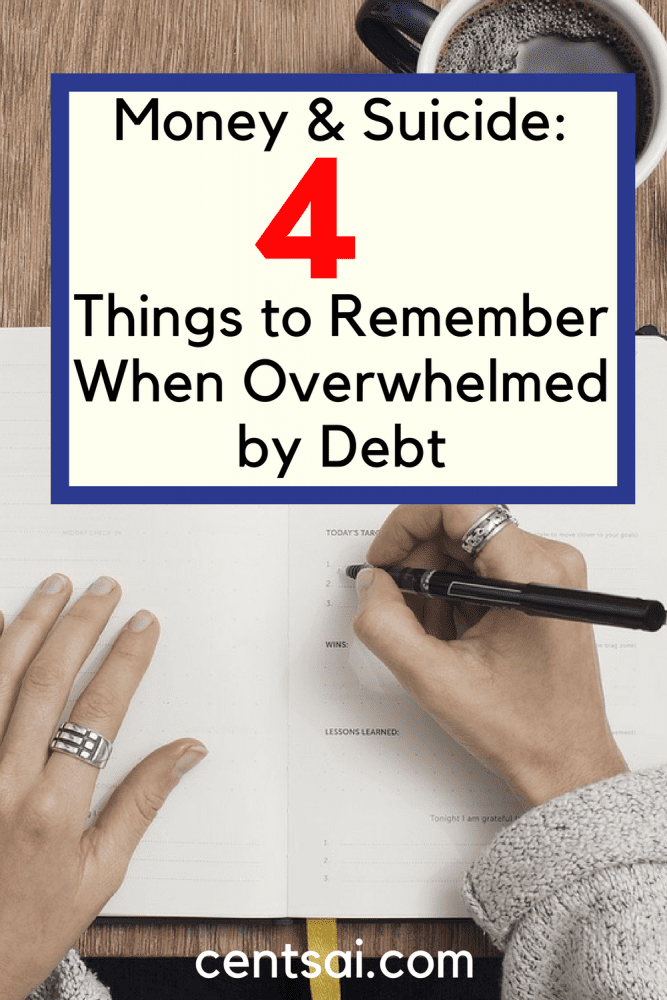 One of the most haunting movies I've ever watched as a student of behavioral economics is The Joneses.
The movie is based on the concept of stealth marketing, which is exactly what it sounds like – an aspect of marketing in which the audience is not aware that they are being marketed to. In The Joneses, a marketing team pretends to be a model, well-heeled family living in a well-to-do suburb. Under this guise, they host parties and get-togethers to show off their latest gadgets, extravagances, and luxuries.
One particularly vulnerable neighbor goes into debt and loses his home in order to compete with this "family." It doesn't take long before he commits suicide over his debt. (Sorry for the spoiler.)
It was a powerful movie because while I knew it was possible, I never made the direct link between suicide and debt until I saw this film. I guess I was just unwilling to wrap my mind around the idea that someone would end his life over money. But as of two weeks ago, I could no longer lie to myself. One of my coworkers took his own life over a long weekend.
As an office community, we were devastated. We couldn't figure out what led him to this decision to commit suicide.
But as we packed up his belonging, we found a wad of "final notice" letters from an electrical company. The total cost was nearly $3,000. We also found a printout of the Blue Book value of his newly purchased BMW. The car, we discovered, had been traded in for a Honda before he died.
When Finances Become Personal
Finally, we found a post-it. He'd scrawled the book title The Number, a few calculations, and a seven-figure number circled. After a quick search on Amazon, we learned that the full title of that book was The Number: What Do You Need for the Rest of Your Life and What Will It Cost? And while we can't confirm it, we figured that the mysterious seven-figure number was the amount of money that our dear coworker needed in order to retire. A number that, one might guess, he didn't have.
His suicide hit me hard as a coworker, but especially as a personal finance writer. The personal finance writing world has an unspoken air of derision for the millions of Americans who chronically live above their means. Whether intentional or not, we look down on those that carry heavy balances. We shake our heads when they go off-budget. We tssk-tssk when they find themselves past due on bills. We scoff when they buy more house than they can afford. In so many words, we shame them.
We shame individuals, families, and communities for not exercising more self-control.
So, while I mourned the loss of my office buddy, I grappled with a heavy sense of guilt and partial responsibility as a member of the personal finance media community — an industry that needs to offer as much advice on how to manage the emotions related to debt as we do on other action plans.
So what do you do when you find yourself dealing with debt-related depression? Here are a few things you need to remember:
1. Help is Close-By
The National Foundation for Credit Counseling is the nation's largest and longest-serving nonprofit financial counseling organization. They offer credit and debt counseling. And Debtors Anonymous meetings give attendees the hope, support, and skills needed to manage their debt. You can also reach out for free confidential help at The National Suicide Prevention Lifeline at 1-800-273-8255 if you need immediate help.
2. Your Debt Is Not a Reflection of Your Worthiness
In the world of personal finance, we make it very clear that all debt is bad debt, with very few exceptions.
However, your debt is not you. And you are not your debt. In other words, you are not bad because you have debt.
Debt is a function of the decisions that you've made around spending and saving. And those, in turn, are skills that you can improve with support.
Specific services are available for people in debt to offer support, solutions, and long-term recovery plans. American Debt Enders and Curadebt Relief are some of many companies that offer professional solutions to help you find ways out of debt.
3. Choose Life — Always
It can be debilitating to feel that we can never get past our financial hurdles. But ultimately, the debt can wait. So if you're unable to move forward, let it wait. But if you must, sell your car and downsize into a smaller living place, do so.
4. Carrying Debt? You Have Rights
The Federal Trade Commission (FTC), the nation's consumer protection agency, enforces the Fair Debt Collection Practices Act (FDCPA), which prohibits debt collectors from using abusive, unfair, or deceptive practices to collect from you. If you're contemplating suicide because of a threat made by a debt collector, try to empower and protect yourself against illegal practices.
Debt is not a death sentence. Suicide is a permanent solution to a temporary problem, no matter how overwhelming or embarrassing it may feel. Finding solutions and staying alive is much more rewarding!