The Epic Travel Hack Dinged My Credit Big Time
6 second take:
Credit cards that offer travel rewards can be a big temptation.  Just be sure you don't get in over your head.
For those of you who love to travel, you've probably heard the buzzwords "travel hacking." Travel hacking involves using credit card reward points to travel for "free." Basically, you sign up for new credit cards in order to earn free rewards like mileage points.
Several of my friends had travel hacked pretty successfully, so I thought that I should try my hand at it. In retrospect, it was a very bad idea for me, even though it has worked for other people.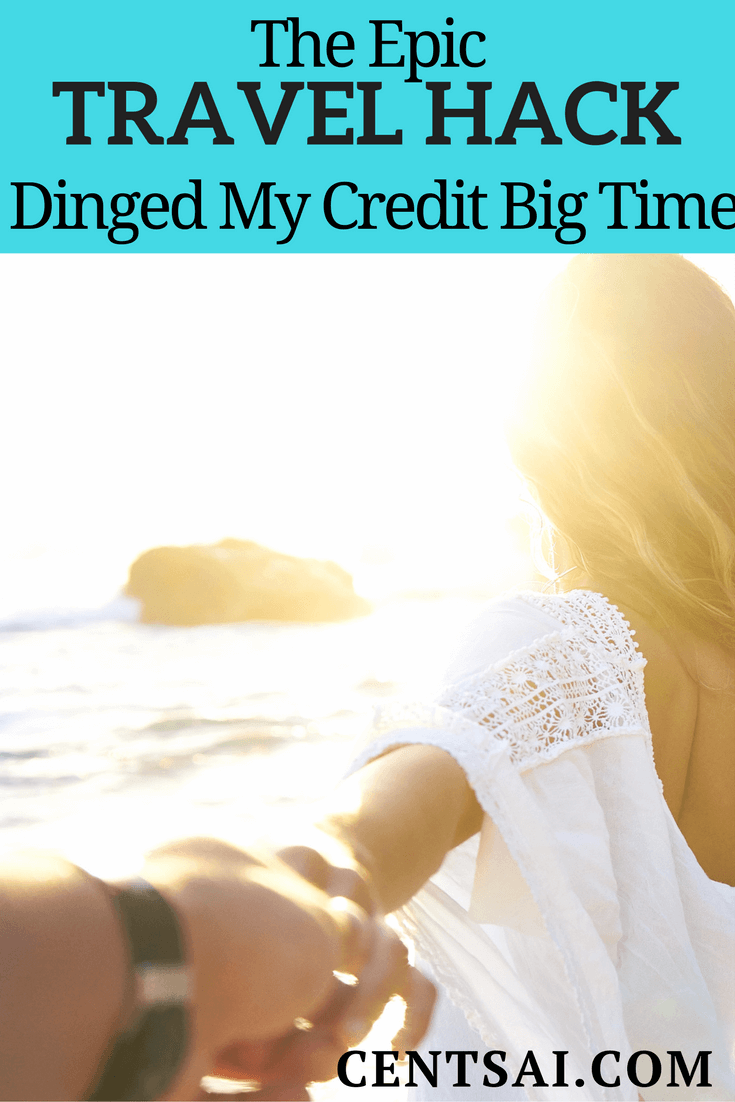 Here's my sad story:
About a year and a half ago, I was in the process of preparing to travel for two months in Australia. That is an epic trip with a ridiculous amount of miles to be earned and burned for the budding travel hacker.
The idea of getting more miles from this trip by opening up a few credit cards and paying for certain parts of my trip in advance in order to meet the threshold to earn additional air miles was super enticing. What could go wrong?
I did open up a couple of additional credit card accounts. I was able to earn miles on two cards, and thought that I had earned miles on the third card… except I hadn't. I didn't know that at the time.
Epic Fail.
This story is painful and a little bit embarrassing. Why? Because it really didn't make sense for me to borrow more money when, till that point, I had been working hard to pay off my debt.
I added on more debt in order to get the reward of extra plane tickets. That's pretty bad.
How Much Did I Borrow?
Actually, my trip ended up being pretty affordable. I spent around $5,000 for two months in Australia. This included round trip airfare, accommodation, three weeks watching tennis at the Australian Open (tickets are way cheaper than the U.S. Open), and other miscellaneous expenses. I have friends in Sydney and Melbourne, so I was able to save a substantial amount on an accommodation.
But let's get real. I could have side hustled more and paid for this trip in cash. I've hustled before and paid cash for other overseas trips that I've taken. But instead, I borrowed around $4,500 using credit cards for a trip that I could have paid cash for.
And I couldn't have picked a worse time to do that as I was transitioning to self-employment and would be dealing with inconsistent cash flow for a while.
Credit Score Pain
While I was away, I made sure that I paid all my bills, including credit card balances. But in all that excitement and the hot Aussie sun, I missed one card that was due. By the time I returned to the States and checked my phone messages (and mail), the damage was done.
I had seriously dinged my credit score, and the worst part of the story is that I hadn't even earned miles on the card that messed up my credit. 
Painful
I found myself back in debt, with a seriously damaged credit. I have paid off debt before, and I knew I would pay this off, too. Still, while I didn't cry myself to sleep every night, I must say I was pretty miserable. These types of tricky financial maneuvers are not for everyone.
I am super frugal, can budget like a ninja, and stop shopping for a year, but I still couldn't stop myself from falling into this trap.
People like me should be honest with ourselves and admit that travel hacking isn't right for everyone.
Now I am in a deeper financial hole, and I have to clean up my credit and pay off that debt. I will have to work more and earn more for much longer to recover from that one silly mistake.
Luckily, I am not in the process of buying a new home or purchasing a car. My crippled credit would have made that almost impossible. I've learned my lesson: travel hacking is not for me. Next time, I will start a long vacation armed with a wad of cash as thick as Shaquille O'Neal's biceps.