Get Paid to Teach Online as a Language Tutor
The world is getting more and more connected, and the opportunity to teach languages to distant clients through the internet can become a rewarding career.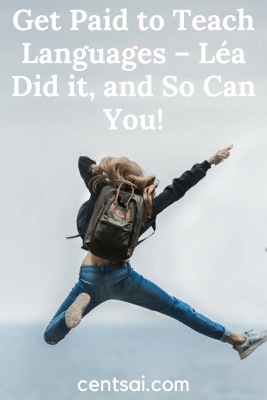 Are you looking for a home-based business that you can start on the fly and make a lot of money?
If so, then maybe you should consider trying to get paid to teach languages.
All you really need to get paid to teach online is a computer and an internet connection.
Becoming an online language teacher or tutor can be intimidating if you've never done it before, but have no fear.
I sat down with one of my own former online French teachers to discuss how she got started, what challenges she faced, and how others can become successful language teachers — part-time or full-time.
Get Paid to Chat With Strangers
Did you ever go into a chat room and spend time chatting with multitudes of random strangers? You'd exchange a few sentences with someone before signing off and going to the next one. If so, maybe you met Léa!
Léa spent a lot of time chatting online with foreigners from all over the world.
She didn't even speak English when she began, but over time she gradually picked up the basics of the language.
Léa eventually moved on to formal English lessons in school. The experience of talking with hundreds of real people from across the world in a completely different language from the comfort of her own home stuck with her.
Eventually, she decided to try her hand at creating a job for herself by teaching people online: "I realized that the classroom environment was … well, it's not very productive. The best way to learn was through immersion, and you can do an immersion on the internet."
Lea decided to get paid to teach languages.
She headed to one of the best language-learning websites she knew of — Italki — and launched her business. "I created a profile on the site when it was quite small, and that's how I started. Then, made myself available to work from seven in the morning to midnight in the evening. I also set it at a low rate. I started at five dollars if I remember well."
The Challenges of Teaching a Language
Things have gone pretty smoothly for Léa since launching her business, with a couple of exceptions. First off, she had to register herself as a business with French authorities.
It wasn't easy and took a lot of time and pain to accomplish. But that's over with now, and she can focus on teaching online full-time.
Now Léa is facing a potentially bigger problem. She has become so popular that there isn't enough of her to go around to meet demand. It's great for business because she doesn't have to worry about filling her schedule with students anymore, and she's gradually crept her rates upward so that, for some teaching sessions, she charges up to $32 an hour. She now has her own platform — LeaCafe.
Building a Learning Empire
You can create your own language-learning empire, too. All you really need to get started is a bright personality, a good computer (with a built-in webcam), and an internet connection to create a profile on any of the major language-learning sites.
You don't even really need to know a second language. Plenty of teachers just help advanced speakers practice English.
If you want to get paid to teach languages, there are some easy tips to get started. There are a lot of online language teachers out there, and Léa has a secret for standing out: Test everything in your profile.
Do regular A/B tests in which you change one thing for a couple of weeks  — such as your photo or description – and see how that affects your bookings. Whatever works, stick with it, but keep tweaking your profile.
Finally, Léa's top tip is this: Be devoted to your students.
"I want my students to be productive in their learning with me," she says. "Every lesson is precious. Not a single lesson is the same. [There are] always extraordinary people I meet every day. My students have become the most inspiring people in my life. They inspire me every day. I love my job."