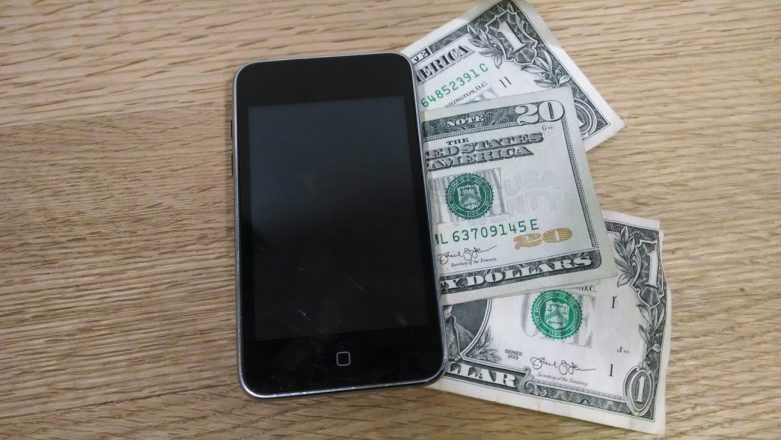 6 second take:
Check out the pros and cons of these six savings apps and figure out which one is the best for you.
It seems like everywhere you look these days, you're being bombarded by ads for apps claiming to make you money, save you money, or give you an easy way to spend your money. But sometimes all those ads, along with their corresponding claims, can become overwhelming. It can be hard to discern what's trustworthy, and what's worth your time and money.
I tested six apps claiming to make saving (and investing, in some cases) easier, and graded them in four categories: ease of use, bang for your buck, customer service, and reputation. I gave each savings app a score between one and three in each category. One is poor, two is okay, and three is excellent. I've also provided an overall score between four (worst) and 12 (best) based on the total of the scores in each category. This will make the apps easier to compare at a glance.
Start Managing Your Finances — Download This Personal Finance App >>
1. Acorns
Acorns launched in 2014 as a first-of-its-kind micro-investing app. The app makes investing easy by allowing you to pick one of five risk profiles, from conservative to aggressive. From there, it automatically invests your money in exchange-traded funds (ETFs). In short, ETFs are groups of stocks set up to easily diversify your investments and reduce risk.
Acorns was also one of the first in the market to introduce automatic round-up investments. You link your debit and credit cards, and it rounds every transaction up to the next dollar and automatically invests the difference for you. For example, if you go to Target and spend $65.25, Acorns will track that purchase, round to the next dollar, and automatically invest 75 cents into your account.
Of all the apps in this list, this is the one I've personally used the longest.
I set up an Acorns account in 2016, and I've been investing using the aggressive risk profile ever since.
In fact, I've made a decent amount of money with the market growth. I've taken advantage of the round-up investing and automatic monthly investments and had a great experience.
Ease of Use: 3
Acorns is easy to use, and the in-app tutorials are great for first-time users. It's easy to get the hang of, and a great tool for people wanting to dip their toes into investing.
Bang for Your Buck: 2
Acorns charges $1 per month for accounts with balances below $5,000, and 0.25 percent for accounts with balances over $5,000. It's free for college students.
Customer Service: 1
This is where Acorns falls short. The only way to contact customer service is to fill out a contact form; the site currently says the wait is one to two business days for a response.
Reputation: 2
Though Acorns has an average rating of 4.7 out of 5 stars on the Apple App Store, with over 333,000 reviews, the app's parent company, Acorns Grow, has an F rating with the Better Business Bureau (BBB).
Overall: 8
Acorns is easy to use and unique in what it does. That said, its difficult-to-reach customer service and its F-rating from the BBB knock down its score significantly.
It's also worth noting that unlike the funds in some of the other apps described here, the money in your Acorns account is not FDIC insured because it's an investment account and not a savings account. This is an important distinction.
Learn How to Invest Confidently — Download This Free App >>
2. Digit
Digit is an app launched in 2015 that offers goal-based saving and intelligent transfers from your checking account periodically to build your rainy day fund. It does all of this in the form of an FDIC-insured savings account tied to your checking account. Digit also allows the opportunity to earn interest increases over time and when certain milestones are reached.
The unique part of Digit is its artificial intelligence (AI)-powered saving algorithm that tracks your paychecks and spending and then finds small amounts of money that it thinks you won't be spending and transfers it into your account. You can also create goals for things like vacations or credit card debt and fund them with recurring transfers from your checking account.
Ease of Use: 1
Though Digit's interface seems polished enough, the app is difficult to use, and its purpose isn't obvious.
Bang for Your Buck: 2
After a 100-day free trial, Digit costs $3 per month. In terms of interest rates and fees, Digit falls right in the middle as far as value when compared with its competitors. On a positive note, every Digit account is FDIC insured.
Customer Service: 1
Digit's customer service is available only by submitting a ticket through the help center. There is no option for live chat or phone calls.
Reputation: 3
Digit has an average rating of 4.8 out of 5 stars on the Apple App Store. And its parent company, Hello Digit, has a BBB score of B+.
Overall: 7
The steep learning curve, fees that are beaten by the competition, and poor customer service accessibility tanked Digit's overall score. One notable con about Digit? It doesn't ask you whether you want to pull funds from your account before it automatically does so. This can be inconvenient — or even downright detrimental — for people who don't have a lot of money in their accounts.
3. Chime
Launched in 2014, Chime is an online banking app that combines checking and savings accounts with automatic round-up saving similar to Acorns' system. There are no monthly, overdraft, or foreign transaction fees, and you have the ability to set up automatic transfers from your checking to savings account, making saving easy.
Send Money Internationally — Download the App >>
Chime makes its money through debit processing fees (charged to the merchant, not to the customer) and through out-of-network ATM fees ($2.50 per transaction).
Unlike traditional banks, Chime has no physical locations, so depositing cash or checks may be difficult.
But nearly anything else you would need from a basic checking or savings account can be handled through Chime, with lower fees than traditional banking institutions.
Ease of Use: 2
Chime is easy to sign up for and easy to use. Its interface is clean and well developed, and the experience using the app is great. But the inability to deposit cash at a brick-and-mortar bank is a drawback. The only way to deposit cash is at a Green Dot location (generally inside grocery or convenience stores), and there's a $4.95 charge to do so.
Bang for Your Buck: 3
Chime charges very few fees. If you don't need to deposit or withdraw cash often, and most of your charges go through your debit card or directly through your account, you should rarely see any fees, if any. And your Chime accounts are FDIC insured.
Customer Service: 3
Chime customer service is reachable seven days a week via email, by phone, and through the app.
Reputation: 3
Chime has an average rating of 4.7 out of 5 stars on the Apple App Store. It doesn't currently have a rating from the BBB.
Overall: 11
This savings app is a great concept. It works really well for most people who don't deal with a lot of physical cash or checks. However, if you're someone who typically deals with a lot of cold, hard cash — like a server, for example — Chime may be more of an inconvenience than anything for you.
4. Qapital
Qapital was first developed in Sweden and was launched in the U.S. in 2015. At its core, Qapital is a way to create savings goals for things like vacations, paying off debt, or buying a new car.
This savings app is unique in that it integrates with the service IFTTT (If This, Then That) to create rules for saving.
For example, you can set up a rule that if you pass a certain number of steps in a day, Qapital will automatically transfer $10 into your recreation fund.
The app is available with a 30-day free trial. After that, it costs $3 to $12 a month, depending on what you want out of it. The more you pay, the more functions the app provides. This can include a bank account with a debit card, investing services, and financial education through webinars.
Save Simply and With Ease Toward Your Financial Goals >>
Ease of Use: 3
Qapital is well made, aesthetically pleasing, and easy to set up. It includes Facebook integration and has a seamless setup process. The tutorials walk you through every aspect of the app before you use it for the first time.
Bang for Your Buck: 3
The $6 per month plan provides great value. It includes rule-based saving for goals, a checking account with a debit card, and the ability to invest in ETFs. But if you're just looking to save and don't need the banking and investment access, then the $3 a month plan is also a great deal. Qapital savings and checking accounts (excluding investment accounts) are FDIC insured.
Customer Service: 1
Qapital customer service is reachable only via email or the chat function, either online or in the app.
Reputation: 3
Qapital is rated an average of 4.8 out of 5 stars in the Apple App Store and has an A+ rating from the BBB.
Overall: 10
Qapital is a well-developed app that has the ability to automate saving to the fullest extent with dozens of rules to choose from. It provides excellent value for what it brings to the table, but considering that it's a bank, customer service should be more accessible.
5. Clarity Money
Clarity provides an easy way to track your income and expenses and also allows you to cancel automatic subscriptions to save money. You connect all of your accounts and credit cards, and it splits them up into different categories so you can get a better handle on your finances.
Clarity also offers integration with Marcus by Goldman Sachs, which is a free, high-interest savings account with a 2.25 percent annual percentage yield. This integration allows you to set up automatic savings transfers from your connected checking account for certain goals like an emergency fund or a trip.
Ease of Use: 3
Clarity is a well-made savings app. Its graphics and interface are a pleasure to interact with, and the initial setup and tutorial process makes it a breeze to connect bank accounts, credit cards, and other financial accounts to the app.
Bang for Your Buck: 3
The app is free, with no fees to use it or to sign up for its partnered Marcus savings account.
This App Makes Managing Your Finances Easy — Start Budgeting Today >>
Customer Service: 1
Clarity's customer service is reachable only by an in-app messaging service, with a response within a few hours. Not as bad as others, but still, there's no ability to directly contact someone by phone.
Reputation: 3
Clarity Money has an average rating of 4.7 out of 5 stars on the Apple App Store, and an A rating from the BBB.
Overall: 10
Overall, Clarity Money is an app you should definitely have in your arsenal. It's free and easy to use, and it gives you a simpler way to break down your income and expenses by separating it out by merchant and allowing you to cancel subscription services right from the app.
It's plagued only by what seems to be a common theme today: hard-to-reach customer service.
6. Long Game Savings
Long Game Savings was launched in 2015 with a simple goal: getting people to save more money. It's essentially a savings account, but with a few cool twists.
The whole app is set up like a game. You earn in-game currency, or coins, for doing things like saving money, setting up automatic transfers from your checking account, and more. These coins can be used to play games in the app.
When you play, you can win either more coins, cash, or cryptocurrency prizes, depending on how much you're willing to wager.
The game is structured similarly to a virtual casino, but to be clear, you're not spending any of your real money. Instead, the game encourages you to save money to get coins and hopefully win some more money in the process through games like slots or its weekly lottery, where you can win up to $1 million.
Ease of Use: 2
This savings app is easy to use, and the tutorials and Facebook integration make initial setup a breeze. However, it's a pretty complex app, and it could be confusing for people who aren't super tech savvy. Some parts of the game could be explained a little better when you start it up.
Bang for Your Buck: 3
Long Game is completely free, and there are no fees for maintaining a savings account. It's sure hard to beat free. Plus, your Long Game Savings account is FDIC insured.
Customer Service: 2
Long Game gives you the ability to schedule a phone call with customer service from the app, making it convenient and allowing you to avoid hold times. You also have the ability to submit a text request from the app, but unfortunately, there's no direct phone line.
Reputation: 3
Long Game has an average rating of 4.0 stars on the Apple App Store (though it has fewer than 1,000 reviews — considerably less than the other apps here), and an A+ rating from the BBB. Though its score is high, it has received much fewer reviews than other apps.
Build an Emergency Savings Fund With a Money Market Account — Get Started >>
Overall: 10
Overall, Long Game Savings is a revolutionary concept. Its developers have done what many would consider the impossible: They made saving fun.
This is the one app out of this bunch that I tested and immediately fell in love with. It's addictive in the best way possible. That said, it did take some poking around to figure everything out, and customer service could be slightly better.
So What's the Best Savings App, After All?
Which one of these is the best savings app for you really depends on what you want to do.
If you're looking to invest, my top choice in this group is Acorns. It's the only one of the six that offers the opportunity to invest in ETFs without any additional fees other than the account fee. Its preset risk profiles help you choose whether you want the opportunity to make more money, but with more risk, or to aim for slow-and-steady growth with low downside.
If you're looking to save, Long Game is my favorite by a mile. It genuinely makes saving fun, and it gives you chances to win actual money that you can add to your already growing savings. I think this would be a great app to teach teens to get into the habit of saving, although it does play on my generation's instant gratification trait a little. The reality is that saving isn't always going to be instantly gratifying, but this app is still taking big strides in the way of getting people excited to save.
If you're just looking to track your expenses and don't need any other frills, Clarity Money is your best bet. Its easy-to-understand interface and analytical tools help you break down exactly where your money is going. The integration with Marcus by Goldman Sachs, which gives you the option to open a free savings account, is certainly a nice bonus.
The only real letdown of the bunch for me was Digit. It lacked clear tutorials, and it wasn't quite clear for me what exactly the app did until it took money out of my account. However, people seem to like it. It has a high rating on the Apple App Store, and overall reviews of the app have been positive. Personally, I would just rather know exactly what is coming out of my bank account and when.
Put Your Money to Work Today. Invest Your Spare Change — Download a Free Investing App >>
The highest scoring app of the bunch was Chime, the bank account for the digital age. The fact that it has almost no fees and a great reputation — not to mention, it was easy to sign up for and use — really did it for me. Plus, it has the best customer service of the bunch, with phone representatives reachable seven days a week.
All of these savings apps have one thing in common: They're trying to improve your relationship with money. It's hard to dislike that effort, and I give all of them props for that. No matter how financially secure you think you are, there's always room for improvement.