7 Ways to Save Big Money This Back-to-School Season
6 second take:
Back to school time is stressful enough without having to worry about where the money is going to come from. Save yourself a headache with these top tips!
It's the time that many parents look forward to all year, even if their bank accounts aren't quite prepared. Yep, back-to-school time.
Parents will spend $82.8 billion dollars on K-12 and college needs this season, the National Retail Federation reports. That's a staggering figure, and some families will spend more than others.
Hispanic families, for example, are projected to spend $148 more than other shoppers. A third of all shoppers didn't wait until the back-to-school season officially started to begin buying. (They took advantage of promos like Amazon's lackluster Prime Day to get a jump-start on good deals.)
Back-to-School Blessings
Whether you have one child or six (like me), there is no easy way to pay for it all. That's why it's wise to gear up with a solid plan of attack for buying more with less — and without wasting precious time. 
Big-Box Stores for the Win
When it comes to classroom supply lists, stores like Walmart and Target are tough to beat. They still offer the lowest prices for things like rulers, notebooks, packs of pencils, and washable markers.
Now is the time to buy these things, and it's best to stock up if your child is the one who loses supplies often or runs out midyear.
If you're feeling charitable and want to participate in one of many backpack programs that give supplies to the less fortunate, these stores are a go-to destination where you can get more for your money. No coupons or buy one, get one deals are required, either. Many teachers stock up for their own supply closets at these stores, and you won't see these deals again until next summer.
Pro Tip: Can you shop online? Maybe. Multipacks of some items (like cleaning wipes and tissues) can be purchased online and even shipped directly to your store for pickup.
For items like 25-cent notebooks and 99-cent washable markers, however, the only way to buy is in-store. Buy now, while supplies last, because the week right before school usually results in empty shelves and the lowest-priced version of each item sold out.
Catch Close-Out and Refurbished Deals for Tech
For a laptop, desktop, or another big-ticket tech item, it's wise not to wait until the very last minute. To truly save, you'll need to keep your eyes open and act fast to snag the best offers.
Major tech manufacturers, such as HP and Dell, often offer big discounts of 20 to 50 percent on their entire selection of computers.
While you're there, check out their refurbished and open-box clearance sections. These computers have the same warranty and guarantee that their regular merchandise offers, but the savings are 40 percent or more. Most look perfectly new, and all are backed by the company to perform.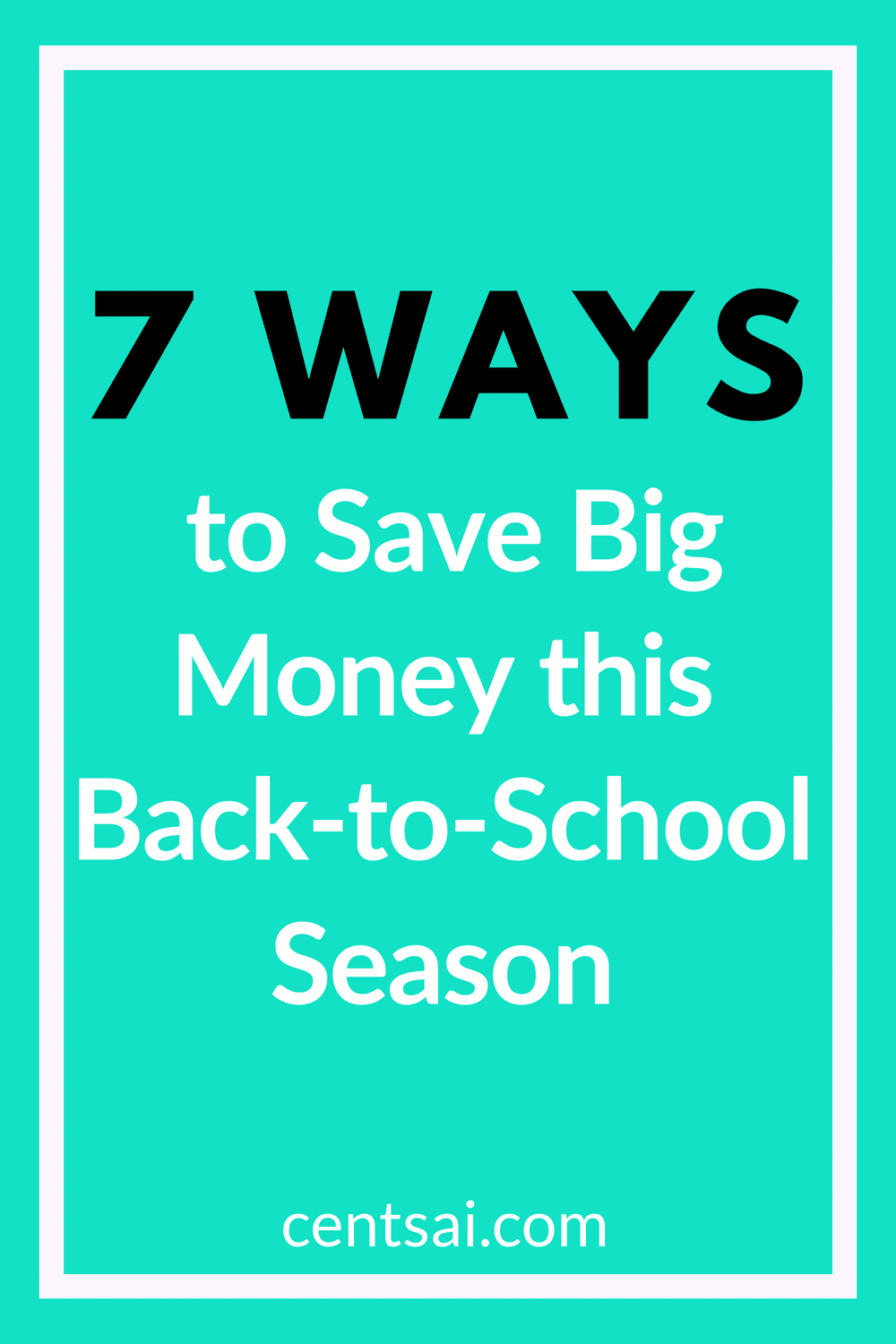 Pro Tip: Woot, which was acquired by Amazon in 2010, changes its offerings daily, and frequently sells laptops, tablets, Kindle Fires, and desktops at deep discounts. These products are often backed by the manufacturers, and you can pay with your connected Amazon account.
Prime members get free shipping. We've bought several tech items over the years through the site, and each purchase was a good experience — and a great deal.
Department Stores Clothing Steals
While Walmart and Target give you some of the best everyday prices on basic clothing, if your kid is screaming for the latest fashion trends, you'll need to hit a mall or department store.
Luckily, these retailers are scrambling for sales, and are willing to take big markdowns to move merchandise. Kohl's, JCPenney, Sears, and Macy's give some shoppers coupons to help sweeten the deal.
Just make sure you aren't buying things you don't need, and look to maximize savings by stacking coupons. If your child doesn't need to try things on, buy online and get the best deals shipped to your door.
Pro Tip: Your kids do not have to be school-age to get a great wardrobe for less. Retailers that specialize in tiny attire also have big savings events going on. Gymboree, Carter's, OshKosh, and Baby Gap are just a few that are making way for new merchandise and have amazing clearance deals in addition to their fall and winter showcase sales.
Bulk Buy for Dorm Décor
If you thought Costco and Sam's Club were only good for giant packs of toilet paper, think again. They are among the top sellers for back-to-school, and they shine when it comes to dorm décor and furnishings. Snag that dreamy futon with the leather trim and USB chargers for much less than at a department or furniture store.
Sam's, for example, carries big brands, such as BeautyRest, Samsung, and Keurig, and online-only savings events are the best way to save on big-ticket dorm items.
Office Depot has incredible deals this back-to-school season. From stationary to fashionable furniture, its deals are hard to beat.
Pro Tip: Avoid the hassle of transporting big belongings to the dorm. Shop online and take advantage of free shipping right to the college. Sam's has free shipping for Plus members on most items, and you'll appreciate not having to cram that new futon into the back of the family van.
WTF is Woot? It is an original daily deals site that was acquired by Amazon in 2010, offering deals across seven categories today.

Sometimes getting the best for your kids doesn't have to mean breaking the bank or losing your mind.

HP 15.6-inch Notebook, HD Touchscreen, $309.99
This refurbished laptop is a steal! With an HP-certified 90-day warranty, this is the perfect choice for a child in need of some new tech. You also have a variety of colors to choose from.
2-Pack Rocketbook Smart Notebooks & 3 Pilot FriXion Pens

,

$44.99


You've heard of these guys, right? Digital notebooks! So the dog can never truly eat your kid's homework — we take no prisoners here at

CentSai

. With a 42 percent saving on the listing price, your kid will have the best tech known to man.

Wireless In-Ear Headphones with Charging Case, $19.99


Help your teenager in the quest to speak to you as little as possible with these wireless earphones that are running at 85 percent off!

Thornton's Mechanical Pencils- 72 Pack, $17.99


Give 72 of your kids a pencil each! Or you could give them all to one kid, whoever is your favorite. We don't judge. (Either way, it's a phenomenal deal!)

Mr. Coffee Automatic Burr Mill Grinder, $22.99


Okay, so maybe this one isn't so much for the kids, but for you. School runs at 6 a.m. might have you beat. You need all the help you can get!
Take Advantage of Tax-Free
Many states celebrate the back-to-school season with tax-free shopping weekends in select cities and counties. Families often plan their buying around those weekends every year, as they allow them to save five to seven percent on select purchases for back-to-school.
Some of the states that offer tax-free holidays include: Arkansas, Florida, Iowa, Missouri, New Mexico, Ohio, Oklahoma, South Carolina, Virginia, Wisconsin, Tennessee, Mississippi, Alabama, Texas, Maryland, Connecticut, and Massachusetts.
Remember, many states don't ever charge state sales tax. They include Alaska, Delaware, Montana, New Hampshire and Oregon. Save over shopping online when you buy local!
Pro Tip: Do a quick internet search to make sure your city is participating in the statewide tax holiday. Some aren't. It's also okay to drive across state lines if you live close and want to benefit. (Just watch your gas dollars to make sure you are really saving.)
Expect Fewer Gimmicky Promos
Remember Office Depot's Penny Deals? This popular back-to-school promotion gave shoppers the chance to buy select school supplies for a penny when they made a minimum purchase. Loyal shoppers were disappointed to learn it's not taking place this year, as Office Depot opted for a different sales structure and lower overall pricing on a wider variety of products.
Expect other stores to follow suit, as retailers try to gain a more loyal customer base instead of just attracting those seeking to take advantage of loss leaders.
Pro tip: Most gimmicks are just that. Unless you have a large family, you probably won't save much on buy one, get one or penny deals, which often force you to buy more products overall than you would have otherwise. Instead, keep a price notebook, and record the lowest prices across all retailers for the items you buy annually.
A 16-cent pack of pencils five years ago might now cost you 25 cents, and a price notebook will alert you to this trend, and help you keep per-item cost in mind as you navigate the "hot deals" tied to gimmicks. Know the real price of everything you buy, and you can never go wrong.
Know Your Needs 
Different schools require different supplies. If you're a homeschooler, there are unique ways to save beyond even these ideas. If your child is a distance learner, or you attend an online college, explore options beyond what the traditional student may have to buy.
Look into grants or subsidies for these specific learning environments, including special needs or twice-exceptional programs that may benefit from nonprofit or government funding plans.
Finally, if there's any way to shop year-round, picking up items on clearance or special buys as they happen, your final bill come August will be much, much lower.