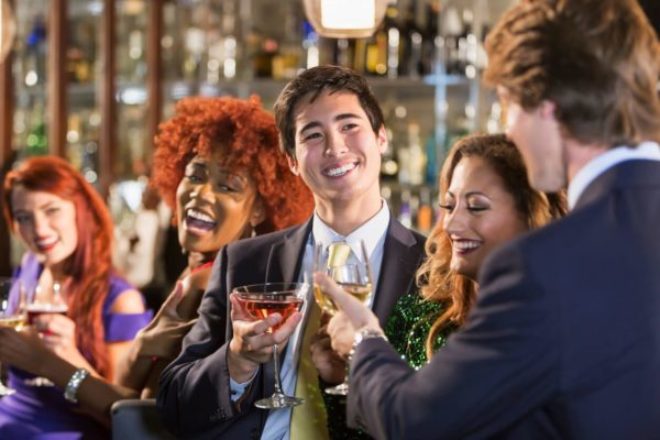 6 second take:
Here are a few tasted and proven low-ball tricks that let you have fun on the cheap.
Ever wanted to go out for drinks, but cringed at the expense? Never fear! Drinking on a budget doesn't have to be difficult. Here are a few ways to have fun without getting bar-tab shock:
1. Embrace the Pregame
The notion of pregaming has a decidedly collegiate stigma, and I think that's a little bit ridiculous. You don't have to rip back shots like you did when you were 20, but meeting up with some friends to have a drink before you go to dinner can save you a ton of cash.
Save Without Ever Lifting a Finger — Learn More >>
If you all split a bottle or two of wine before you catch a late bite, you'll end up saving at least $15 at dinner without feeling deprived.
You can even make it fun by coming up with a new cocktail that you'll to create each time you do it. That will save even more money, considering how expensive a specialty cocktail can be.
2. Bring a Flask
Okay, okay — you can't do this just anywhere. Don't bring a flask into a bar and then get arrested. But bringing a flask to an outdoor concert, a friend's party, or a sports game is maybe the easiest way for you to put a lid on your budget.
Plus, a flask forces you to monitor what and how much you're drinking, which is always a good, healthy decision.
Flasks also make for amazing holiday gifts. There are countless designs and styles out there, and it's an easy way for you to give your loved ones a thoughtful present.
Consider checking out the flask options on sites like Etsy. Prepare to have your mind blown by all of the options available!
3. Learn the Menu
Learn the various costs of drinks at your local haunts. Draft beers can range from $3 to $4, while bottled beers like Bud Light, Pabst Blue Ribbon, and Coors often cost $3 a pop. But you can take it further and keep an eye on what the bar considers to be "rail" liquor.
Get Help With Budgeting Today — Download the Personal Finance App Here >>
They might have an awful rail vodka that's not worth saving money on, but bars tend to have higher-quality rail rum or whiskey. This will save you a few bucks rather than having to spring on a nice vodka option. These distinctions only save you a dollar or two, but if  you apply them every time you order a drink, it adds up.
4. Join a Monthly Subscription Service
Do you enjoy hosting people or tend to buy the same type of alcohol each month? Consider signing up for a monthly subscription for your favorite spirits. If you subscribe to something like Winc or the Craft Beer Club, you can tailor to your preferences to get new flavors every month. Want to get really fancy with it?
There are even monthly clubs for liquor connoisseurs, such as the Taster's Club, that allow you to subscribe to get a whiskey, rum, or tequila of the month. It's not cheap, but they save you money if you use them as your go-to source for events like dinner parties and holiday gifts.
5. Keep an Eye Out for Local Events
Keep an eye on the status of beer festivals, bar crawls, and philanthropy nights. All of these events tend offer heavily discounted drinks in exchange for an awesome night for a great cause.
Manage Your Money Better With a High Interest Checking Account — Sign Up Today >>
Websites like Eventbrite provide a great way to stay on top of what's going on near you. Plus, they allow you to do things like RSVP and invite friends so that you can make a day out of your trip!
For reprint and licensing requests for this article, CLICK HERE.