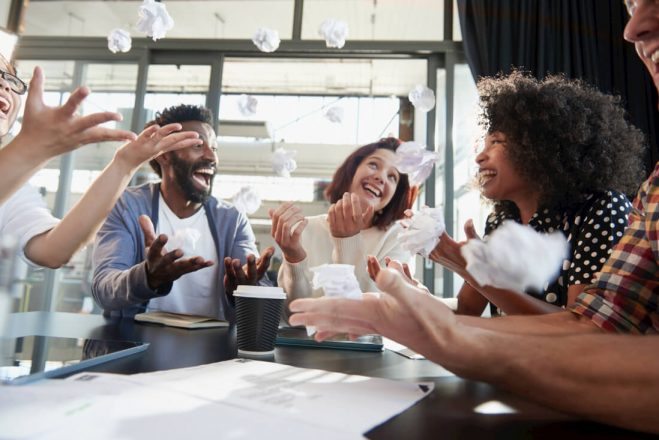 6 second take:
Receipts are more than crumpled up pieces of paper.  They can help you save money!
Did you know that those pesky pieces of paper in the bottom or your purse, or shoved into your wallet, can actually save you money? It's true. A receipt is a versatile tool for lots of different money-saving opportunities, even more than your average coupon.
Don't let your next receipt get lost or become a crumpled mess. Treat it with the respect it deserves and it will repay you. Here are seven ways to keep more money in your pocket by saving your receipts.
Start Managing Your Finances — Download This Personal Finance App Here >>
1. Missed Discounts
I recently purchased some home supplies from a local Bed Bath & Beyond store, but forgot to bring the 20 percent off coupon. I knew that this particular company accepts expired coupons so I figured that maybe they would honor the discount coupon if I showed proof of my purchase.
So I brought my receipt into the store with the 20 percent off coupon and received store credit for the difference. Who knew? An extra trip to the store was well worth it in this case, as we all know purchasing from Bed Bath & Beyond isn't cheap. It doesn't hurt to ask, so don't be afraid to show your receipt in order to get credit for a missed discount.
2. Customer Surveys
Don't let your mind wander when an employee is spelling out the details of a survey or giveaway on a receipt. Pay close attention, as you could receive free food and additional savings on future purchases.
Many retailers offer links or QR codes to surveys if you share your experience as a customer, and in return you'll receive large discounts and freebies. And don't forget to enter any giveaways or raffles as these could result in cash prizes, gift cards, and other goodies.
Get Help With Budgeting Today — Download the Personal Finance App Here >>
3. Tax Deductions
As a freelancer, I know the value of receipts related to business expenses and costs for supplies or equipment. Every receipt I save for business-related expenses is a dollar I don't have to pay taxes as a self-employed individual. Everything – from travel to your home office to meals – is tax deductible when you work from home.
Did you know that even moving expenses can be taken as a credit on your tax return?
This applies whether you work for someone else or are self-employed. Last fall, my husband and I made a cross-country move from Texas to Colorado, and I kept every receipt along the way. At the end of the process, we'd spent a total of $2,800 and some change. Now we get a credit on our return for the entire amount, reducing our taxable income!
Store all of your receipts in a safe place every month and then record any tax-related expenses so you're not scrambling a few days before the tax deadline. Consult this list from the IRS to view all the eligible tax deductions.
Get the Most out of Your Refund — File a Free Federal Tax Return >>
4. Local Coupons
You know the extra images and text on the back of receipts? Don't overlook them, as many of them contain coupons and special offers for local stores. Take a few seconds to review them for potential discounts and savings. Be sure to grab the coupon off your last pizza box. I usually find $2- to $4-off coupons on delivery boxes.
5. Rebates
When my husband was looking to purchase and build a brand new computer from scratch, he researched a ton of prices and stores, both online and off. Once he found all the equipment he wanted, some of them came with different rebates and offers.
But in order for us to get a refund of over $200, we had to keep the receipts to prove the final price and purchase date.
Even if you make a purchase online, keep the email confirmation or purchase order as those could earn you some good cash in rebate offers.
6. Pricing Errors
Pricing errors happen all the time, even at popular stores like Whole Foods. In fact, I spot an overcharge a couple times a month, so I always double check the price of the item with the receipt before the leaving the store. It's much easier to get the discount you should have received while you're still at the store.
Take the extra 30 seconds to look over the receipt to make sure you weren't double-charged for any items and received the correct sales price recorded on any coupons you used.
Get Help With Budgeting Today — Download the Personal Finance App Here >>
7. Easy Returns
Keeping your receipts allow you to feel less guilty about buyer's remorse and allow you receive a full refund if you change your mind. Some retailers, like Kohl's, don't require a receipt for most purchases, but they do require ID to prove that you're trustworthy. But having a receipt will always make the entire process go more smoothly.
These are just a few of the ways that keeping your receipts can save you money. Those white pieces of paper don't seem so pesky now, do they?
Now that you see the different ways that receipts can save you money, how can you keep track of them without losing them? Here are some easy ways to store your receipts for future use.
1. Tax Filing
Throughout the week, as my husband and I make purchases, we set the receipts aside in a designated tax folder. Then, every Monday, I go through them, scan in the ones we need to keep, and then shred the others. We use a home office scanner to save copies of our receipts to a digital tax file on my laptop.
Get the Most out of Your Refund — File a Free Federal Tax Return >>
2. Bookkeeping Software
Most digital bookkeeping programs come with mobile apps that allow you to snap an image of your receipt while on the go. In the past, I've used bookkeeping software like QuickBooks to keep copies of receipts tagged with the corresponding expense transaction.
3. Mobile Apps
Another great option for easy storage of your receipts are various free mobile apps like Expensify, Shoeboxed, and Ibotta. You can save both physical receipts and digital ones from online purchases that are sent to your inbox.