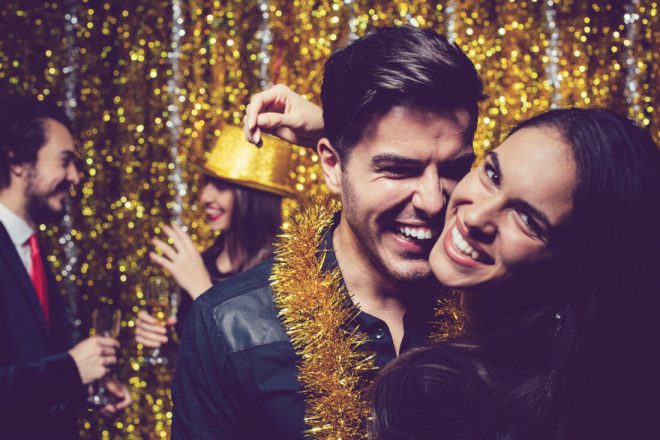 6 second take:
Let the holiday spirit run wild, but keep a tight grip on your wallet.
The holiday party season has begun. In fact, this past weekend I already stuffed myself full of yummy food, savory vino, and amazing conversation. I love this time of year.
If you're thinking of hosting a holiday party but don't want to spend a lot of cash, don't worry – you can manage it without looking cheap.
You can host a rock-star holiday party and still come in under your budget.
1. Set a Budget
This seems like an obvious first step, but many people forget to sit down and be honest with themselves about how much they can spend on a holiday party. Set your budget and withdraw cash so that you can only spend the cash that you've set aside for the party.
This App Makes Managing Your Finances Easy — Start Budgeting Today >>
2. Keep It Small
Sometimes hosts tend to go a little overboard and invite the whole town to the party. Don't! Keep it small and manageable. This will keep the costs down – and keep the party more comfortable for your guests, too.
Now that you've set a budget and started working on your guest list, it's time to figure out the logistics.
3. Shop Your Freezer
Holiday parties are pretty straightforward: good food, booze, and people. Shop your refrigerator to see what frozen yumminess might be hiding there. Do you have puff pastries and frozen fruit? That's the perfect base for a delicious dessert. Frozen vegetables and packages of frozen brats from your last Costco run? That's a base for a nice entrée.
Do you have a frozen roast, potatoes, and other root vegetables? That's the base of a delicious crock pot meal that you can slow simmer into delicious perfection.
Check your pantry and see what canned goods you have. Garbanzo beans? Pick up some red onions, parsley, and a lemon – add those together with some olive oil to create a delicious vegan salad.
When you shop your freezer, search online to discover recipes that you could make with the stuff that you already have.
4. Keep It Frugal
Now that being frugal is all the rage, own your frugality and throw a potluck. Let your guests know that you would like each one of them to bring a dish, a bottle of wine, or even that bubbly Martinelli's apple cider that I can never get enough of (it's usually on sale – two for $5 – at most grocery stores).
5. Search for Deals
You still have shopping to do? Download a grocery app like Ibotta or Grocery 51. Those apps can be used for purchases at Sam's Club, Costco, and other regular grocery stores. They are also great for saving on any alcohol that you plan to buy. If you have a store like Trader Joe's in your town, pick up some Two Buck Chucks so that you have a couple of starter bottles on the table when your guests arrive.
Check if there are grocery deals on LivingSocial or Groupon. You may find deals on specialty items like lobster and shrimp that would be too expensive otherwise.
6. Decorate for Cheap
Now that you have the food and drinks ready, it's time to create some ambiance. Stream your favorite music via Bluetooth speakers. Bring out old decorations and lights, but avoid using candles unless they are floating water candles. You don't want anything catching fire while you're standing in the kitchen.
Holiday parties don't have to be perfect. You'd be surprised at what you can do with some creativity, a plan, and a focus on what really matters: spending time (not money) with the people you love.