5 Frugal Holiday Celebration Tips
6 second take:
Some tricks to keeping your cost down while throwing a holiday party!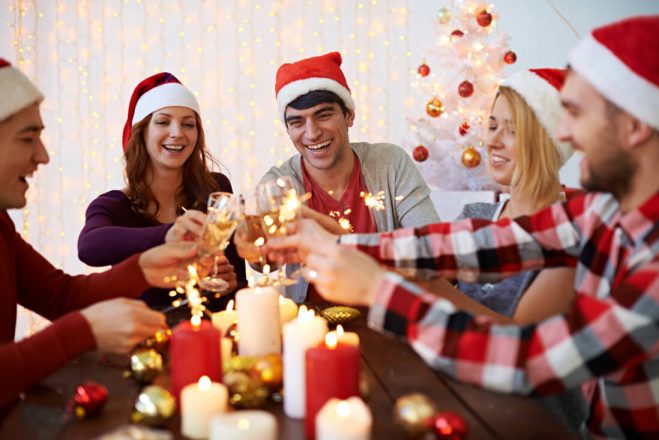 The holiday season is the ultimate catch-22: you've never been invited to more events, parties, and get-togethers, but you've also never been more conscious of how little wealth you have to spread across each of them, on top of all those gifts and snow tires you have to think about.
But you don't have to dig yourself into a financial hole to enjoy the holidays – and that doesn't mean you have to be a hermit. Check out these five ways to enjoy the holiday season without breaking the bank:
1. Check for group discounts 
Attending holiday-themed events can often be pricey, but you can usually get a discount if you go in a group. Look at online discount hubs like Groupon to see what type of holiday steals are available where you live. If all else fails, you can usually finagle a discount from the event organizers themselves – just call, make your case, and see if you can get some cash knocked off your ticket or fees.
 2. Pick off-peak times
Another way to enjoy holiday events and spectacles for less is to go to them on weekdays instead of weekends. Prices are often discounted for matinees and weekday shows.
3. Vacation in Fargo…
Want to enjoy a cheap vacation while simultaneously avoiding the teeth-pulling sensation of spending time with your distant relatives? Sometimes you can get awesome deals for vacations during the holiday season. Look into places that are technically in their "off season," which means that their hotel rates, flight prices, and more will be discounted.
4. Party at a food bank with friends!
Alright, this one's a little bit of a stretch. But still, sometimes volunteering for the less fortunate can put you in the spirit of the season much faster than wasting your money at some overcrowded bar with a holiday promotion. Not only will this nurture your soul, but it's (obviously) free. Food banks are always in need of donations and extra hands – especially around Christmas and Thanksgiving. Go with your friends and make it jovial!
5. Rock Your Inner Secret Santa
Want to get drunk with your friends? Do it at home. Potlucks and Secret Santas are inexpensive ways to have a great time with your friends without feeling like you're going to have to take out another mortgage on your house. All you need is some eggnog, a hat to pull names out of, some half-decent recipe for artichoke dip, and you're all set.