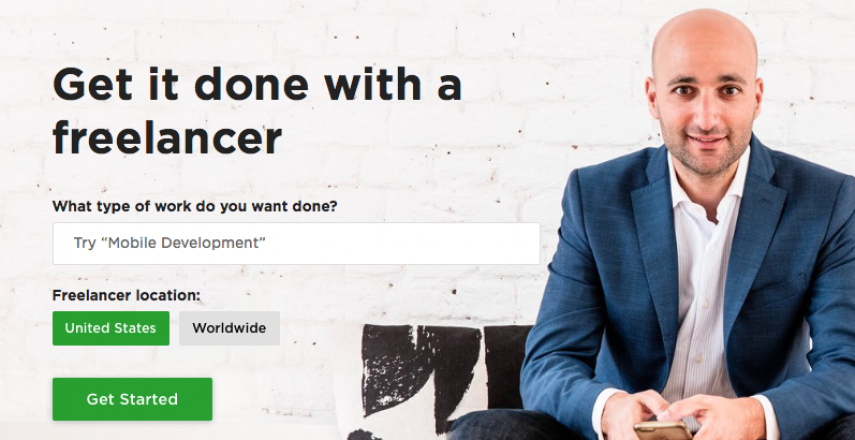 Upwork is a website for all types of freelancers to find jobs in their areas of expertise. It also allows companies to crowdsource work such as graphic design. You can browse workers' profiles, review proposals they send you, and schedule a time to talk to them if you're interested. Upwork promises to help freelancers quickly and easily find those who need their skills, and vice versa.
Bang for Your Buck: 3
It seems to take a while to get approved on Upwork. But once you're in, you can apply for jobs in your area quickly and easily. If you're a worker, it allows you to create a flexible schedule. If you're looking to hire, it saves hours of interviewing and sourcing potential talent for your business.
Ease of Use: 2
The site's layout is clear to navigate, whether you're trying to hire someone or you're looking for work. It's split into various categories — such as writing, design, and marketing — to help you find work or workers.
However, you can't see job opportunities until your profile is approved, which is difficult in some cases. Upwork is saturated with talented freelancers from all areas, and many have difficulty getting their profiles approved.
But once you're up and running, it's easy to apply for jobs that suit your expertise. For every proposal you submit to a potential client, you spend about two credits. You receive credits when you start out on the site, and also earn them by doing jobs. They're quite easy to use, and few people ever run out of credits.
Reputation: 2
Upwork is one of the best-known sites for freelancers. It has a review score of 4.1 out of five on Indeed reviews, with many stating it helped them find work in their field.
A common complaint is that it's difficult to get approved unless you work in a niche area, though this is understandable, considering the number of freelancers who are already registered. Reviewers say that Upwork helped them find jobs quickly and easily, and also allowed them to maintain a good work-life balance.
Customer Service: 2 
Upwork customer support is thorough and easily accessible, but only to its members. It has a support-bot function that acts as an interactive search to help find answers quickly, as well as a broad FAQ section, email support, and phone support. The Community section helps you find questions that others have asked and lets you ask your own question if you can't find the answer.
Overall: 10/12