Gigwalk Reviews
CentSai
relies on reader support. When you buy from one of our valued partners,
CentSai
may earn an affiliate commission.
Advertising Disclosure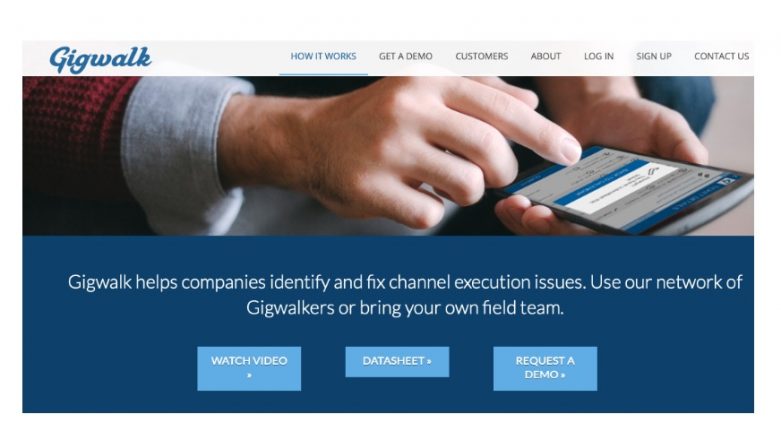 Gigwalk is an app that helps you find someone capable of fulfilling a job for a reasonable price. It also provides a decent side hustle for those who have some spare time and valuable skills. You can create a project, push it out, and have people near that location do the job for you.  
Bang for Your Buck
Most of the tasks listed on the app can be completed quickly and without much hassle. You can do them as you visit the location, anyway. For example, you might be asked to photograph products in a store.
Though the overall view is that the tasks don't take long to complete, this means you may make only $3 or $4 per job. Depending on where you're located, such as a major city, you could pick up numerous jobs in one day. It's a little extra money on the side, but definitely not enough to pay the bills.
Ease of Use
You must sign up and allow location services to use the app. Once you do, the layout is pretty simple. The app shows a map with different gigs throughout and how much you'll be paid for completing the job.
When you click on the job, you get a brief description of what it consists of and the option to apply for it. If the job is a good fit, you pick the amount of time you think it will take you to complete the job and submit an application. Easy peasy! You hear back within an hour as to whether you've got the job or not.
Reputation
Within a saturated market where other apps reign, Gigwalk doesn't have a great reputation. The app has a review score of 2.0 out of 5.0 on the iOS App Store. Many people cited unclear instructions on how to complete the job assigned to them and low pay.
While it seems many are unhappy with the app, there are some glowing reviews. A worker can take up to 15 quick and simple jobs a day — jobs that can be completed in a small amount of time.
Customer Service
Gigwalk has two support pages, one dedicated to Gigwalkers and one dedicated to clients. Both consist of simple request forms, but neither give an estimate as to when your query will be resolved.