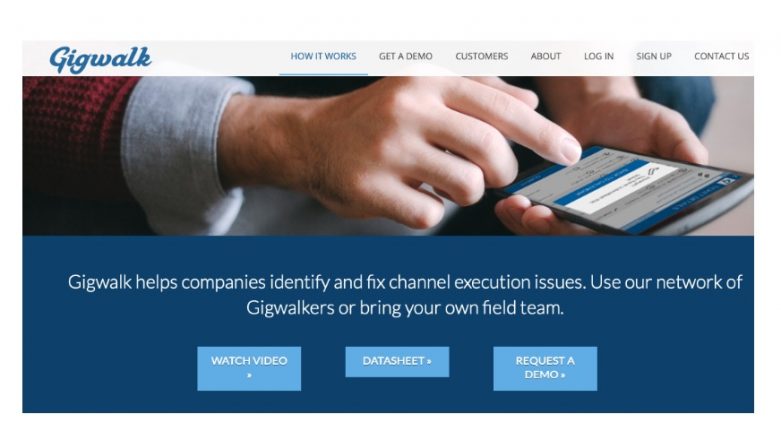 VISIT SITE
CentSai prides itself on writing independent reviews. Check out our rubric to see the objective stardards we use.
Gigwalk is an app that helps you find someone capable of fulfilling a job for a reasonable price. It also provides a decent side hustle for those who have some spare time and valuable skills. You can create a project, push it out, and have people near that location do the job for you.
Bang for Your Buck
Most of the tasks listed on the app can be completed quickly and without much hassle. You can do them as you visit the location, anyway. A customer representative was able to provide us with a little more information on this. As a worker, a majority of your Gigs will be taking pictures in general. This could be pictures and comments about products in a store, or it could be pictures of a property, etc. There are also Gigs that require requesting information about purchase processes through different websites of reviewing local companies and their price lists. There are a large variety of tasks among our Gigs, so this is just a sample.
Though the overall view is that the tasks don't take long to complete, this means you may make only $3 or $4 per job. Depending on where you're located, such as a major city, you could pick up numerous jobs in one day.
As a result, quick and simple jobs can be completed in a small amount of time. It's a little extra money on the side, but definitely not enough to pay bills. There is no limit to the number of Gigs you can apply for in any given day. However, as a newer Gigwalker, until you've built your reputation score by successfully completing Gigs, some that you've applied for may be first given to a more veteran Gigwalker with a higher score. This is only for certain types of Gigs, though, as the client see fit to select people rather than letting the system select for them. It's a little extra money on the side, but definitely not enough to pay the bills.
Ease of Use
You must sign up and allow location services to use the app. Once you do, the layout is pretty simple. The app shows a map with different Gigs throughout and how much you'll be paid for completing the job.
When you click on the job, you get a brief description of what it consists of and the option to apply for it. If the job is a good fit, you pick the amount of time you think it will take you to complete the job and submit an application. Easy peasy! You hear back within an hour as to whether you've got the job or not. If you are assigned a Gig and cannot complete it, the company asks that you simply click the "Unassign" button at the top to allow another user to complete the work. You can also just simply let your selected reservation window expire and it will be put back on the map for other users.
Reputation
Within a saturated market where other apps reign, Gigwalk has a good reputation. The app has a review score of 4.6 out of 5 on Apple's App Store. Many people cited unclear instructions on how to complete the job assigned to them and low pay, while there are some glowing reviews.
According to the Better Business Bureau, Gigwalk is not BBB accredited and has an F rating because there are five complaints filed against the business and the failure to respond to two complaints filed against it.
Customer Service
Gigwalk has two support pages, one dedicated to Gigwalkers and one dedicated to clients. Both consist of simple request forms, but neither gives an estimate as to when your query will be resolved. So we reached out. Gigwalk responded in less than an hour and answered every question we asked.
Bottom Line
Another app that makes it easy to make some cash on the side, but with a waiting period for each job that makes it a little tedious. The gigs can slot easily into your daily life, though, so a good option for side hustles.