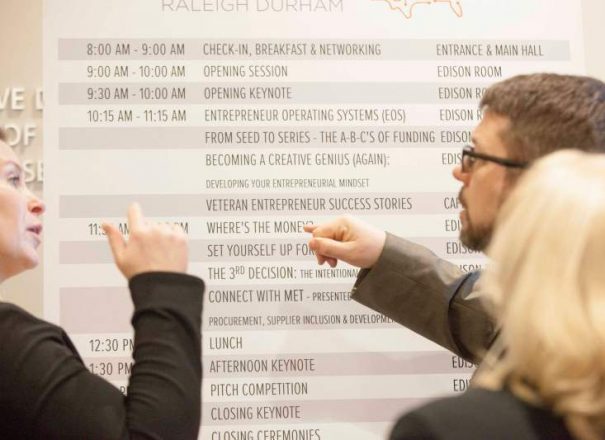 Participants at Bunker Labs' Muster Raleigh-Durham event.
6 second take:
Can the military provide a path to entrepreneurship? Check out the stats on veteran-owned businesses.
After World War II, nearly 50 percent of veterans returning from the war started businesses. Today, the number of veteran-owned businesses has dropped to 5.6 percent, according to the Institute for Veterans and Military Families. Not the best trend line, right?
What if I told you that in 10 years, the path to successful entrepreneurship will lead through the military? You'd probably think I'm crazy given all the negative stuff out there about veterans and mental health.
Don't get me wrong — there are some real issues out there that need to be (and are being) addressed. But let's look at another side of that coin. Let's flip the script for a moment and look at some traits that veterans have:
Leadership: At young ages, military service members learn to put others before themselves.
Teamwork: This is something taught on Day 1 in boot camp in every branch of service. A lot more can be accomplished by working together. Veterans, in general, are collaborative.
Perseverance: What group of people comes to mind when you think about perseverance? Veterans.
Ability to perform under pressure: Yep. It's is sort of important in the military.
Adaptability: There is a bias toward action, knowing you have an 80 percent solution and are confident you'll be able to adapt and overcome as needed.
I'm not the smartest guy in the room, but a person with those traits sounds like someone who might make a good entrepreneur!
Need a Business Loan? Get Your Free Quote >>
The Statistics on Veteran-Owned Businesses
But does that translate to success? Well … yes. Veterans make up roughly 1 percent of the population. However, veteran-owned businesses account for almost 10 percent of all firms in the United States, according to the U.S. Small Business Administration. That's pretty good math.
The problem is that the vast majority (about 74 percent) of these veteran-owned businesses are owned by people over the age of 55.
As they retire, we need to fill that gap. And I mentioned earlier, there's a steep decline in veterans' starting businesses. That's bad math.
But there is hope. Each year, around 200,000 service members transition to civilian life; 25 percent of them say they want to start businesses. This is where Bunker Labs comes into the scene.
Get the Benefits You Deserve as a Veteran — Snag Exclusive Learning Opportunities for Free >>
What Is Bunker Labs?
Bunker Labs is a nationwide 501(c)(3) nonprofit that focuses on helping veterans (and military spouses) start and grow businesses. It started about five years ago and is run largely by veterans who are also entrepreneurs. Its goal is to create an ecosystem for veterans to plug into.
Bunker Labs is a tribe of sorts with 25-plus chapters across the country and local events happening monthly. It focuses on inspiring veterans to start businesses, equipping them with the resources to do it, and connecting them with people who can help. Its success is largely driven by that tribe mentality of wanting to see (and help) others succeed.
The vast majority of people involved in this movement (it really is more of a movement now) want to pay it forward. They want to continue to serve the country. They choose to do so by helping others grow their businesses. (You can learn more about impact and ecosystem stats by visiting the Bunker Labs website. Mic drop-worthy, but it's only the beginning.)
My Experience as a Veteran Entrepreneur
I know all this because I have been fortunate enough to witness this first hand from a couple of angles. As many of you know, I'm a Marine veteran and recovering fintech entrepreneur.
When I was running my company, I was constantly searching for a place where I fit.
As a then-solopreneur, I constantly attended networking events. I figured I'd offer to help others first before bombarding them with questions I had about my business (and there were a lot of them). Unfortunately, as I started asking questions about others' businesses, I often received a couple of different responses.
One response was cautious, as if I was trying to steal the company's idea. (Sign an NDA and let's meet for coffee, then I'll tell you how you can help me.) Hard pass.
Others immediately went into their canned sales pitches as if I were going to buy something on the spot. Ugh. Clearly, my judgment on which networking events to attend in those early days was suspect at best.
Then I attended a Bunker Brews (part networking, part some sort of speaker for value — shaken not stirred) and things changed a bit. There was an inherent level of trust and honesty in the room. People asked me questions and offered to help. They candidly told me about their businesses, and they were real about their challenges and successes. They wanted to explore ways to work together and they connected me to mentors. I felt like I belonged. I found my tribe.
Get a Free Business Insurance Quote — Visit Site >>
Notable Companies That Are Active in the Community
How I Joined Bunker Labs
Fast-forward a couple of years. As I was stepping away from my company, Bunker Labs needed someone to join the team, and I was selected. Now I get to travel around the Southeast, meeting veteran entrepreneurs and trying to help. I have a leadership title, but I very much view the role as one of supporting our chapter leaders.
Each Bunker Labs chapter is run by three volunteer city and chapter leaders. Why do they do it? They found their tribe and want to give back to help the rest of the tribe succeed. Most are veterans and/or military spouses who are also entrepreneurs. And they're some of the most amazing people on the planet.
At our Leadership Summit last December in Atlanta, I sat in the back of the room looking around in awe. There were roughly 100 people in the room. By their pedigree of experiences, you would have thought it was a retreat for one of the top consulting firms in the country. Their stories could leave you in tears one moment about how the speakers have persevered and the next moment ROTFL. (Is ROTFL still a thing? Trying to keep up with the cool kids.)
The Future of Bunker Labs and Veteran-Owned Businesses
Bunker Labs currently has a waiting list of about 100 cities that want to add chapters all over the country. The plan is to be in all 50 states within the next three years. Just a handful of nonprofits already have a presence in all 50 states, and most of them are household names.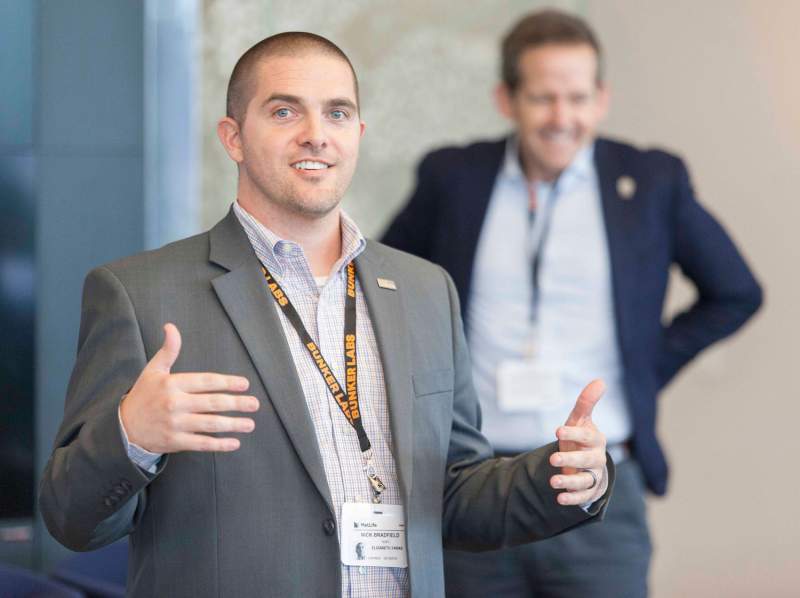 Meanwhile, Bunker Labs is less than five years old. I run into people daily who have never heard of it, yet those involved are riding a rocket ship.
We could flip a switch and be in every state tomorrow if we wanted, but we choose to be deliberate about our actions. Hmm … imagine that! A bunch of veterans putting SOPs (standard operating procedures) in place and focused on getting the right people to execute on them.
Get the Most out of Your Refund — File Business Taxes Today >>
Bunker Labs is an ecosystem builder. Each chapter creates a node in the ecosystem filled with people starting, growing, and mentoring veteran-owned businesses. Each node has really big companies and really small companies (and really in-between companies) involved. And in turn, each node that gets added to the ecosystem fuels the rocket. Or maybe it should be an F-18 or a drone or something. Do drones run on fuel? Never mind. You get the point.