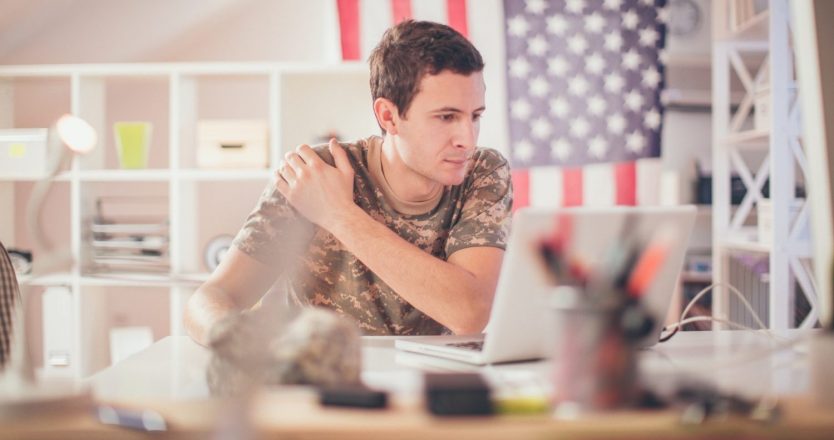 6 second take:
If you're affiliated with the military, you may be a special target for scammers. Get smart and hang on to your money!
It's July, which means that it's Federal Trade Commission-sponsored Military Consumer Month. The FTC and its partners work year-round to crack down on scams targeting military members, their families, and members of the general public that support the military. However, they're making a particularly big push right now.
I took a look at some of their resources to learn more about how scams affect the U.S. military community.
Why Are Military Families Especially Vulnerable to Scams?
Scamming is big business. In 2016, phone scams alone cost U.S. consumers nearly $10 billion, according to MarketWatch. In case you need to stop and count all the zeros, that's a lot. And it doesn't even account for email and snail-mail scams.
Anyone can be targeted by scammers, but the FTC notes that military families are especially vulnerable.
Start Managing Your Finances — Download This Personal Finance App >>
Many members of the military are young — as young as 17. Many are also away from their social support networks, such as older or more financially experienced family members. Plus, they might be lonely because of a lack of local connections.
Plus, military families often move frequently. This means that even older and more experienced service members and their families might not have reliable sources of local information on honest businesses for things like buying and selling houses and cars. Finally, the thing that makes military members and their families particularly attractive targets: They have a steady source of income.
What Kinds of Scams Target Military Families?
Military Consumer, a website that gives financial and related advice to servicemembers and their families, maintains a section specifically on military scam alerts.
The FTC says that a lot of scammers impersonate government agencies. Military service members and their families have to deal with the government a lot, so what's one more phone call asking for information? For several years, the IRS was the agency most associated with scammers, who called up demanding payment for back taxes. But maybe too many people wised up, because there's less of that right now.
Instead, scammers are now impersonating the FTC. "You might not know this, but the FTC just settled a big lawsuit, and they have money for you," they might say. "All you have to do is send the taxes you owe, and they'll send you money." Not!
Other scammers haunt caregiver job boards, since military spouses often look for part-time caregiving work when they move to a new area.
You might get an email saying that you've got the job, but that you must buy supplies like a wheelchair from their vendor before you start. The scammer might even send you a check for more than the supplies cost. He or she will then ask you to wire-transfer the extra back. Of course, when the check you deposited turns out to be fake, you've lost your money.
Military members might also be targeted by scams that are aimed at groups that have a large military population. Scammers have recently targeted people behind on their student loan debt; people who might (or might not!) have debt in collections; and people who might have served, or whose family members might have served, in the response to 9/11 (this one is especially awful).
Save Money by Refinancing Your Student Loan With Top Student Refinancing Companies — Check Your Rate >>
Scams Aimed at Military Supporters
The FTC is also pretty worried about scammers using people's positive feelings for the military to trick them into parting with their hard-earned cash.
For example, a scammer might call pretending to be a charity helping military members. Or she might even pretend to be a service member in need. Scammers sometimes ask for financial help to pay for food and lodging while deployed — even though when you're deployed the military covers all of your expenses. They're counting on people's sympathy.
Online romance scams are another area where people pretending to be service members can take advantage of targets. Let's say you're on a dating site and start messaging with a woman who is supposedly in the Army. She seems as if she understands you really well. You quickly move to texting or emailing outside of the dating site. But just as you're about to set up a real-life meeting, she messages to say that she's being deployed and can't meet you in person. That's when she asks for a small loan to help her care for her dog while she's serving overseas.
It seems as if it would be easy to recognize this as a scam. But if you've come to trust the person over time, and if she has a sympathetic story, it can be harder than you'd think to hear any alarm bells.
Have an Attorney Provide Trusted Advice — Get Unlimited Consultations >>
Preventing Military Scams
Overall, most of the best advice for military members, their families, and their supporters is the same as it is for the rest of us:
Never respond to pressure to do anything financial immediately. If the person on the other end of the line demands payment the same day, or insists that this is a one-time opportunity that will never come again, you should probably hang up.
Slow down, take a breath, and consult several people you trust before taking any financial action over the phone or the internet.
Be especially careful if you're being asked to pay for anything in cash or via cashlike media. This includes gift cards, wire transfers, cash reload cards, and more.
For military scams in particular, it helps to be aware of how the armed services actually work. Someone's commanding officer will never get on the phone line to back up a request for cash. And as mentioned above, military members don't need financial help paying for food while on deployment. Again, if you're in doubt, stop and do a little research. If the person is genuine and legitimately needs help, he'll be able to wait a day or two while you check into things.
Help — I've Been Scammed!
Hopefully you are already alert to scams. But if you came to this site looking for solutions, head to IdentityTheft.gov to get personalized recommendations. You should also know that as of September 2018, American consumers are entitled to a free credit freeze. If you suspect you've been a victim of fraud, you should take advantage of that, especially if the scammers gained access to any of your personal information such as your address or birthday.
Start Managing Your Finances — Download This Personal Finance App >>
Final Thoughts on Military Scams
It's tragic that scammers go out of their way to prey on vulnerable people, whether they are the elderly, the less educated, or military service members and their supporters. But it's a reality of life, so we all need to be on guard and to teach our friends and family members how to spot and avoid scammers. If you know people that could be helped by the Military Consumer website, make sure to let them know about it.