5 Easy Ways to Reduce the Cost of Attending a Wedding
6 second take:
The couple is on their way to "happily ever after," but what about their friends and family? How can they avoid breaking the bank to attend the big day?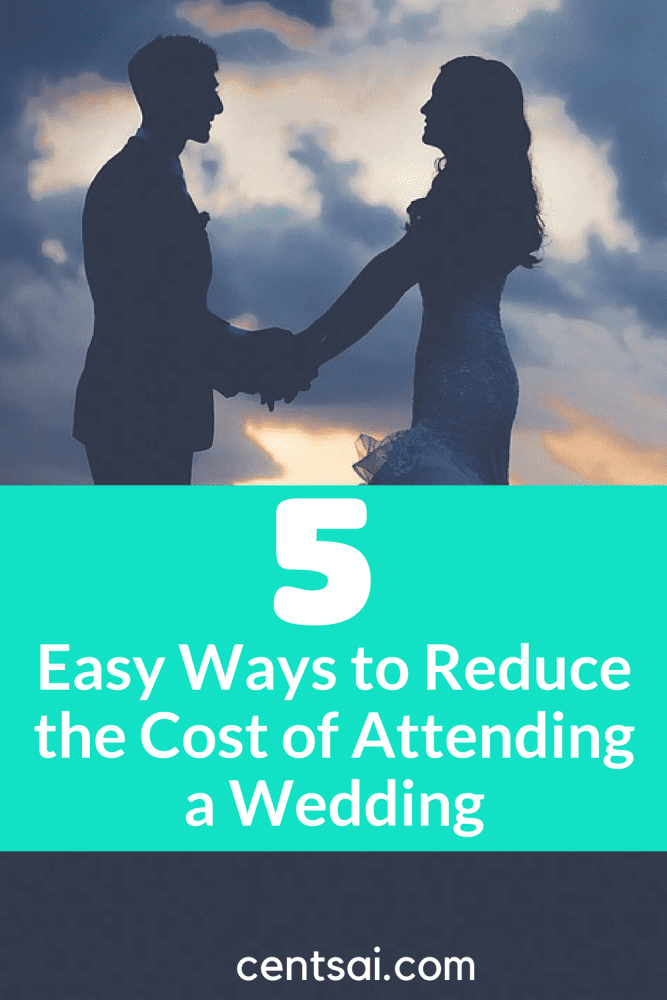 Wedding season is upon us, and you've probably been invited to a wedding this year – or will be invited to one soon. The Knot reports that the average cost of a wedding in 2016 was $35,329. But weddings aren't just expensive for the couple and their families – they're expensive for the guests, too!
Weddings are fun and exciting, which makes it hard for my husband and I to say no when we receive an invite. We already have one coming up, as my husband will be an usher at a friend's wedding later this year.
According to Bustle, the cost of attending a wedding can add up to $600 or more for millennials. And these numbers are on the low end!
Depending on how many you go to over your lifetime, the cost of attending a wedding could become a financial burden – especially if you factor in travel.
Before you decline your next invitation, though, try these money-saving tricks and see if the cost of attending a wedding will fit in your budget:
1. Hotels and Lodging
According to Bustle, hotels are the second-biggest cost of attending a wedding for 38 percent of millennials, coming in right after gifts. Nightly hotel rates typically range from $100 to $150 per night for a three-star hotel or higher.
If you want to save money on lodging, ask the bride and groom if they can secure a group rate for the hotel to lower the price. You could room with another guest or consider using Airbnb instead – maybe even split the costs with some friends.
If the wedding is local, you may even be able to simply drive home afterward or request an Uber or Lyft there and back.
2. Travel
If the wedding isn't local, you can expect to spend quite a bit to get there. One website, The Everygirl, puts wedding-related travel at $225 per person. Most couples don't provide any transportation assistance for guests.
You can save on airfare by simply purchasing your plane ticket early and using apps like Hopper to alert you when the price of your flight decreases. Wedding travel is also a good reason to cash in on any credit card cash back or travel rewards points.
If you're driving, carpool with others. And if you're in a city, consider public transportation to wedding-related events like the bachelor and bachelorette parties or the bridal shower.
3. Gifts
Americans can expect to spend an average of $127 on wedding gifts for relatives, while the average amount to spend on a friend's wedding is $99. On top of that, you may also need to get additional gifts for events like the bridal shower and the engagement party.
When it comes to finding the perfect wedding gift, make sure you set a budget. You might even want to take advantage of seasonal sales and purchase your gift ahead-of-time if the couple has a registry.
Gift cards are also popular wedding gifts, believe it or not. If you go that route, you can purchase discounted gift cards on sites like Raise.com and Gift Card Granny. And if you're really on a budget, consider making a DIY gift. A framed picture of you and the newlyweds or some scented bath salts are just two simple and thoughtful ideas.
4. Your Outfit
Just because you're going to a fancy wedding doesn't mean you need to go out and spend hundreds on a brand-new outfit. Make sure to check your closet to see if you can piece together something nice. Also consider borrowing pieces like shoes and jewelry from others.
If you absolutely need to buy a new outfit, check out the clearance racks first. Maybe even search for some hidden gems at a thrift store.
5. Hidden Costs of Attending a Wedding
If you have kids who won't be attending the wedding, ask a family member or close friend to watch them. They likely won't charge you too much.
And for those planning to do special hair and makeup for the wedding, try some DIY. You can find tons of ideas on Pinterest, and even practice different looks weeks in advance.
Don't forget about any additional out-of-pocket costs that you'll incur, such as food the day of the wedding, drinks (if there's a cash bar), and other wedding-related activities that may cost money.
And if you've pared everything down to the bare bones and still find that you can't afford the cost of attending a wedding, don't be afraid to decline an invitation.