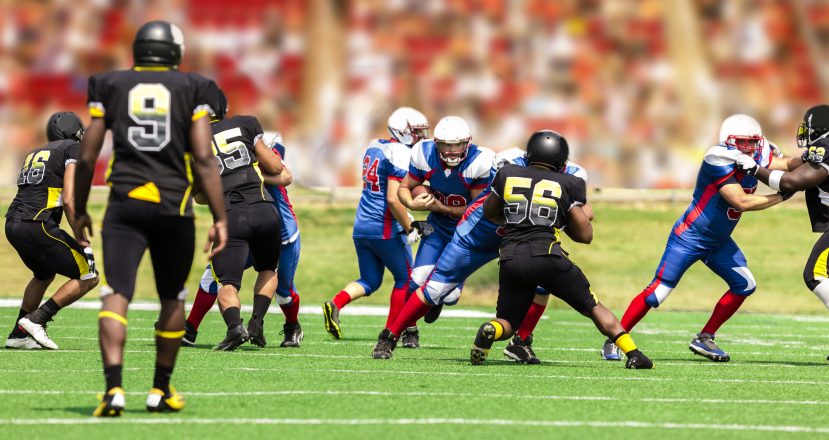 6 second take:
Learn how to make fantasy football both fun and affordable.
CentSai is all about helping people become smarter with their money so they can save and invest it wisely. But you can't deny that having a stake in the outcome of a big game makes it more fun to watch. So we've got tips on how to play fantasy football without losing out on all the fun or all your money.
First, we recommend betting only small amounts of discretionary money that you can afford to lose. This is money that you would otherwise spend on a restaurant dinner or a night at a bar with friends. If you lose it, then you get home-cooked meals and Netflix. Still not a bad night!
Manage Your Money Better With a High Interest Checking Account — Sign Up Today >>
Once you decide how much you can comfortably bet, there are a few ways you can play fantasy football.
1. Super Bowl Squares
If you're attending a Super Bowl party or hosting one, consider putting together a Super Bowl Squares game. You can find a template online or sign up online at Yahoo Fantasy Sports. There are scores ending in 0 to 9 on two sides of a table for a total of 100 squares (one side for each team).
If you do a $2 buy-in per square, that's a total pot of $200. The winner of the correct score at the end of each quarter gets $40, plus $40 for the final score. There's potential for the person with the right score at the end of the game to get $80 (unless it goes to overtime).
2. Season-Long Fantasy Football
There are a few different ways to play fantasy football. The most common way to play is with a group of friends or coworkers in season-long competitions.
You get the opportunity to build your own fantasy team using real NFL players. Rather than drafting all the key offensive players on the Rams or Patriots, you draft a mix of positions from each team. For example, you can have a quarterback on the Chiefs, receivers on the Browns and Dolphins, and a running back on the Titans. This can get highly competitive and fun, especially when you get together to draft the players either in person or online.
The great thing about fantasy football is that it brings people together.
If you and your college friends lead different lives in different cities, it's hard to stay in touch without consistent common ground, the way you had in the close quarters of a dorm. Fantasy football keeps those relationships going. It's also an immediate conversation starter with coworkers in other departments who you see only when getting your morning coffee.
Put Your Money to Work Today. Invest Your Spare Change — Download a Free Investing App >>
How It Works
Typically with these season-long formats, everyone buys into the pool that will be split among the top finishers at the end of the season. In college, my friends and I started our league at a $20 buy-in for 10 members. With just $200 in the original pot, first place took home $120, second banked $60, and third kept his or her original $20.
With our incomes increasing since then, our buy-in is now $150 for 12 total people, with the winner taking home $1,000. This amount is something we determined we could part ways with while also justifying our investment in it by spending too much time evaluating our rosters and making moves to gain a strategic advantage. It's a way to feel like a general manager of a team.
3. Daily Fantasy Football
Season-long leagues are tough, especially if your team succumbs to injuries. If your top running back goes down with an ACL injury, it's going to be hard to overcome that loss and save your season.
Companies like Draft Kings and FanDuel offer apps so you can pick a customized daily team with an allotted budget. Players are assigned a dollar value, and you assemble your team based on a max budget. FanDuel will also give you a $5 bonus with your first fantasy deposit
The buy-in for tournaments can range from $1 up to hundreds. If there is a $5 tournament with 100 participants, the total pot is $500. For instance, the top player in that one tournament could take home $250 off a $5 bet. While this is rare, it's fun because you're focused on the excitement of your players performing well for that one day without a season-long commitment.
Nothing in Excess
Betting money on football is a great way to have a stake in the games you're watching. It makes it more exciting knowing that there is potential to win money. That said, you should always go in expecting to lose.
This is money that you can afford to part ways with; you're not relying on ever seeing it again. However, you can't win if you don't play. You might want to use an app like Digit to help you set a budget for fantasy football.
Save Simply and With Ease Toward Your Financial Goals >>
How to Play Fantasy Football: Top Takeaways
Season-long fantasy football leagues are great ways to stay in touch with friends or create a community at work with a commitment of three months and larger buy-ins.
If you strategize correctly, daily fantasy football games allow you to have a short-term stake with the potential to win big by betting a small amount of money.
Super Bowl Squares is a fun activity in which everyone can hope to win based on the results of a quarter, as well as the final score.
Never expect to win money. If you can't afford to lose it, then don't play. CentSai does not recommend gambling.