Memorial Day BBQ: What's Cheaper – Trader Joe's or Whole Foods?
6 second take:
So you want to have a fun Memorial Day barbecue next week, but your on a budget. What are the best foods to make – and the best places to shop?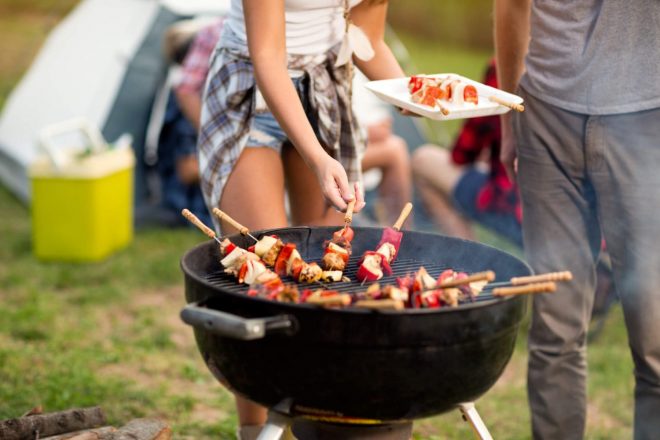 To be honest, Memorial Day is about so much more than a barbecue with friends or a day in the pool. My brother and my Grandpa have both been in battle and served our country. I'm grateful for their sacrifice and devotion to protecting more than their family – and every other soldier who has done so, as well.
Once these soldiers come home, they're welcomed back by family. Most of these welcome-home celebrations are full of food – good food. Naturally, then, Memorial Day – a day dedicated to these men and women – is also full of good food. But catering to a large party can be expensive and leave you with lots of leftovers.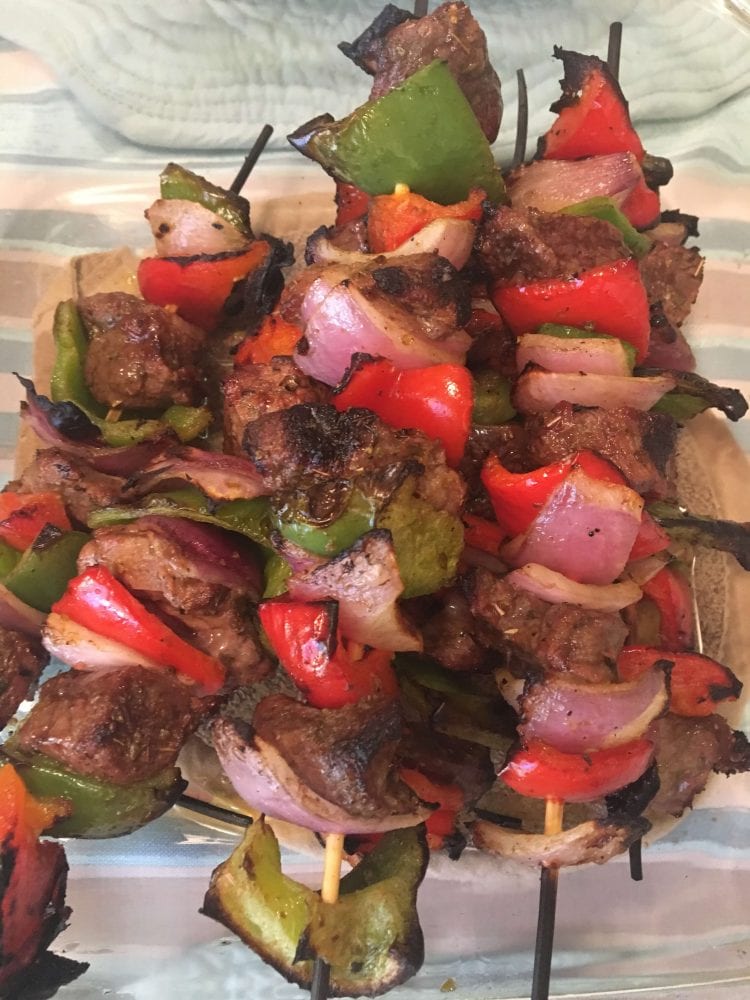 As such, I've put together a cheap recipe that takes less time to make and can be purchased anywhere: shish kabobs. Let's say we're cooking for a party of four.
You'll Need…
1lb beef top sirloin (serves two kabobs per person)
1 whole red pepper
1 whole green pepper
1 whole red onion
Wooden skewers
Marinade:

½ Cup olive oil
1 TBSP Salt
1 TBSP Pepper
½ TBSP Oregano
1 TBSP Cayenne Pepper
1 TBSP Cumin
What's more, combine this with a simple dessert, and you can make that a full meal for four people for under $40.
Try a Simple Fruit Dish for Dessert:
18 OZ Blueberries or Strawberries diced
16 OZ Whipped cream
1 Package pound cake
Shopping Memorial Day
Okay, now that we know what the goods are, let's talk money.
I said that you could do a Memorial Day BBQ for under $40, but what grocery store gives you the best bang for your buck? I did a side-by-side comparison of Whole Foods and Trader Joe's. I could have tried the more common stores like Walmart or Target, but I prefer the former stores for special occasions. For the purposes of brevity, I'll assume that – being adults – we have all of the necessary spices on the spice racks that our moms bought us. As such, I have priced out the kabobs and dessert part.
Whole Foods
My trip to Whole Foods (in Arizona) took me on a 20-minute drive to Chandler, AZ. For me, that's a bit of a schlep – and not exactly kind on my gas tank. Nevertheless, I persisted. Walking into Whole Foods, you're met with the fresh smell of flowers.
Fresh flowers on a table are great as a quick-and-easy centerpiece – but not for over $17 a bouquet. But moving on…
Let's talk dessert first. I discovered the blueberries sitting pretty at $3.99 each. In terms of weight, we're only talking eight ounces. Meanwhile, for the pound cake – conveniently located next to the berries – a package of six small rounds costs $2.99. That's a pretty great price, but it doesn't give us enough cake. Homemade whipped cream is also on my list, and Whole Foods has it for $4.07. So far, dessert's total sits at $11.05, if I go with just one packet of blueberries and one packet of pound cake.
Now time for the meat and veggies. What I like most about Whole Foods is that it has mounds of fresh fish, poultry, and meat available from local sources. I picked up locally sourced beef top sirloin for $9.04. Strolling back over to the vegetable section, there are a few different choices of peppers, each for a different price.
Red peppers imported from Mexico cost $3.49 per pound, while green peppers cost $1.99 per pound. The alternatives come either from the U.S. or an unknown location of origin. Their price is super agreeable, but still – they're only one dollar less than the Mexican imports. Living in Arizona, I'm going with the fresher option.
Since I only need one pepper, my total cost for my "luxury" peppers is just $2.46. Combine that with the onion at $1.17, and my total for Whole Foods Memorial Day shopping is $21.55 for enough food to serve a party of four.
Trader Joe's
Let's move onto Trader Joe's. This store is located only 10 to 15 minutes from my home, making the drive more convenient. Since I was taken by the flowers at Whole Foods, I check out the flowers here to see how much they cost. Lucky for me, I can buy a large bouquet for only $9.99, saving $7. Centerpieces are so delightful, especially on days like Memorial Day.
But back to the task at hand. A red pepper only costs 99 cents, and a green pepper only 69 cents. And just 89 cents buys us the red onion. That's $1.06 in savings compared to Whole Foods. The blueberries at Trader Joe's? Perfect. I was able to pick up exactly the amount I needed for only $5.49 – more than double the amount I could pick up from Whole Foods.
Moving onto the final element of the meal, we're in a bit of a pickle.
Beef top sirloin isn't available, and I honestly have no idea how fresh their meat is other than by looking at the "use by" date. That said, the beef is precut, which will make my meal prep go more quickly. Total cost for the beef? $10.80.
Last but far from least, the dessert. We've already discovered the blueberries, of course. Now we're on the hunt for whipped cream and pound cake. After searching for about 10 minutes, I find canned whipped cream for $3.99 (I'll need two) and pound cake ingredients, but no actual pound cake. Big bummer here, as we'll need to either purchase the ingredients and make the cake from scratch or go to a different store. To make pound cake, we will need sugar ($3.49), flour ($2.99), butter ($4.99), and eggs ($3.29). This road bump drives our total to $37.61. Goodbye, fresh flowers.
So, the Results are In:
Trader Joe's: $37.61
Whole Foods: $21.55
Regardless of which store we purchase from, we're still making it out under $40. Still, Whole Foods is clearly where it's at. Especially when we take convenience out of the equation.
We'll save a total of $16.06, which would allow us to splurge on the flowers at either location and still make it out for under $40.00. All hail the gloriousness of Whole Foods and their low prices on local foods!