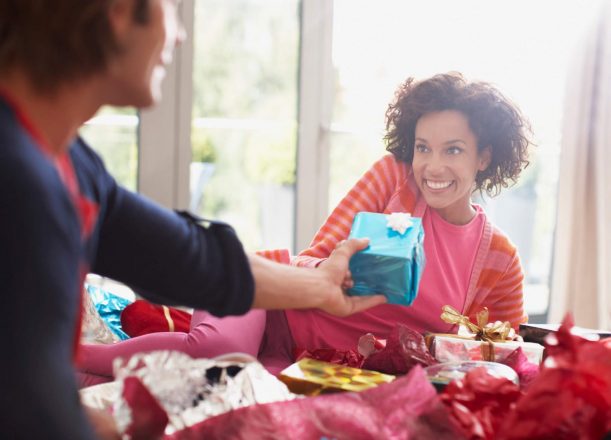 6 second take:
Don't rush at the last minute and spend big bucks on small gifts. Buy months — even years — ahead and become a gift-giving champ.
I have maintained a gift closet for years. It has saved me thousands of dollars on gifts, not to mention the stress of paying full-price because of last-minute shopping.
A gift closet is a simple concept: Set aside some space in your home (I've used a shelf in an armoire, a drawer or two in a dresser, and even a shelf in a closet).
When you run across a great deal on something that will make a great gift, snap it up and put it in your gift closet.
When a birthday or special occasion comes along, there's no need for a trip to the store. Just look at your gift closet and pick something out that the person will appreciate and enjoy. But make sure to only purchase things that you know a friend or family member would love to receive as a gift.
1. Children
You know how expensive it can become when your children start getting invited to birthday parties. Maybe I'm super cheap, but I never wanted to spend more than $10 or $15 on a present because there were so many birthday parties. I wanted to treat all the kids fairly to the best of my ability.
This is where the gift closet helped me the most. There have been so many times I have gotten nice presents from some awesome clearance racks for a fraction of the original cost. I've also purchased brand-new, still-in-the-wrapping toys from garage sales — including one that would have cost $25 if I bought it at a store! No one ever knew that I only paid a buck for that gift.
In addition to toys, I've found books to be a great gift to purchase in advance. A hardback children's book can cost $15 or more brand-new. I regularly look at the clearance sections in bookstores and department stores and have snapped up award-winning children's books for a dollar or two.
2. Housewarming 
We all want to be able to take a gift when someone moves into a new home or invites us over for dinner. It's hard to give something nice unless you spend $25 or more. Again, not in my budget.
Whenever I'm in a home decor store or a place like Pier 1, I take the time to dig through their clearance racks. I've found nice candles, home decor, and handy kitchen gadgets that make great hostess gifts. It's so much fun to take an unexpected gift that you found a great deal on.
3. Holiday Gifts
Around the winter holidays, we have a ton of people we want to remember with a gift: teachers, the mail lady, the guys who collect our garbage, etc. Shopping the day after Christmas is a jackpot that you don't want to miss. Now, I'm not talking about risking life and limb for next year's holiday gifts, but I am saying you can find the cutest things even after the crowds have died down.
One year, the Kohl's near my house had an incredible amount of Christmas decor and beautiful glass ornaments left over. I didn't make it there until the 28th, but I still loaded up on all sorts of items. In fact, I still have a few things to give for next year!
My biggest mistake early on was buying things that were a great deal but really didn't make the best gifts. Those things ended up being given to Goodwill or became a part of my garage sales. I've learned my lesson and now rarely end up with something I can't gift.
I usually make a purchase with a specific friend or family member in mind. It isn't a good deal to buy something that's just going to sit for years because you'll never give it away. Stocking and maintaining a gift closet is a simple and easy way to be generous to friends and save money all at the same time!