5 Ways NOT to Get Ripped Off This Cinco de Mayo
6 second take:
Getting ready to party for Cinco de Mayo? Here are a few tips for having fun without getting a spending hangover.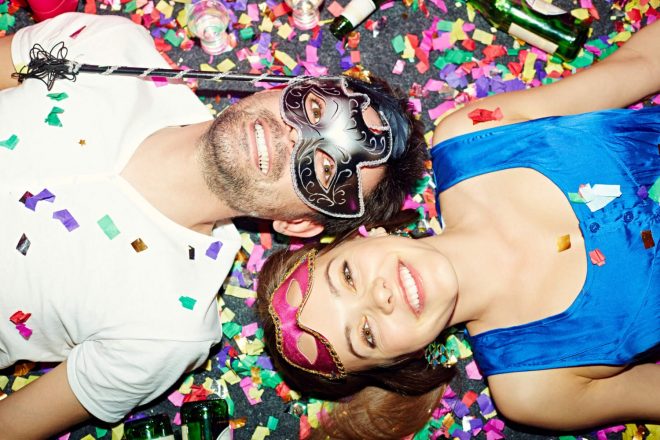 It's Cinco de Mayo — or Cinco de Drinko. Or Cinco de Lose-Your-Cash-While-You're-Drunk. . . . Whatever you want to call it. Everyone will be rushing from work tonight to taste a refreshing margarita or tequila shot.
So I'm going to give you the lowdown on how to avoid these mishaps (…and maybe later I'll have a few tips on where to find the cheapest margaritas).
1. "I'm Buying Evvvvvvveryone a Drink!"
Admit it. We've all had those nights when we've gotten too giving while drunk. I've definitely lent my wallet to fellow drunks at a bar more than a few times. Here's the problem: You wake up the next morning poor as hell.
As we slowly get our buzz on, there are five scenarios you want to avoid getting yourself — or your wallet — into.
How did our wallets become so empty? How did we become so financially irresponsible? Peer pressure, man. The remedy? When you're planning to drink one more drink than you should, know yourself well enough to call on your dependable friend to take charge of your wallet. Don't worry — you won't hate your friend in the morning.
2. "Just Keep the Tab Open"
Doing this makes it easy to rack up debt on your card while you drink into oblivion. Do yourself a favor and use cash to pay for drinks up front. Limiting yourself to two or three drinks will keep things light on the wallet and salty on the rim.
And there's a Part 2 to this, too:
Bars are one of the most common places for card fraud and ID theft to happen.
It's one thing to wake up the next morning and realize that you've purchased the entire bar a drink. It's another to see hundreds of dollars in charges that weren't yours drain your bank account of your hard-earned money.
3. "Guys, Where's My Wallet?"
It's that "oh, shit" moment we all dread when we're out and need a taxi or a Lyft – your wallet is missing. You trace back your steps, and suddenly you remember your friends mentioning how sketchy that hot guy you were dancing with was, and it dawns on you: You've been robbed.
It's okay. It happens to everyone at least once in our partying lives. A great tip? Downplay the amount of cash you're carrying and opt for a cute clutch — or better yet, a small over-the-shoulder bag that's harder to set down and forget someplace. Or if you're a guy, keep your wallet in a pocket where it would be awkward for someone to reach.
Make a pact with all your friends to keep a watchful eye on one another. There's safety in numbers!
4. "Ugh . . . I Spent All My Money on Food Last Night"
Getting drunk isn't the only thing that contributes to an empty wallet. When you drink, you get hungry. And when you're hungry and out bar-hopping, well… it's taco time. Ninety-nine percent of Cinco de Mayo drinkers get hungry for delicious food around midnight and will order whatever's available from the kitchen.
But are those $35 nachos really worth the price? Nope! If you must eat, look for affordable options like a hole-in-the-wall taco shop or a cheap diner on your way home. Otherwise, carb up before the happy hour specials end.
5. "Our Waiter/Waitress was Super Nice, Right?"
I'm an advocate for tipping wait staff and bartenders responsibly, but you know what isn't appropriate? Leaving tips that are equal to the total of your bill. It's super nice if you can afford it, but if student loan debt haunts you monthly, that's way more important. Only tip what's right for the service you had. That could save you bundles, and that means more margaritas — after making your student loan payment, of course.
Now for the Fun Part
Here are a few places you can buy a cheap but delicious margarita or taco:
1. Chili's
$5 beers and margaritas. If you're the souvenir-cup type, you can take home the cup once you're done with your booze!
2. Margaritas Mexican Restaurant
Arrive before 4 p.m. and enjoy all-you-can-eat nachos and $5 house margaritas.
3. On the Border
$5 Cinco 'Ritas at participating locations. If you're more of a beer drinker, specials will be offered on select brands, as well.
4. TacoTime
The chain is offering tacos for 79 cents each.
5. Bahama Breeze
$5 classic margaritas, with some locations throwing block parties with $3 bottled beers, 2-for-$5 tacos and empanadas, and live entertainment.
As always, drink responsibly, take a cab if needed, and keep a close watch on your wallet. Happy Cinco de Mayo!