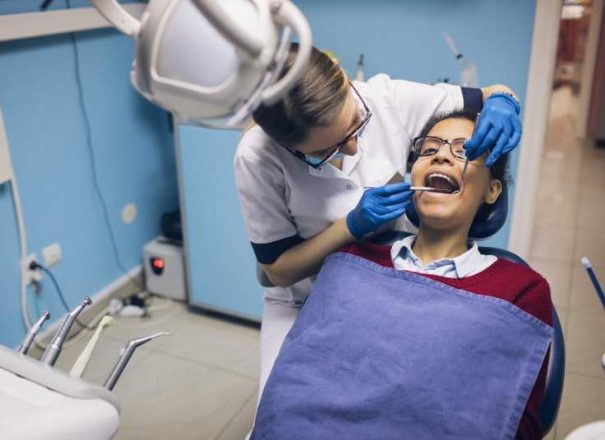 6 second take:
Dentist bills are enough to make anyone's jaw drop. But even if you don't have insurance, there's a way to get cheap dental care.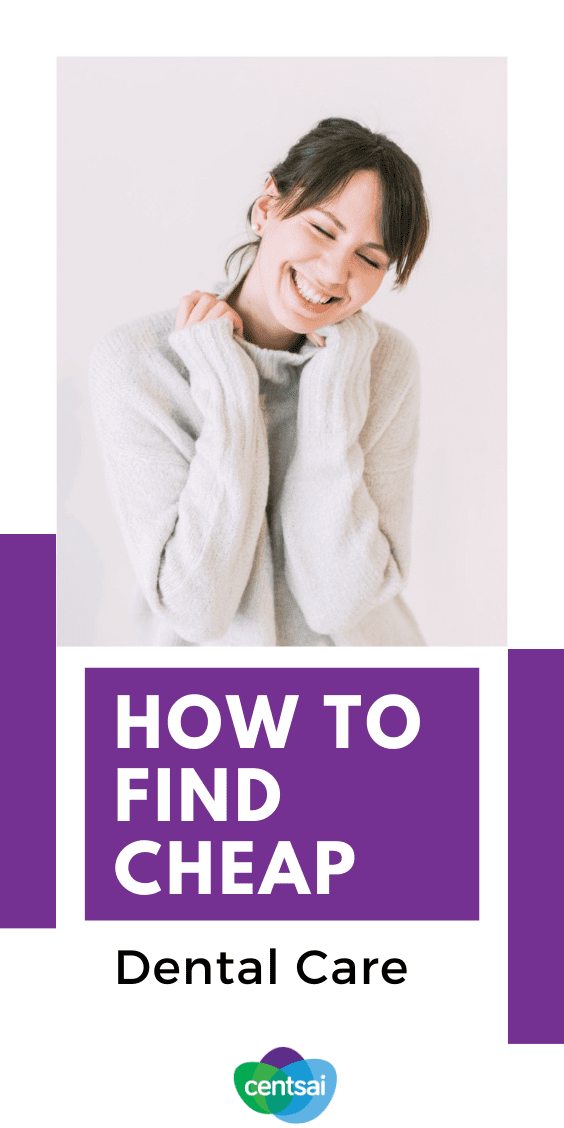 When I got divorced, dental insurance was the last thing on my mind. Not that it would have changed anything, but I had no idea how expensive it would be! More than $100 for a cleaning? What? And I don't even want to talk about how much a crown or filling costs.
To make matters worse, every time you turn around, they want you to come more often. Used to be once a year for a cleaning, but now they tell you every six months. I've even heard of some dentists who want you to come in three or four times every year, depending on you severe your dental plaque or other issues are.
 "Approximately two-thirds of Americans seek care from a dentist regularly," according to the American Dental Association (ADA).
That leaves one-third of us without regular dental care. There are a variety of reasons people forgo dental care, including one of the most common: no dental insurance.
Find the Best Dental Plan in Your Area — Get a Free Quote Here >>
How to Find a Cheap Dentist Without Insurance
There are a few solutions to the rising cost of dental insurance. New providers like Spirit Dental seek to disrupt the traditional insurance model, providing free quotes based on your needs, offering three yearly cleanings, and letting patients choose their own dentist. And some people have even turned to Groupon to find deals on dental care.
That being said, not everyone can afford insurance to cover the dental care they need.
One solution to find a cheap dentist without insurance? Dental schools.
Many community colleges and universities have dental programs whose students provide inexpensive dental care. Making a simple phone call or doing a Google search will help you determine if there are any nearby. Plus, you can use the ADA's web search to filter colleges by location and services offered to find one in your area.
As luck would have it, there is a dental school near my house. It provides a number of services for incredibly low prices, including:
Scaling, root planing, and tooth polishing
Oral examination and oral cancer screening
Dental X-rays
Application of preventive fluorides
Individualized oral health care instruction
Nutritional counseling for the prevention of dental diseases
Pit and fissure sealants (for an additional fee)
What does all of this cost? Ten bucks for adults and $6 for children 12 and under!
I couldn't believe it when I first heard about it from a friend. That's almost a 90 percent savings over regular prices. Of course, a student will do the cleaning, but don't worry — a professor will supervise them the entire time.
Why Schools Are Great Options for Cheap Dental Care
The best part of getting your teeth cleaned locally is that it's a huge help to students, who need the practice. At the school near me, I get sealants for an additional charge of only $3 per tooth — another bargain when compared with the average of $399 per person spent annually on teeth cleaning, according to the ADA.
Current dentists can testify to how helpful local volunteers were during their schooling.
"Throughout my entire education as a hygienist, it was my personal responsibility to fill my chair," says Elexa Richard, a recently graduated dental hygienist.
"My school would schedule appointments, but it was difficult for them to find volunteers. Ultimately, it fell to the students to make sure the patients they saw helped them meet each semester's requirements."
Take Care of Your Teeth — Find a Top Rated Dentist Near You >>
During their first year of school, students learn how to clean the teeth of someone who's had regular dental care. "As the semesters progress, so do the requirements for complexity and diversity," Richard says. "Therefore, a wide variety of patients are needed and welcome."
It took a lot of time and effort for Richard to come up with the right types of patients week in and week out. She couldn't have just anyone come in. The patient had to have specific problems so that she could demonstrate proficiency in that area.
The Bottom Line on Finding Cheap Dental Care
The next time you're due for a cleaning but don't have the extra cash lying around, do yourself and a dental hygiene student a favor and book an appointment at your local school. The students will thank you, and so will your wallet!
Additional reporting by Connor Beckett McInerney.