Your Guide to Getting Cheap Red-Carpet Dresses
6 second take:
Come Oscars Sunday, we watch beautiful people parade by the camera in gorgeous outfits that probably cost more than many of us make in a year. Thankfully, there are ways to find cheap red-carpet dresses that regular folks can actually afford.
I know, I know. Each year on that special Sunday evening, you sit on your sofa in your pjs and stuff your face with treat after treat. As beautiful people with even more beautiful bank accounts strut their stuff on the red carpet, you find yourself thinking, Yeah, we could all look that good if we had the money.
Well, fear not! Those excuses won't work here, as just ahead of the 2018 Academy Awards, we are giving you a head start on where to find your favorite red-carpet dresses for a fraction of their original exorbitant prices.
This Is Exactly What I've Been Looking For . . . Kinda
Everybody knows that the Oscars have a huge influence on the fashion industry — there's no surprise there. What is surprising is the speed at which this influence can be seen. Within a couple of hours, if not sooner, there are dozens of imitation versions of your favorite look ready to order online for less than $200. If this sounds too good to be true, then it probably is. There are three eerily similar websites — Star Celebrity Dresses, The Celebrity Dresses, and World Celebrity Dress — that advertise knockoffs of the night's best dresses, and the glowing reviews on each could have you sold.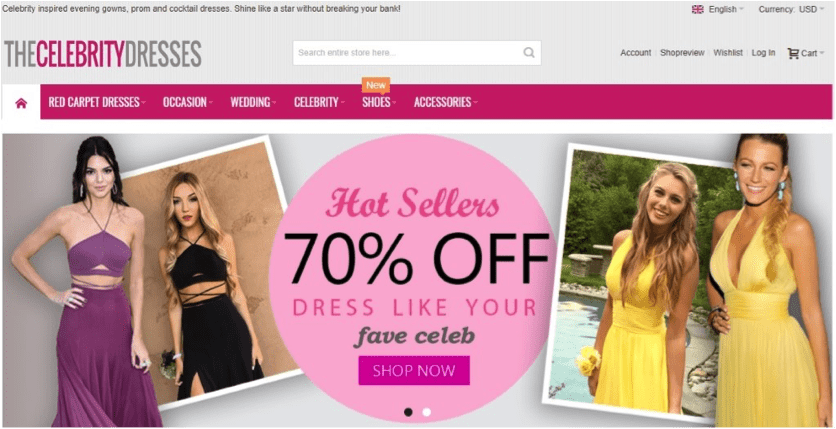 Unfortunately, the cheap red-carpet dresses offered are often just that: cheap. On closer inspection, the internet is full of horror stories about the quality, style, and sizing of the products these sites are selling. While the odd good review does exist, it's important to exercise caution when ordering anything that comes at such a knocked-down price.
These sites all have similar traits, such as always having a sale and only displaying photos of the dress on the celebrity. But if you're feeling lucky, you may just get a gorgeous gown for half of nothing! (Star Celebrity Dresses, The Celebrity Dresses, and World Celebrity Dress were contacted for comment, but did not respond by the time of publication.)
Further Reading: "Pay More for Quality Things That Last a Lifetime"
You Ain't No Copycat! Well, Maybe a Little
If you want a dress that emulates an Oscar gown, but still maintains artistic integrity (and you want a designer who feels similarly), look no further. A lot of big companies will take inspiration from the fashion trends at the ceremony without rehashing the exact look, so you can enjoy elements of a style and not feel as if you're trying to be Scarlett Johansson. Edressme, Modcloth, Lyst, and even Macy's will have dresses that mimic the best aspects of looks from the night without being carbon copies. While slightly pricier than dresses from the aforementioned sites, these imitation dresses will appeal to those of you who like a bit of flair but have no need for red-carpet dramatics.
Tidebuy International Fashion is a brilliant website if your looking for variety. They specialize their dress category by occasion and it makes the whole purchasing process easy and enjoyable – the way it should be!
If you want something a little more sassy, Pink Queen is you answer. Sign up and get a well deserved 10% off!
Marilyn Monroe's iconic white dress by William Travilla takes the cake, though,

selling for $5.6 million

in an auction in 2011.

Speaking of stars being paid for exposure, the trend of being a walking advertisement for designer jewelry is only growing, according to

the Hollywood Reporter

. Stars are being paid ridiculous amounts of money just to be living mannequins for brands like Louis Vuitton and Tiffany & Co.
Other Ways to Find Red-Carpet Dresses for Less
Of course, there are many other ways of nabbing a cheap, Oscar-inspired gown just days after the show has been broadcast. The majority of downscale stores — Forever 21, JC Penney, H&M, and many more — will cash in on the trends. Give it two to three weeks after the show, and you'll find imitation versions, something similars, that-kind-of-looks-like-that-one dresses, and even shoes and jewelry to match. You don't have to break the bank — you can just rough it up a little.
Subscription Services
There is also an amazing new trend on the rise: subscription services. Rent the Runway, for example, is a site that allows you access to designer dresses for a limited amount of time and a limited amount of money. There are options for one-off rentals or a monthly subscription of $159, in which you can sample a number of gowns.
A friend of mine recently got the opportunity to go to the Grammys. Rather than spend hundreds on a dress that she would never wear again, she rented one from this site. It's a great option for those of you who often attend fancy corporate events.
Cheap Red-Carpet Dresses: The Real Deal
Don't forget — there are rare moments when celebrities will wear something to an awards ceremony that's actually within the budget of the average human. For example, Kendall Jenner wore a Topshop gown to the 2014 Met Gala, and Zendaya wore $38 dress from her own clothing line to the Teen Choice Awards. While we all can't look exactly like our favorite celebs, it's nice to know that sometimes, fashion doesn't have to cost the same as a small house.