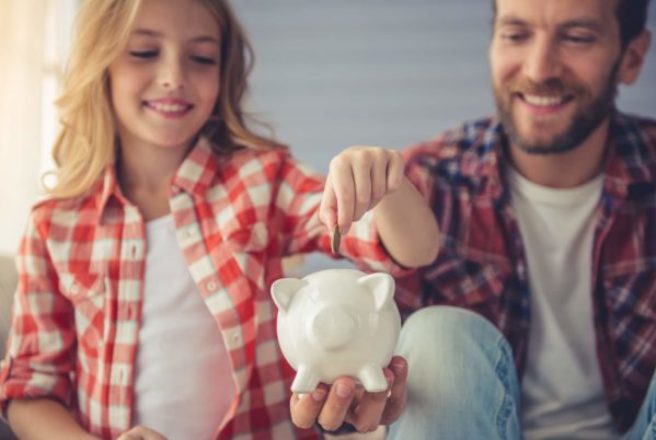 6 second take:
When teaching teens about money, the trick is to engage them in making financial decisions — even small ones.
Sometimes adults are guilty of thinking that teens don't care about money or aren't mature enough to make good financial decisions. Of course, these same parents often don't seem to do anything to teach their teens these skills in any meaningful way. I have found that, if given the chance, teens respond well, learn quickly, and are entirely capable of making wise money choices.
My mom and dad were great examples of how to help a teen prepare for her future in a practical sense. They gave me so much freedom and responsibility that I learned to handle money from an early age. When I became a mother, I wanted that for my children, as well.
Here are five ways of teaching teens about money that will help them in real life:
1. An Allowance
Depending on family priorities, teens may or may not need an allowance. Many teens have a part-time job that provides them with the income they need.
Many other families choose not to have their teen work for various reasons. If your teen is involved in sports or other activities at school, they probably won't have time to work. In this case an allowance is a valuable way of teaching teens about money.
Start Managing Your Finances — Download This Personal Finance App Here >>
2. The Envelope System
The envelope system is something that a child as young as five can easily understand.
When our kids turned five, we started giving them an allowance, and it followed that giving them money meant they needed to manage it well. Each child got three envelopes: one for saving, one for spending, and one for giving.
They received five one-dollar bills for their allowance and had to put something into each envelope. Basically, they had to put one dollar in each envelope, but could choose what envelope to put the two extra dollars in each time.
As they got older and their allowances increased, they created more and more envelopes for their various goals as teens.
This taught them from an early age that you will need to spend money, but that you should regularly save part of your income and give to others who are less fortunate. It's so simple, and yet so effective.
In fact, both of my adult children still use a digital version of the envelope system to this day and are incredibly disciplined with their money.
Learn More!
3. Plan Meals and Buy Groceries
As our kids reached their early teens, we put them in charge of dinner once a week. They had to come up with a shopping list for that meal, check to see if we already had any of the ingredients they needed, and compare prices to get the best deals at the store. Then they would fix the meal themselves.
This was a great opportunity for them to learn both how to cook basic meals and how to get the best deals on food at the grocery store. We had each of them do this for at least one school year. That way, they could really get the hang of it.
4. Buy Clothes
Around the same time — when they turned 13 or 14 — we substantially increased their allowances and put them in charge of buying their own clothing. For the first year, I supervised closely and used shopping trips to show them how to get the best deals.
We shopped sales and clearance racks religiously and made sure to purchase necessities before any fun stuff.
After the first year, they were completely on their own. They made a few mistakes, but learned valuable lessons when they spent too much on an accessory and then had to make do with one pair of jeans for several months!
5. Business Opportunities
Teens — even younger children — can be encouraged to create their own business opportunities.
When my son was 12, he got a magazine in the mail that allowed him to sell holiday items door-to-door. His customers could place an order and pay him. Then he had to deliver the items when they arrived. He made a 50 percent commission on all orders.
Running a Business or Self Employed? This Online Accountant is Designed to Support You >>
For several weeks in November and early December, he would go door to door in our neighborhood making sales. The items were quite nice, and (to my surprise) people ordered a ton of stuff.
For three years in a row, he made almost a thousand dollars each holiday season!
I know of another teen who makes almost $50 a week by selling candy at her high school. She has a little tote bag filled with candy bars that she carries everywhere. Each item costs a dollar, and sometimes she sells so much that she has difficulty getting to class on time because so many kids are seeking her out to make a purchase.
These kinds of opportunities can turn any teen into a money-savvy entrepreneur overnight!
A Final Thought
Making these efforts for our children's sake has had great results in our family. I'm proud of the fact that my son purchased his first home when he was 22 years old. And I'm proud that my daughter paid cash for her first car. There is no doubt in my mind that the early lessons they learned at home have contributed to their successes in managing money as young adults today.