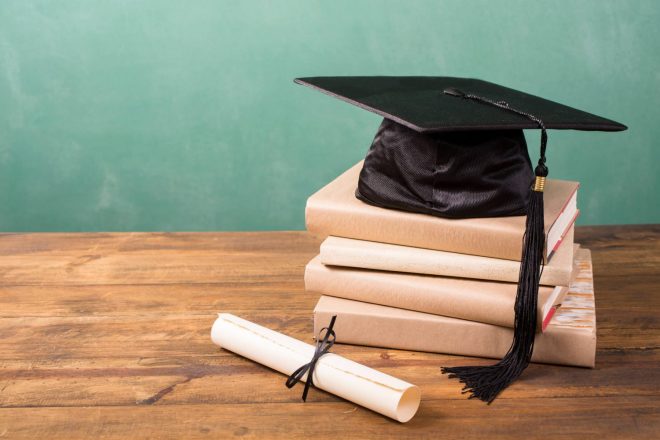 6 second take:
Grad degrees don't have to cost an arm and a leg. If you do it right, you can actually get your grad degree for free – and even get paid for it!
Did you know that people actually pay for their grad degrees? This was news to me when I graduated with my M.S. in wildlife biology and conservation in 2014.
Why? I got my grad degree basically for free – and I didn't know anyone else in my field who paid for their degree, either.
And it's not just my field, either. I have tons of friends who studied math, history, science – even English – and yet didn't pay for their degrees. If you listen to our advice on how to go to grad school for free, you might be able to pull it off, too!
1. Do Your Research
If you want to go to grad school, your research starts long before you get accepted into a program. Unlike the more cookie-cutter undergrad programs, each graduate university, degree program, and even individual course of study is unique. It's up to you to sort out how each one that interests you works.
Oftentimes you'll just apply to the general program that you're interested in. Schedule a phone call with the department of interest to get the full scoop on how it works. In my case, I first tried to find a professor with my interests and approach him or her directly to ask about potential grad openings.
In some fields – like wildlife biology and mathematics – it's almost unheard-of for people to pay for their degrees, regardless of where they go to school. I spoke to a friend who has a master's degree in mathematics.
He told me that, "The best piece of advice I ever got was not to pay for your degree. If you do, you're doing it wrong."
In other fields, you'll first need to scope out how each individual university works, then apply to a bunch. After that, you can sit back and wait to accept the best offer. Another friend took this route to get her master's degree in history, and she has a word of advice:
Even if you're applying to a university program rather than working one-on-one with an individual professor, you should still research what each professor's specialty is. Mention these topics in your application essay for bonus points. "This demonstrates your interest in their specific program and shows your willingness to do research," she says.
2. Work as a Teaching Assistant
Here's the heart of how we were all able to go to grad school for free:
We worked as teaching assistants, either teaching intro-level college classes in our field or running the lab sections of certain lecture courses. These arrangements usually grant you a tuition waiver, plus a living stipend. In my case, my stipend worked out to just over $26,000 a year. While in school, I saved $24,688 on tuition and got $5,553-worth of health insurance for free. Most of us had to pay fees (which weren't insubstantial), but the stipend fully covered that amount, as well as living expenses.
Compare Health Insurance Plans to Get the Best Price — Get a Free Quote Here >>
3. Work as a Research Assistant
If you're working on a thesis project as a part of your degree, the university may pay for it. My thesis project was fully funded when I was accepted into the program.
This meant that the university already had a pot of cash sitting in an account waiting to pay for me and my research expenses.
All I had to do was work as a TA during the school year (for which the university paid me); and during the summer, the university paid me at the same rate, pulling from the initial funding that my project came with. If it hadn't been fully funded for my degree, I wouldn't have accepted the position.
4. Apply For Scholarships
Unfortunately, the pot of money ran out in my last semester (we found some cool things to test in the lab, but it was expensive to do so), and so I turned to another life saver: scholarships.
The Perfect Scholarship Could Be Waiting For You — Find Out More Here >>
I applied for a few scholarships and was surprised to win two awards that fully covered my final semester. My math buddy now teaches at a community college and serves on scholarship selection committees.
His advice? "Apply for as many scholarships as you can."
"Each semester we give away $3,000 in scholarships," he says, "and we usually only have three or four people apply for that money."
As long as you're creative and flexible in where you go and what you want to study, there's no reason why you need to take out thousands of dollars in student loans to get a graduate degree.