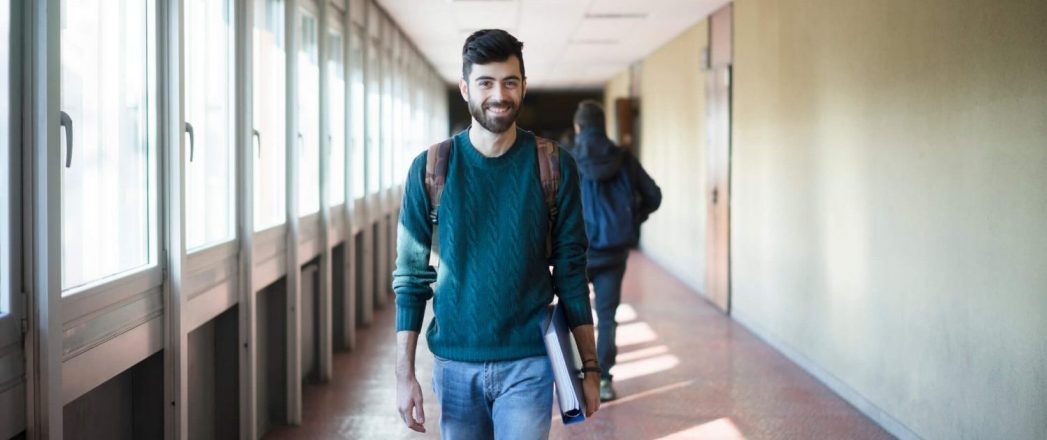 6 second take:
The job market is often unpredictable, and hard-earned skills and experience can become obsolete overnight. To make a quick, affordable career switch, look to a community college.
My dad is the type who can best be described as Jack of all trades. He knows how to do just about everything, from gardening to construction to car repair. He's self-sufficient and tries to never accept handouts. But the day he lost his job — a job that he'd held for more than 20 years — everything changed.
Dylan Richards was the same kind of guy. He had made his living as a farmer, then as a traveling mechanic with a railroad company.
Having graduated high school in 2007, Richards beat the recession and made nearly $70,000 his first year out. He felt as if he could do anything. But like my father, he became completely powerless when he lost his union job.
Find a Better Way to Work — See How You Stack Up to the Competition >>
Sophie Manners wasn't so shocked when the doctor's office she worked in laid her off. She had seen it coming when she heard talk of downsizing at a company Christmas party.
Still, Manners felt optimistic, even as she turned to food stamps to help her buy groceries. "I still felt like I could get back on my feet. I had skills and about five years' experience."
The Benefits of Community College
Despite their backgrounds and ambition, my dad, Richards, and Manners discovered that no one wanted to hire them. Months would pass, and for Manners, nearly three years went by without even a job interview.
All it took for their lives to change dramatically was the act of enrolling in community college.
In the United States, there are nearly 1,500 community colleges, most of them run by the states where they're located. Their mission is to provide low-cost educational opportunities to those in the communities they serve through career-focused course work, enrichment offerings, associate's degrees, and partnerships with businesses and four-year colleges.
Current enrollment is more than 5.6 million people, who pay an average tuition cost of $3,347 per year.
Many of the students are looking to get their terminal degrees or to save money on a four-year degree by knocking out prerequisites close to home. But for Manners, Richards, and my father, the benefits of community college were more than just convenient — they were life-changing.
Three Layoffs, Three Success Stories
My father — a man who just barely graduated high school in the late 1970s — had no interest in going back to school. But a government stipend for retraining pushed him to give it a shot. While working on his business on the side, he attended night classes on wind turbine maintenance and construction.
It was a growing industry with a lot of demand for guys like him who already knew their way around a build site. He took classes with men half his age, who had a fraction of his skill set. "All these young guys were there struggling to keep up on it. But I kept my head down and focused on what I knew. I was surprised that I picked it up so quick," he says.
"By the end of my third class, the professor got me in with the state and found me my first job putting up new wind turbines. I made more money than I ever had before."
Richards also found that a community college investment could pay off big. Initially, he attended just to pass the time and maybe garner some more tips on growing his homestead farm. But he ended up with enough credits to graduate with an associate's degree in science. Richards' adviser pushed him to go on to a state college.
He followed that advice and graduated with a degree in agricultural science. He now works for a major food engineering company, making six figures.
Find a Better Way to Work — See How You Stack Up to the Competition >>
Manners took three years to go back to community college. She was afraid that, in her words, "life and babies" would get in the way. But she pushed on and eventually found her way to nursing. Because Manners had experience in medical billing, she almost instantly found a job with an insurance agency.
While she is unwilling to say how much she now earns, she paid off the modest student loan that she took out in less than a year.
Should I Go to Community College?
These three success stories aren't outliers. According to a report in the Houston Chronicle, people with at least some college credits or a community college degree make an average of $130 more per week than those with only a high school diploma.
And with community colleges quick to change and expand their offerings to meet the demand in our fast-changing economy, it's more common to see programs in lucrative fields such as robotics and engineering.
As a college adviser myself, I would ask anyone looking at community colleges as a way to transition between careers to first look at the return on investment. Some programs, while great for those interested in just expanding their knowledge, may not boost earning potential as much as we would like to think.
For example, you'll almost always need to follow up an associate's degree in art with a bachelor's to make it worth the investment of money and time.
If you plan to move into an in-demand job, make an appointment with an adviser and find out which program will best serve your goals. And don't forget to consider the benefits of community college!