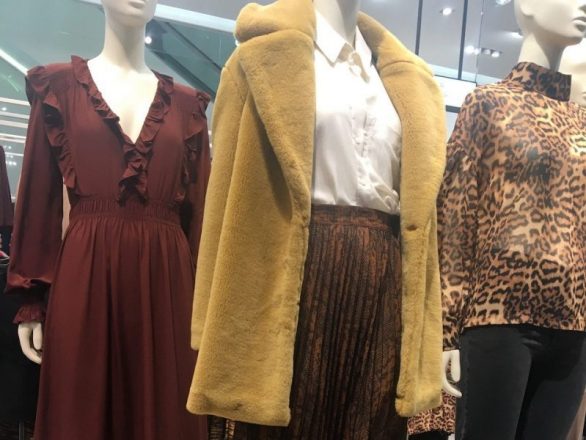 6 second take:
Staying within your budget when shopping for clothes is never easy, but it's way harder when you fall in the plus-size range.
Let me just say this: I love my body. Albeit short and still (relatively) young, this body has managed to run half-marathons, create a baby, and get down at dance classes with the best of them. But there is one thing I hate about my body: having to go plus-size shopping.
The Challenges of Plus-Size Shopping
Unlike "regular"-size clothing, plus-size clothes come with some unique and frustrating challenges. It's enough to make people like me — who usually love shopping— hoard old clothes until they're way past their prime.
For one, there just isn't much of it. Take a look at your department store. If you're size 12 or under, you can easily spend hours browsing racks and trying on loads of clothes. Once you're above a size 12, your selection of clothing becomes perhaps a tenth of what's out there.
Easily Shop for High-Quality Discounted Clothes — Visit Site >>
And stores don't make it exactly appealing to walk into these sections. They're usually segregated to the back or in select sections, away from "regular" sizes.
And then there's the actual quality of plus-size clothing. While not scientifically proven, my professional plus-size shopping opinion is that designers think that all plus-size guys and girls want basic clothes to look like their grandmother's window drapes. I constantly find that the shirts and dresses made for larger people are thick or oversize or come in ridiculous color combinations or patterns.
Want high fashion? Think again. Even celebrities like Leslie Jones have had a hard time finding runway-worthy outfits for red carpet premieres.
But what really sets me off is how much it costs to be in the plus-size range. While the practice is becoming less common, some stores still charge an add-on fee when your size goes over a certain number.
This App Makes Managing Your Purchases Easy — Start Budgeting Today >>
Why Is Plus-Size Clothing More Expensive?
In 2014, a petition to Gap Inc. and its affiliate stores to stop charging for women's plus-size clothing garnered more than 95,000 signatures. But why is this happening to begin with?
"In theory, you are paying for the extra product, variable pricing, manufacturing, labor hours, etc. that you are receiving," says Thalia Butler of ThatShirt, a custom T-shirt design company. She breaks down the production process further:
"When it comes to sizes, a new pattern isn't made for each piece. It is often sloped. Just picture it being stretched out to fit the appropriate size," she says. "Plus sizes require a professional pattern technician to correctly adapt proportions to fit a larger size. This is the same principle when comparing petite as well as big and tall sizing. Not only that, but the pattern in a 'non-regular' range has to be redone every three or four sizes, while a regular pattern only has to be redone every six or seven sizes."
"There is a lot more that goes into manufacturing that many don't account for," Butler adds.
It hurts to hear, but the "fat tax" seems to be something inherently present in the current clothing production model. Though it's important to note that it's not just plus sizes. Anything out of the "norm" (read: slender and average height) seems to suffer.
"I spoke to at least 40 manufacturers, many of which would not do nontraditional sizes," says Elyse Kaye, founder and CEO of the athletic sports bra company Bloom Bra. "They claimed it took different machinery and required more materials. There are so many costs as a small business, especially without the large-volume discounts that the major brands have."
Running a Business or Self Employed? This Online Accountant is Designed to Support You >>
Plus-Size Shopping Tips: Ways to Cheat System
So how can we stay stylish while we shop if the current way plus-size clothing is made is actually more expensive? Thankfully, we got some plus-size shopping tips from the pros.
1. Show Some Love to Your Fave Stores
For one, become a loyal customer.
The reality is that the industry isn't changing anytime soon for plus-size shoppers, so embrace the stores that work with your body.
Don't be afraid to go shopping in new places, but become fast friends with the ones that fit you and suit your personal style best. Then hoard all the coupons, discount days, and member rewards available so that you can save money.
2. Buy Secondhand
Loyalty doesn't mean you shouldn't cheat, either. Online plus-size consignment shops are popping up everywhere, making it easier to find used-but-excellent-condition plus-size clothing from name-brand designers.
Depop, Poshmark, and thredUP are all great sites for buying and selling previously owned clothing.
Easily Shop for High-Quality Discounted Clothes — Visit Site >>
3. Clip Coupons
Another great plus-size shopping tip? With apps and browser extensions like Rakuten (formerly Ebates), you can save even more by earning cash back, finding coupons, and comparison shopping for the clothing, shoes, and accessories you want.
4. Buy in Bulk
If you find a style you like, stock up.
"My suggestion to all is to find quality products that work so that they can stay with you for a while," Kaye says.
"When I find a product I like — especially a bra that fits — I will spend the money and buy several."
5. Get Creative
Fashion-forward men and women should be brave with their shopping choices, according to Jeni Elizabeth, network and celebrity stylist.
"If you are out and about and you find a dress that is a 14, and you are just about a 16, don't be afraid to buy it! Snap it up and head to your amazing seamstress. Have them add some fabric on the sides to match and make it a tad larger," she says. "You should never give up hope or get sad because something just isn't your size."
"Think about how you can play with that skirt or the dress to make it bigger!" Elizabeth continues.  "At one point, everything was just fabric on a shelf, so add to it and make it better than ever before."
6. Have a Capstone Wardrobe
Both Elizabeth and Carolyn Thompson, founders of online plus-size consignment store ResellXL, are big believers in capstone wardrobes. Capstone wardrobes are made up of essential pieces that can be mixed and matched.
The trick, they say, is finding a "uniform" that fits your life, work, and style. Invest in pieces that will have longevity. Occasionally add a pair of shoes or an accessory that's "of the moment," but keep basic staples in your main wardrobe that won't go out of style. This strategy can help you to save both money and time.
This App Makes Managing Your Purchases Easy — Start Budgeting Today >>
Final Plus-Size Shopping Tips
Let's be honest — plus-size shopping isn't exactly easy. In fact, it can be a discouraging and frustrating experience for even the savviest shopper. However, by following these plus-size shopping tips, you can create a wardrobe that fits both your budget and your body. Focus on building a basic wardrobe of classic pieces, invest in personalization, stay loyal to the brands that work for you, and you might find that the process becomes a little easier.