Can Crowdfunding Help Pay Your Health Care Costs?
The rising cost of health care is driving many desperate people to online fundraising platforms. But how effective is crowdfunding to pay for medical bills?
One quick search on GoFundMe, a popular crowdfunding website, for "health insurance," and over 43,000 results appear. Hundreds of donors from around the world back individuals to the tune of tens of thousands of dollars in order to help friends – and sometimes even strangers – pay their medical bills.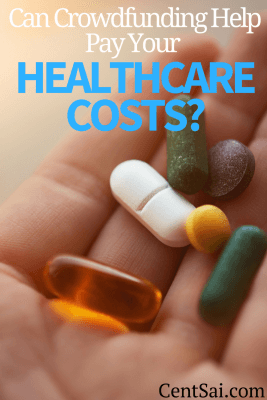 Raising money online for medical bills is a relatively new phenomenon. But with increasing health insurance deductibles and premiums, stagnant wages, and an average individual savings balance of under $1,000, it has become a common solution to a massive nation-wide problem. These grim facts show that one trip to the emergency room can send the average American into bankruptcy.
With the advancements in technology and the widespread use of social media, crowdfunding has become a popular way to raise money for charity and for new ideas. And now, it's raising money for health care.
What Is Crowdfunding?
Crowdfunding has been around for centuries. It's just never been as effective as it is today. Visit any city in the world with a public transportation system. Chances are you'll be visited by somebody addressing the train car with their story and a request for financial assistance, followed by the passing of the hat.
But the ability to crowdfund online is the key to most campaigners' success. Whereas solicitors on the subway will get pocket change, online campaigners craft their story with photographic evidence. They tap their social network of friends and "friends of friends," and can accept credit cards. This makes it a whole lot easier to reach their fundraising goals.
With the increase in popularity of crowdfunding comes the inevitable potential for fraudulent campaigns. Crowdfunding sites like GoFundMe explicitly state in their terms and conditions that they cannot verify the information posted by the campaign organizers. Nor can they guarantee that the donations will be used for the stated purpose. But they do mention that they take fraudulent activity very seriously and investigate any reported claims.
Does Crowdfunding Pay The Doctor's Bills?
Their funding goal was $50,000, and they exceeded their goal by nearly $6,000 within just six days. According to one Slate article, GoFundMe raised $147 million in 2014 for its "Medical, Illness & Healing" section. A quick glance at the list of trending campaigns, and you'll see individuals hitting their five- and six-figure funding goals within just a couple of days – sometimes hours.
In the case of one young couple in Illinois, the boyfriend has been diagnosed with cancer and received denied claims from the insurance company. So the couple sought out help from friends and family through GoFundMe. Their funding goal was $50,000, and they exceeded their goal by nearly $6,000 within just six days.
But not every campaign can go viral, and many fall short of hitting their goals. The average amount of funds raised on the site across all of its categories was $1,126 in 2014. This is a low number compared to today's average medical bill balance. However, that is still $1,126 more than the individual had before the campaign.
Another thing to note is that your crowdfunding efforts don't get you 100 percent of the funds you raised. Sure, you can start a campaign for free, but the payment processing fees – how platforms like GoFundMe and GiveForward make money – usually take a cut. This can be near 10 percent, plus some change from every donation.
Can Crowdfunding Replace Health Insurance?
If crowdfunding is so effective – at least for those who go viral – why not take your chances and rely on crowdfunding instead of paying so much for health insurance?
There are many reasons that having a health insurance plan is still a much better "gamble" than putting all of your eggs in the crowdfunding basket.
First, the odds of launching a campaign that meets its goal and gets fully funded is reportedly less than 30 percent. It sometimes is much less, at about 10 percent. With the average campaign making around $1,000, even one medical bill could leave you in financial turmoil.
And you're bound to incur more than one medical emergency or large health care bill in your lifetime. Relying on crowdfunding to pay for every medical bill is not a good bet. It's only unrealistic due to the low success rates, but it can also lead to your friends and relatives feeling a little, well, used.
In the end, it's much better to be proactive with health insurance. Most insurance plans provide free preventative care, which is better than reactive with crowdfunding. Crowdfunding offers a fair and admirable platform for individuals to supplement the extreme costs of health care. Still, it just doesn't provide the all-encompassing solution that our nation really needs.