Conquering Holiday Money Madness
Ironically, happiness and money-related stress are both at their peak during the holiday season.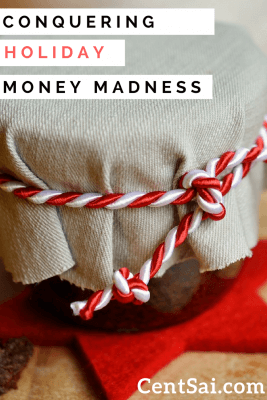 Whether it's a lack of money or a lack of creativity, holiday budgets easily get stretched. The average holiday spending per person reached $805.65 in 2015, according to National Retail Federation . How much have you spent this year?
If you have done a great job all year navigating the money cycle, then let the end of the year be a celebration of your accomplishments. If you have been able to stick to your budget, the holiday season should make you proud.
Contrary to D.H. Lawrence's poem, Money Madness, money doesn't bring with it a cruel game of win or lose. That is, unless we let it.
During the holiday season, we allow money and people to bring us to our knees in shame if we cannot keep up with the Joneses.
It is our responsibility to counteract this pressure with peace. Otherwise, we can feel not just money madness, but also money sadness.
Don't stress the small stuff
Many people travel, take days off work, eat out more, buy gifts, and party as the year winds down. All of these activities can subtract from a person's bottom line. One way to justify these budget adjustments is by determining if they also add to your quality of life.
A recent study from the American Psychological Association reports that the holidays are most stressful for women and the lower middle class. This comes on top of the day-to-day stress that people already experience in life.
"Forty-four percent of women report an increase of stress during the holidays versus 31 percent of men," and "[people] who are lower middle income ($30,000-$50,000 household income) are also more likely to report an increase in stress during the holidays," according to the study.
The good news is that the same people also reported an increase in joy around the holidays. Of those surveyed, 78 percent said that they often feel more happiness, and 75 percent said that they feel more love during the holidays. Further, people under 30 are more likely to report decreased stress during the holidays.
Conquering your holiday budget
Conquering holiday money madness starts with creating a personal standard, budget, and purpose. Reducing stress and anxiety comes down to taking control on one hand and letting go with the other.
Take control of your budget, your emotions, and your time. Let go of shame, expectations, and pressure to perform or conform. Do the best with what you have.
BE CREATIVE AND PASSIONATE, AND OTHERS WILL RECIPROCATE.
Things like early shopping for food and gifts, clipping coupons ahead of time, and saying no when that is the best answer, are ways to keep money issues and other stressors in line.
Keeping an ongoing list of to-dos and scratching them off as completed tasks is a great way to feel productive rather than overwhelmed. Lastly, remember everything that has to get done does not have to get done by you. Delegate and you take the madness out of your budget and your brain.
Understanding that there is only so much that can be controlled is a powerful and peaceful way to approach the season. Letting go of expectations reduces stress and anxiety, but also letting go of expectations reduces stress and anxiety, but also lessens your disappointment. On the other hand, there are things that cannot get done without proper planning and execution. Finding that balance is where peace lies.