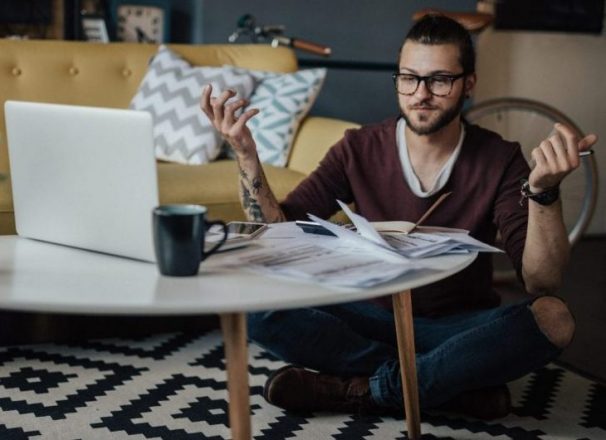 6 second take:
For every legitimate work-from-home job, there's another work-from-home scam. Look out for these common grifts.
Making money online has become an increasingly common career choice in recent years. A consequence of the growing sharing economy (where it seems everyone is a freelancer), there are nearly 21 million entrepreneurs operating sole proprietorships in the U.S., according to the Small Business Administration.
These "solo-preneurs" often derive revenue from a number of different revenue streams, some full time and some as side hustles. And many such solo-preneurs use the internet to market new services and attract clientele.
But with the opportunities afforded by the internet come bad-faith actors bent on making a quick buck by scamming telecommuters both new and experienced. Aided by the anonymous nature of the World Wide Web, these fraudsters will often try to get you to work for free (at best) or take your money (at worst).
Find a Better Way to Work — See How You Stack Up to the Competition >>
6 Common Work-From-Home Scams
If you're currently working from home as an independent contractor or considering picking up some additional work in the near future, here are some of the most common work-from-home scams to watch out for.
1. Online Ad Posting 
Posting ads online is one of the most common work-from-home job scams out there. How it works is that someone will offer to pay you money to copy and paste ads on other websites.
You'll often be asked to pay a fee to sign up, and the "ads" that you're posting are just spam to promote what you're doing so that other people will join to provide the company with more money — which will never be paid out.
2. Email Forwarding
This gig may be advertised as a "marketing" job, but it's not. For example, a company might ask you to sign up to forward emails to other people on their behalf.
They'll most likely ask for a start-up fee so that they can send you "training materials" to learn the basics of the scheme. The training materials are often instructions for teaching others how to run the same scam in order for you to get paid. Much like posting adverts, this grift requires individuals consistently buying in with no promise of payout.
Achieve Your Career Goals With Trustworthy, Industry-Recognized Learning Paths — Choose Your Course >>
3. Assembly Jobs
Work-from-home assembly scams require that you pay for a kit to put together a product or craft at home. You are then expected to send the finished product back to the company in exchange for payment.
The one problem? The company will claim to accept only "top-quality items," and your assembled products will never meet your client's standards.
Plus, you may even be asked to purchase some of its tools and equipment to make the items you assemble look and operate better, leading only to wasted cash and no profit.
4. Medical Billing and Data Entry Business
Online medical billing and data entry jobs aren't always scams, but some companies will offer to "help" you start your own online, work-from-home business by selling you start-up materials and software. Don't fall for it.
Sherry King, a mom who works full-time at a community center, was excited to land what she thought was a great side hustle opportunity as a data entry specialist until the company asked her for money to get started.
"I was shocked when the company who 'hired' me asked me to pay for all my equipment and materials," Sherry says. "They said I needed to pay for the materials so that the items would be in my name and not the company's name. It just sounded fishy to me, and I decided not to move forward."
Need a Job That Accommodates Your Lifestyle? Get Started >>
5. Extra-Low-Income Work-From-Home Jobs
Sometimes, you will be able to make money with an online job, but the amount may be so low that it won't even be worth it. This was the case with Nina, who found an online opportunity that allowed her to listen to and sort audio recordings.
"I did the work for several hours and only earned two cents, which was why I quit soon after," Nina says. Assess the opportunity cost of the job, including how many hours you'll put in and what you'll get out of it. If it's not worth it, it's not worth it.
6. Multi-Level Marketing and Possible Pyramid Schemes
Many of us have had an old acquaintance reach out to us — likely via Facebook or Instagram — and ask if we were interested in buying goods or if we have an interest in selling goods to others on commission.
Such characteristics are common in multi-level marketing (MLM) schemes. In these schemes, the profit for the individual comes from being both a product vendor and a recruiter for others to do the same.
While some MLM operations are legitimate, many of them are illegal pyramid schemes. Plus, it can be tough to distinguish whether or not the profit model is legal. You should look for a company's online reviews, in addition to what has been said about them on the Better Business Bureau's (BBB) website, prior to attempting to sell their products to friends and families (and thus furthering the work-from-home scam).
"Multi-level marketing often asks you to pull your social connections and to bring the people you know from personal life to become associates or members of the network," says Raj Vardhman, co-founder of remote employment site GoRemotely.
"It's faulty by design, and I personally suggest other career paths to whomever is struggling to make their next move."
Additionally, ask the company in question if it will buy back your inventory should you fail to sell it, and if the business is designed for you to make more money by recruiting new members rather than by selling. These characteristics usually signify a pyramid scheme, as the company is more focused on recruiting new members than supporting you as a vendor of their goods or services.
Find a Better Way to Work — See How You Stack Up to the Competition >>
How to Spot Work-From-Home Scams
Spotting work-from-home scams before it's too late can sometimes be difficult. However, there are a number of red flags to look out for.
1. Words, Phrases, and Sentences in All Caps
Companies and individuals with real job opportunities won't post ads using words in all caps. If you see something like, "EARN MONEY FROM HOME!!! GET STARTED TODAY," it's likely a work-from-home scam.
2. A Promise That You'll Earn an Insane Amount of Money Quickly
If you come across a job ad online that promises you'll earn $500 or $1,000 per day working from home, consider it a scam. If it were that easy to earn hundreds or thousands of dollars per day, everyone would be doing it.
Need a Job That Accommodates Your Lifestyle? Get Started >>
3. Companies Where No One Picks Up the Phone
When looking into a new remote opportunity, try to speak with the individual offering employment. This could be in person, on the phone, or via video chat.
But if the prospective employer avoids interacting with you, then the gig is likely a scam.
"If your potential employer is legitimate, you should be able to get a meeting — or phone call or video chat — with them fairly quickly," says full-time freelancer and content strategist Liam Carnahan. "If they're not legitimate, they'll try to avoid making any sort of face-to-face connection."
4. Companies That Require a Fee
You shouldn't have to pay a fee or purchase equipment for the company to hire you. It should supply you with equipment and provide training at no cost to you.
Achieve Your Career Goals With Trustworthy, Industry-Recognized Learning Paths — Choose Your Course >>
5. Companies That Wish to Remain Unnamed
If you can't figure out the details of the company that created the job ad, proceed with caution. The business may be trying to hide something.
It's important to know the name of the company so that you can perform your own research. For instance, you should look to see if it has any online reviews or ratings with Google and LinkedIn. Additionally, check the company's name using the BBB's Scam Tracker to see if there's a record of malpractice before taking the job.
Keep in mind that there are tons of legitimate and profitable online gigs available. Just make sure to avoid "employers" that are more interested in your wallet than your work.
Additional reporting by Connor Beckett McInerney.