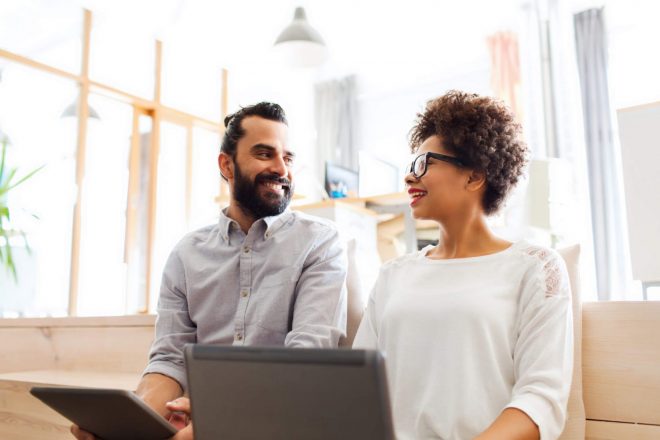 6 second take:
If you like people and are blessed with an outgoing personality, why not use this advantage to make some cash through a side hustle?
Do you consider yourself an extrovert? If so, consider yourself lucky: there are tons of companies that want to pay you good money to harness your people-person skills and help them out. You can even leverage your own extrovert talents for yourself to make money through a side hustle.
Here are nine awesome ideas that extroverts can use to make more money:
1. Pub Trivia Host
Who doesn't like trivia and beer? As a pub trivia host, you'll need to have decent A/V skills, the ability to multitask (scoring answers and reading questions can get complicated!), and a talent for getting a crowd excited.
Pub trivia hosts are often hired by companies that supply A/V equipment and that have questions and answers written for them. Pay rates can be upwards of $200 a month for hosting a weekly quiz. But if you're feeling especially intrepid, you can make more money by striking out own your own – as long as you're an equally good quiz-writer and have your own equipment.
2. Brand Ambassador
You know those people who hand out samples of specific brands of food and drink at stores?
Those people are getting paid between $10 and $35 per hour just to chat with people and hand out samples – easy!
Companies also hire brand ambassadors to do things like hand out fliers, collect customer information, or even just perform random publicity stunts. Brand ambassadors are often on their feet for long periods of time, but if you like talking to people, it can be a great way to make some extra money.
3. Rent-a-Friend
Did you know you can actually hire yourself out as someone's friend? It's true! RentAFriend currently has over 600,000 people available for hire, and you can be one of them. Most RentAFriends charge around $10 an hour just to hang out with people – not bad! Rest assured: this site is strictly for platonic purposes.
4. Tutor
If you're a patient teacher, you can make between $10 and $25 per hour – sometimes more – depending on your level of experience and the subject matter you're teaching. You can teach students locally or online through sites like Tutor.com, Chegg, or Italki. Just be sure to factor travel costs in if you teach your students in-person.
5. Tour Guide
If you live in an interesting place, companies will pay you good money to show people around. Even if you don't, you can become a seasonal tour guide in exotic locations like Alaska, the Caribbean, Australia, or a whole host of other places through sites like CoolWorks and CruiseJobFinder. This can be a great way to see an interesting place, hang out with cool people, and get paid for it!
6. Photographer
You don't need a fancy journalism degree to be a great photographer. All you need is the right equipment and some experience. Photographers can make hundreds – even thousands – of dollars per photo shoot, especially at events like weddings. You can even just mess around with taking photos and selling them on stock photo websites for passive income.
7. Rideshare Driver
If you've got a nice(ish) vehicle and some free time, why not apply to become a rideshare driver with companies like Uber or Lyft? You can make $20 to $35 per hour or even more, depending on when you choose to work. For more great information about this side hustle, check out the Rideshare Guy's blog.
8. Airbnb Host
Have you always wanted to meet people from all over the world, but don't have the time or money to travel? What better way than to host people in your own home? If you're a renter, you might need to check with your landlord to make sure that it's okay.
As for me, if I had another spare room to rent, I could make an extra $1,196 per month, according to Airbnb's calculator.
It might be something for me to think about the next time I move!
9. Mystery Shopper
Who hasn't dreamt of pretending that they're an undercover investigator? If you become a mystery shopper, you'll get a chance to do just that. You simply sign up through sites like BestMark, Market Force, or IntelliShop. Companies will contact you through these sites to perform audits of products and services, and you can choose to accept or decline the gig.
Then you report back on your findings and get paid. Pay rates vary from just a few dollars to hundreds, depending on the complexity. This is a fun, flexible side hustle – just make sure not to get caught!