Be Your Own Boss: One Father's Hope for His Daughter
6 second take:
Putting digital skills to use early on can help tweens to learn, grow, and gain entrepreneurial experience.  Why wouldn't we teach kids to be financially independent?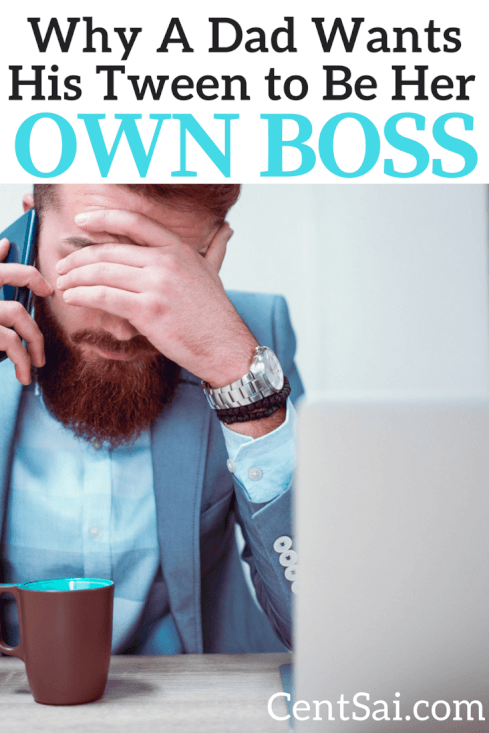 I want a lot of things for my daughter. First, I want her to grow up to be kind, empathetic and a loving person. I want her to be a person who enjoys life to the fullest while helping others. I also want her to make money hand over fist through passive income as a serial entrepreneur who never gives up. Lastly, I want her to know that it's never too early to be your own boss.
The two goals aren't at odds with each other. Both involve helping people by solving problems. She's 12 years old, and kindness and empathy are evolving traits that she's exhibiting more and more. Also, it's never too early to learn how to be your own boss.
It's the entrepreneurship that I really want to get working on with her, starting with building a website that she can earn money from.
I don't consider myself to be one of those dads who lives vicariously through a child and pushes her to do activities that she doesn't enjoy – though trying out soccer, piano, and other such activities can be good.
By trying to get her to start a website, my goal is to have her see the value in solving problems with an online business that can reach the world. I also want to teach her how to come up with many passive income streams throughout her life.
She could go start a lemonade stand or sell something door-to-door like I did as a kid.
Those are easy ways for kids to learn how to be an entrepreneur and how to work on their own. But I want to encourage her to take a bigger step.
One great thing about the internet is that setting up a website is relatively easy and inexpensive. It allows her to try a few ideas to see what works.
About a year ago, Mira Modi, 11, of New York City started an online business selling secure passwords for $2 each.
She has since raised her prices, and now sells two passwords for $8. Modi uses a method called Diceware to create strong passwords with random words from the dictionary after rolling dice. A five-digit number is looked up in the Diceware dictionary, which contains a numbered list of short words. She writes the passwords down on paper and mails them to buyers.
The difficult problem of how to thwart hackers was solved by a smart girl with some dice and a codebook. Genius.
In September, Natalie Hampton, 16, of Sherman Oaks, California, created an app called "Sit With Us." The app helps students find someone to sit with in their school lunchroom so that they don't have to eat lunch alone. It's a way to combat bullying in middle school and to make people feel welcome and included.
Those are just two examples of problems that kids are trying to solve online. I don't know if Hampton's app earns her any money, but even if it doesn't, it's a great way to spread empathy. What's more, it could lead to her becoming successful at other online ventures.
Before my daughter started the seventh grade this school year, she took a short summer class in computer coding. She learned how to write some code for a web page and designed a few simple web pages.
I don't expect her to become an engineer someday – though it would be fantastic if that's what she wants to do.
But the class was enough to pique her interest, and hopefully it will encourage her to continue with an online business.
I own four websites, and I'm always on the lookout for services or products to sell online. Even if my daughter is only vaguely aware of what I do for a living, I hope that some of my entrepreneurial skills as a freelance writer help to show her the possibilities of working for yourself.