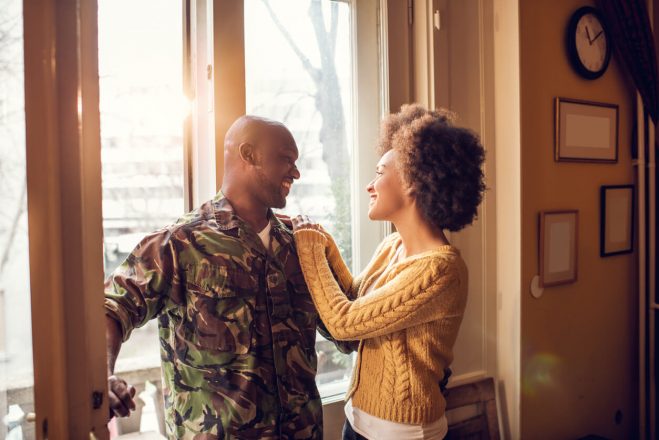 6 second take:
A primer on how to find employment — and not sacrifice your career — when your partner's job requires constant relocation.
What if your partner or spouse is constantly on the move? I don't mean someone driving a truck for a living, or running on a tread mill to shed some pounds. I mean it in the "occupational hazard" sense. It makes job hunting that much more difficult.
Due to the nature of their jobs, they jump into different locations at regular, short intervals. Their spouses are left in a perpetually unsettled state, ready to leave with short notice.
This one is for you guys. The "trailing spouses" who have to constantly innovate to fit into new circumstances and find new work each time they move.
This is a reality for Elizabeth Colegrove. She's a military spouse, serial employee, and entrepreneur who founded the website The Reluctant Landlord. Elizabeth has been married six years, and is moving for the fifth time next month. She shared some of her job hunting tips with me, and I added a few things that I learned after moving with my husband nine times so far!
Here are 10 job hunting tips for the mobile spouse.
Need a Job That Accommodates Your Lifestyle? Get More Interviews >>
1. Network with everyone, in or out of your field.
Ask them out to lunch or for a cup of coffee.
2. Be flexible about the type of job you want.
Let's be realistic — mobile spouses can't be choosy. You're not likely to build a straight career path when you're moving regularly. You can do any job for a year or two! Elizabeth has done accounting, commercial property management, patient-care coordination, and teaching, among other jobs. She advises you to think "outside the box."
3. Tell everyone you meet that you are looking for a job.
Your real estate agent, your hairdresser, the people you meet at the dog park — everyone! Once you get a name, use it. Call them, try to set up an appointment, connect with them on LinkedIn.
Struggling to Find Work? Get Help With Your Job Hunt >>
4. Apply everywhere.
Post on every site, even Craigslist. Be persistent, and follow up on every application you submit. Seek out vacancies at companies that you want to work for, either by hitting up your network or checking out the company's employment webpage.
5. Volunteer.
No matter where you move, there is some sort of group that can use your experience. I lost my job once when our company was bought out. At the time, I was involved in the Junior League, a volunteer service organization, and I mentioned to some fellow volunteers that I was going to be unemployed.
I couldn't believe the offers of help that I got, including résumé advice, introductions to hiring folks, and actual job offers.
In another situation, I asked my boss why she picked me for a position. She said it was because of the connections I made through my volunteerism.
6. Consider returning to school.
Elizabeth pursued a master's degree, and then used the school's career center in her job hunting.
7. Consider temping.
Temporary employment can introduce you to the culture of your new area, expose you to new industries, and lead to full-time employment.
When we moved to Hawaii, I temped for a few months to feel out the local work environment. I learned what locations had a good commute from my house, how to speak in the local dialect, and how to dress appropriately.
I also received several job offers and eventually accepted a permanent position with a company that I loved.
8. Think about self-employment.
Elizabeth is building up her website and related business so that it can eventually be her portable, full-time job.
9. Put your skills together creatively.
For example, Elizabeth got her commercial property management job by combining her health care administration skills with her real estate experience.
10. Seek companies that have a large national or international presence.
Neither Elizabeth nor I have taken this route, but it works for many. My friend Elaine works within the military commissary system, and transfers her job location each time her husband's work requires them to move.
Another friend works for a large international consulting company and she is usually set up with her new position within a few weeks of learning where her husband's career will send them next, even if it is some remote place overseas.
Most people don't envision having to quit their job and start over every year or two, and it presents unique challenges. It also presents great opportunities to learn new skills and discover entire new fields.
Getting a job with each new move isn't easy, but you can do it. Use the job hunting tips above, and stick with it until a new position turns up.
Need a Job That Accommodates Your Lifestyle? Get Started >>