Even Today Pregnant Women Need Not Apply
6 second take:
A CentSai survey finds bias against mothers is still rampant in the workplace.  Know your rights.
Ever since I was little, I always wanted to be a mom. Later, I heard my friends talk about their children. They gave minor complaints and a few horror stories. But until I became a mom myself, I never actually understood the amount of sacrifice it takes to be a mother. This is particularly true in terms of career and workplace.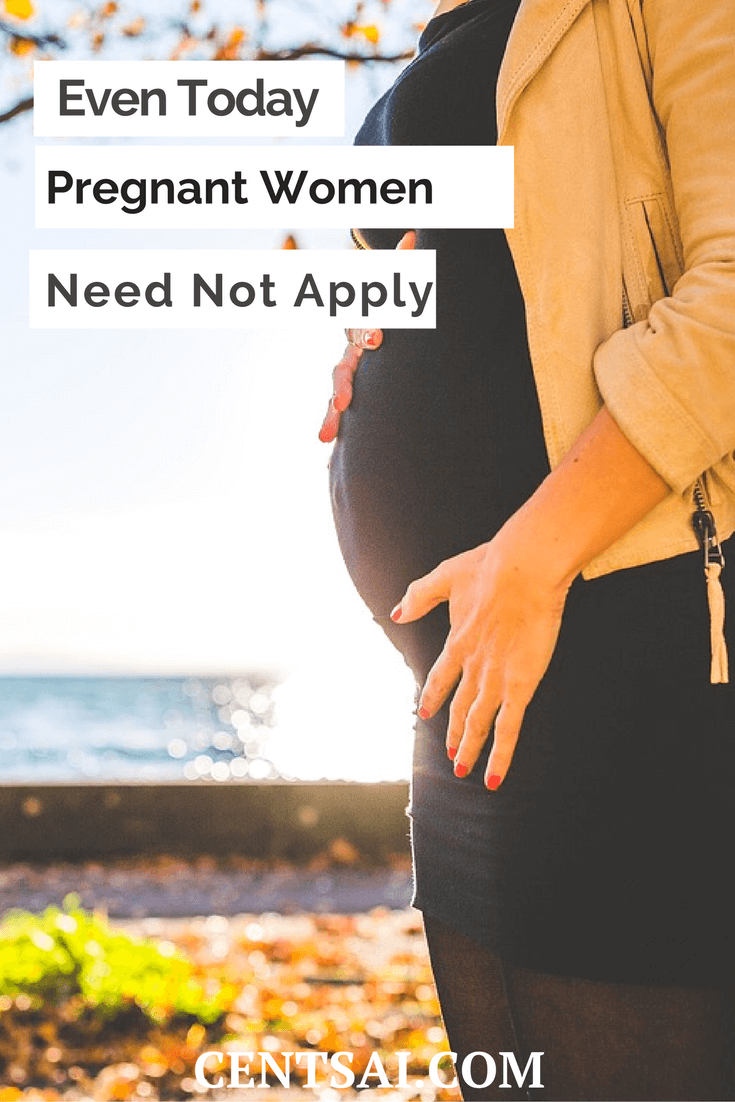 There was the case of my sister, who planned her pregnancy around her teaching schedule. She wanted to make sure she wouldn't have to use her precious sick days until after the baby came.
Then there was my co-worker, who worried that her job – which she had just landed a few months prior – would be given away if she admitted she was expecting.
Another friend of mine dreamed of being a stay-at-home mom. But the cost of her and her husband's student loans kept her working right up until her due date.
According to the U.S. Census Bureau, there are approximately 43.5 million mothers in the United States have children. The Department of Labor reports that 47 percent of these mothers work from home.
In Centsai's survey of moms, we saw just how much having a baby could affect a woman's choice. This is especially true when it comes to careers and livelihoods. Half of working moms wanted to stay home with their children. But 41 percent reported that having the baby negatively affected their career paths.
One of these women was Kristen. She's a self-proclaimed workaholic who spent nearly 80 hours per week in her Seattle office. Her ultimate goal was to land a promotion within an investment banking company. However, that all changed when Kristen discovered her unplanned pregnancy.
She tells me, "I had the baby. But no one from my office congratulated me or asked if it was a boy or a girl. The first email I got in response was, 'When are you coming back?'"
When Kristen returned to work after her eight-week maternity leave, something had changed. Her coworkers noticed and commented on her more ruffled appearance and her absences to care for her baby. The promotion she had worked so hard for went to a male co-worker whom she had trained and managed.
Eventually, she knew she had to make a change. Two years after the birth of her child, she decided to switch careers completely. Taking a massive pay cut, she moved to the suburbs so that she could work in financial analysis for a small tech start-up.
"This place was okay with me taking a day off for my son," she explains. "They had families, too, and a lot of the other managers were women and working moms."
But what about the women who cannot afford to make the choices and sacrifices Kristen and I did?
While I firmly believe that no woman should have to give up or diminish her career in order to have a family, the reality is there is a stigma and bias against working mothers. If you work in a field or a workplace that has shown hostility or unwillingness to work with you as a mother, it is important to know your rights:
The Family and Medical Leave Act (FMLA) bans discriminating against an employee who has taken FMLA leave, including in the case of caring for sick children, adopting a child, or giving birth.
Title VII of the Civil Rights Act of 1964 states that an employee may not be discriminated against because of their pregnancy. An employer cannot refuse to hire or fire an employee because they are pregnant – nor can they take away their benefits, deny them a promotion, or demote them. Employers must also treat pregnant women with a doctor's note as temporarily disabled and provide them with workplace modifications. And the job held by the pregnant woman must be held open for her as long as it would if the employee was disabled.
For breastfeeding mothers, the Affordable Care Act guarantees a woman's right to nurse or pump on a regular basis in a private room other than a bathroom.
If you feel that you are being harassed at work because you are a mother, you have the right to pursue legal action. For example, this may include a manager repeatedly asking, "Wouldn't you rather be home with your kids?" or an employer refusing to grant you reasonable leave within your contract for family responsibilities. The Center for WorkLife Law reports that 50 percent of cases where mothers or fathers felt discriminated or harassed, they won or settled out of court.
As mothers in the United States, the choice to stay in our careers or to return home should always be a personal one, and not determined by our employers or our financial outlooks.
HAVING A SUCCESSFUL CAREER SHOULDN'T BE JUST FOR MEN OR CHILDLESS WOMEN.
By knowing your rights, learning how to manage your family money, and staying firm in your path, you can be as good a parent – or better – than any man out there.