Byron and Brianna Take a 'Leap of Faith' With Their Finances
A millennial couple balance returning to school, working and raising a family.
A few years ago Brianna and Byron Glaspey moved to Raleigh, N.C., for Byron to start seminary. Brianna was pregnant with their eldest daughter, and they had enough money for a few months' rent. But they had no jobs lined up.
In fact, other than Byron's scholarship to study at the seminary, the Glaspeys had no personal or professional connection to Raleigh.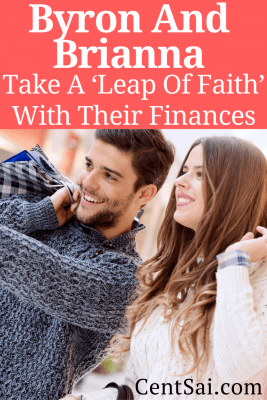 They moved anyway as the scholarship offered a great opportunity. They would figure out the money part once they'd arrived.
The specifics of providing for themselves and their daughter didn't cross their minds until they began living in Raleigh. They soon realized they needed an income plan.
Brianna, a registered nurse, took the first job she could find, administering immunizations. Next, she found a part-time job with the Red Cross.
Until she qualified for health insurance through the Red Cross, Brianna received health coverage through Medicaid.
Byron attended school by day and worked part time in the UPS warehouse in the evenings. The two part-time jobs kept the family afloat financially during Byron's first two years of school.
Byron and Brianna have faithfully stitched together an income quilt that has kept their earnings just above their expenses.
However, growing expenses are inevitable with a growing family.
After the couple's second daughter was born, Brianna decided to take on a full-time position in a local ER. Byron continued to work at UPS until he found alternative part-time work as a pastor and as a teacher at his seminary.
Thanks largely to their parents, Byron and Brianna graduated with bachelor's degrees without debt. They still drive cars that were paid for by parents over a decade ago.
"It's normal for couples to start their life together with $50K in debt, but we started our life with a little bit of money in the bank," Brianna said. "Our family support network is what made this life possible," she added.
"My parents came up for a week, and they watched the girls for a few hours every day," Byron said. "It was a huge break for us. If we could do it all over, we might have chosen to stay near our parents just for the free babysitting!"
Though given a push start, they are not about to race into a high-spending lifestyle. They believe in the old dictum — live within your means. They track their income and spending using the Mint.com app which lets them know when they can afford a little extra or when to cut back.
Additionally, they play a neat game of tag — parenting, work and school duties — so that they don't have to pay for full-time child care.
By making hard choices and living within their means, they have avoided consumer and student debt.
This is possible because Byron has maintained grants and scholarships that cover tuition in full.
You may think that juggling with so many things — school, daughters, side-hustles, ER duty — may make them an all-work-and-no-play couple with little left over for each other.
You're wrong. They regularly discuss their schedules and are sensitive to each other's needs. Byron knows when Bri needs a nap and vice versa. They recognize that six or seven years is too long to just hang on; so they work to strengthen their marriage and connect with their kids even more.
They wake up to each morning these days and send a grateful prayer heavenward for three little smiling faces and a debt-free life.